Pakistan Marine Academy Admission 2024 Test Result
Government of Pakistan Marine Academy Open Admissions 62 Batch of Nautical Deck and Marine Engineering Cadets Session 2024-2025 The applicants can join the Merchant Navy and see the world.
How to Apply
Obtain the prospectus and application form from the contact address given below before the last date of September 15, 2023, Friday, with the amount of Rs. 3000/-, or download them from the PMA website. Age limit: 20 years old until December 31, 2023. The Pakistan Testing Council is going to take admission tests from the students who have applied.
www.marineacademy.edu.pk
The last date for Submission of Application form for 62nd batch is September 15, 2023
Test Date: September 24, 2023

How to submit the admission form
Submit the duly filled form before September 15, 2023, at the address given below, along with an original pay order or bank draft of Rs. 3000 (non-refundable) made from any bank in favor of Pakistan Marine Academy, NBP Pak Marine Academy branch (Code-0239), Mauripur, Karachi.
Candidates who want to apply for self-finance need to submit a pay order demand draft of Rs. 300,000/-. If students are selected on open merit, this SKF fee will be refunded to the applicant.
Address:
PMA Admission Office
Officer in Charge, New Entry, Pakistan Marine Academy
Hawks Bay Road, Mauripur, Karachi-75780
Telephone: 021-99241201-5, Ext. 214
Fax: 021-99241206
Selection Procedure:
The last date for submission of Application Forms is September 15, 2023
The entry test will be conducted by the Pakistan Marine Academy; for registration, go to www.marineacademy.edu.pk. It is expected in different cities like Sukkur, Lahore, Multan, Rawalpindi, Peshawar, Abbottabad, Quetta, and Muzaffarabad, AJK.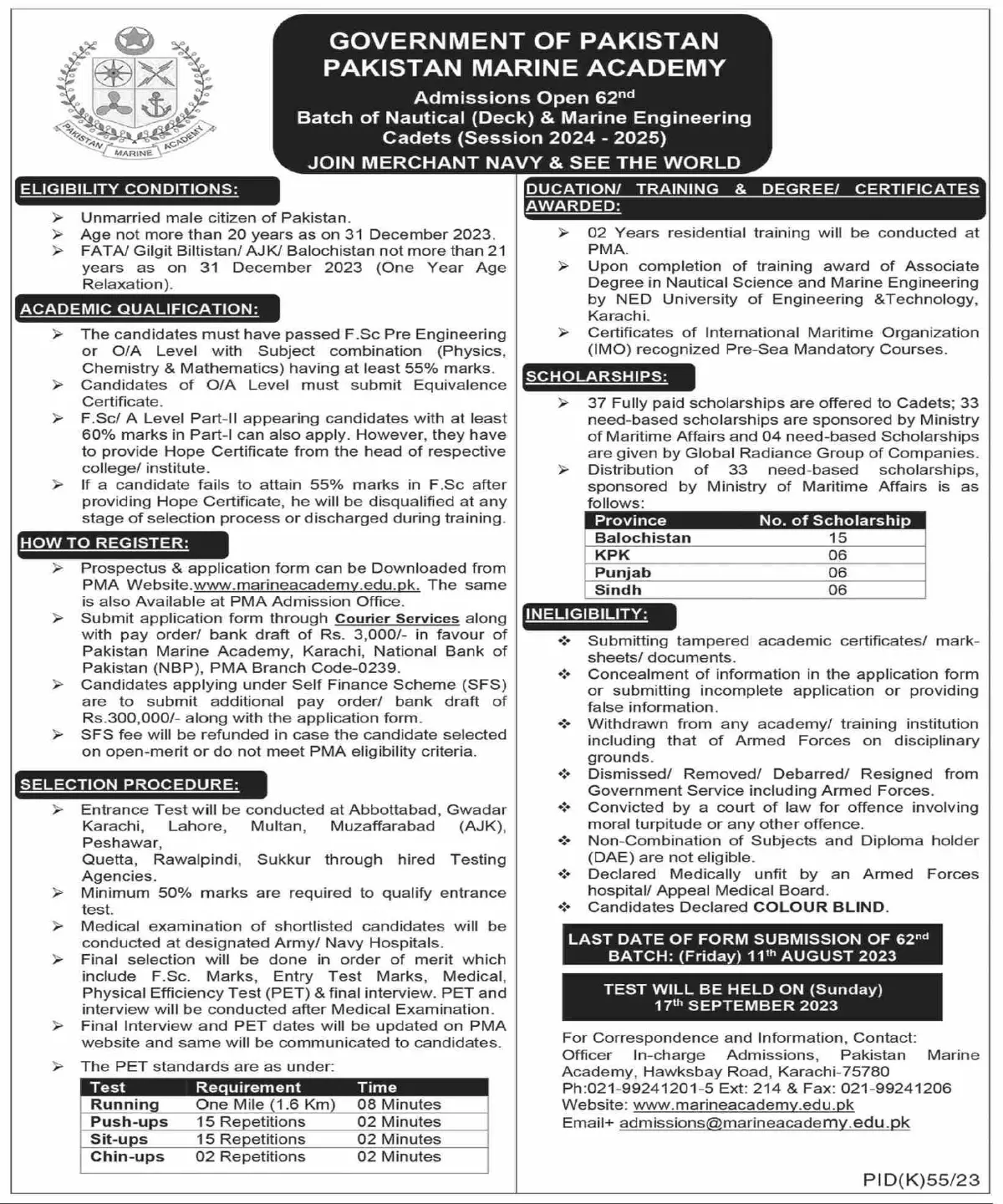 Medical examinations of shortlisted candidates will be held at designated Combined Military Hospitals.
Final selection will be based on the results and Total Marks obtained in the intermediate or equivalent examination (purely merit) 20 seats (10 in each discipline) are reserved to be filled under Self-Finance Scheme
Branches (Ship Management and Marine Engineering) will be allocated after Joining the Academy on the basis of their merit position, medical fitness, Cadets choice and availability of seats
Training:
Two years of residential and regimental training at the Pakistan Marine Academy in Karachi will commence in the first week.
The NED University of Engineering and Technology will provide engineering degrees in ship management and Marine Associate Engineering.
Fee Schedule:
The total fee schedule is $72,000, of which 36,000 is the tuition fee and 36,000 is food and eating expenses. the applicants who want to submit their fees with self-finance need to submit a demand draft of Rs. 300,000/-
Join Pakistan Marine Academy, Branch of World Maritime University (Admission Tests in the 58th Batch) (PMA-B57) (245) 2023-2024 Details
Apply online to the Pakistan Marine Academy: Apply Here