Board of intermediate Education Karachi BIEK Sindh Board has been announced Paper Pattern for HSSC Part 1 and Part 2 11th and 12th Class Session 2023.
The pattern of papers for Annual exam 2023
MCQs 20 %
Short Answer Questions 40%
Long Answer Questions 40%
It shall be for all candidate (Fresh, Failure & Improvers)
With reference to the Corrigendum No: BIE/ACAD/Corrigendum-New-Syllabi-Notification /191/2023 dated 17 April, 2023 and notification No. NOSO (A&T-1/SE LD/SCM/9- 3/2020 dated February 2023 regarding minutes of the meeting of Sub-Committee of steering Committee.
it is hereby notified for the information of all (Affiliated) Government and Private Colleges / Higher secondary Schools / Institutions that the Board shall conduct examination according to the old syllabus / curriculum for the students of failure and improvement of grade and according to the new syllabus / Curriculum for the students of fresh who will appear in HSC Annual Examinations 2023.
the pattern of marking in the examinations is unanimous / uniform for all students (Fresh, Failures and improvers) as under
a) Multiple Choi. Questions(MCQs) 20 Marks
b) Short Answer Questions(SAQs) 40 Marks
c) Long Answer Questions (LAQs) 40
Total Marks Total 100 Marks
All Principals of respective Colleges and Higher Secondary Schools are hereby requested to kindly paste this notification on College Notice Board for the information of students.
Read Also:
BSEK Karachi Board SSC Matric Class Date Sheet 2023 9th 10th Class
This Issues with the approval of the Chairman.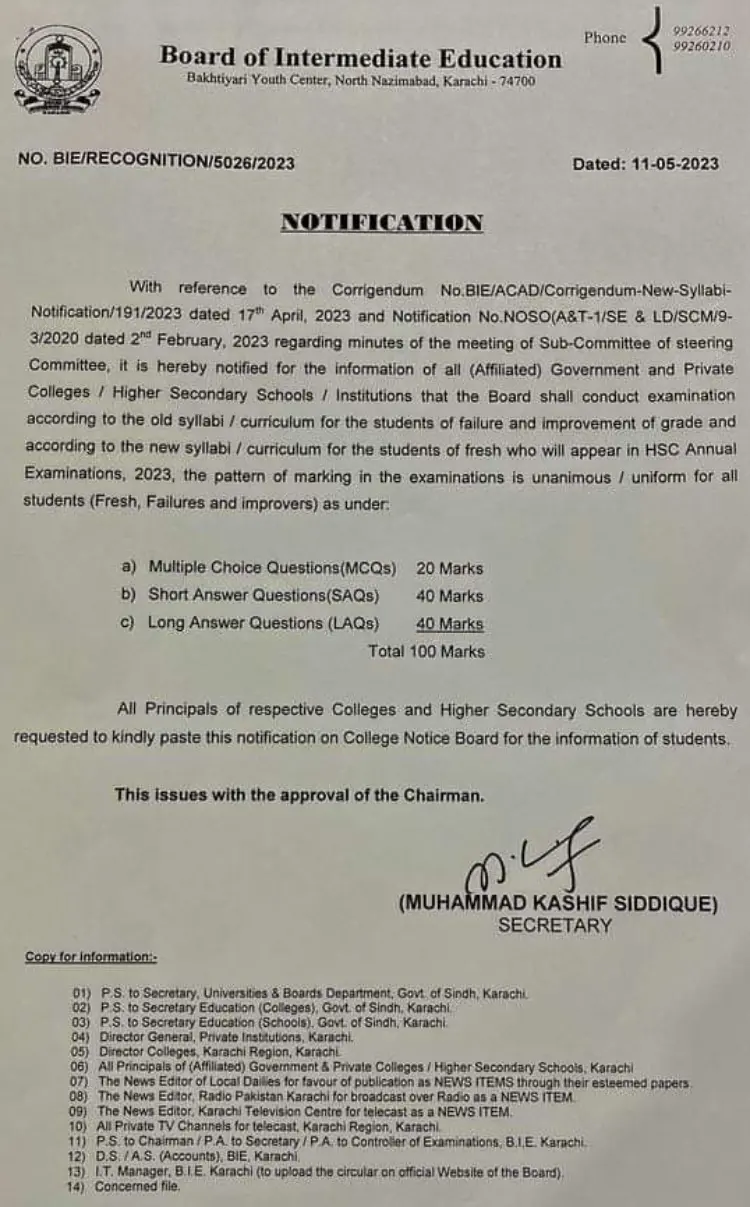 Read Also:
Matric Admit Card 2023 BSEK Karachi Board Download
model paper 2023 class 12 Sindh board pdf
model paper 2023 class 11 Karachi board pdf download
Karachi board intermediate paper pattern 2023 scheme science
Karachi board intermediate paper pattern 2023 scheme pdf download
Karachi board intermediate paper pattern 2023 scheme pdf
Karachi board intermediate paper pattern 2023 scheme maths
Karachi board intermediate paper pattern 2023 scheme date sheet
BIEK Karachi board intermediate paper pattern 2023 scheme