Karachi Police Constable Jobs 2023
The Government of Sindh Police, Karachi Police Head Department announce male and female Police Constable Career opportunities for Karachi youth. Karachi Police requires 5500 constables, male and female, to fulfill the security requirements of Karachi City Lighting.
| | |
| --- | --- |
|  To Download the advertisement: | |
|  To Download the application form: | |
| Last Date For Application Submission: | |
| Test Date: | |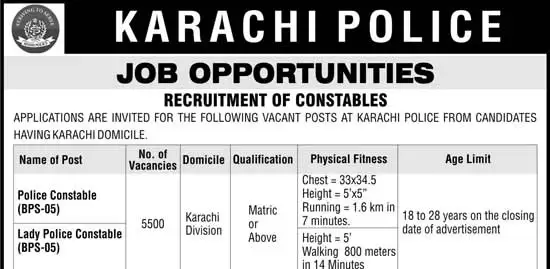 Job applications are invited from all Karachi domicile holders. BPS 05 Police Jobs are available from the age limit of 18 to 28 years old until the last date of job application.
Read Also
Balochistan Police Jobs 2023 Constable Male Female Test Date
NTS will be taking entry tests from applicants through a computer software system. The interested candidates can download the job application form from nts.org.pk, the official website of the National Testing Service.
The last recruitment test has been cancelled by the competent authority; therefore, candidates who have applied earlier should submit a fresh application.
Last date for submission of job application forms:
It's requested that all candidates don't send educational documents with this application form that they are sending to NTS; these application forms are only for taking tests.
Applications are invited from Karachi domicile holders only.
Karachi Police (Recruitment Test for the Post of Police Constables)
The Karachi Police Department plays a vital role in maintaining law and order in one of Pakistan's largest and most dynamic cities. As the year 2023 unfolds, aspiring individuals seeking a career in law enforcement are eager to learn about the Karachi Police Constable jobs available. This article aims to provide an overview of the Karachi Police Constable jobs in 2023, highlighting the opportunities they offer for service and security.
The Role of a Karachi Police Constable:
A Karachi Police Constable is an essential part of the law enforcement system. Constables are responsible for maintaining peace, preventing crime, ensuring public safety, and upholding the law within the city. They perform a wide range of duties, including patrolling assigned areas, responding to emergencies, enforcing traffic regulations, and assisting in investigations.
Eligibility Criteria:
To be eligible for Karachi Police Constable jobs in 2023, applicants must meet certain criteria set by the Karachi Police Department. These criteria typically include age limits, educational qualifications, physical fitness standards, and other requirements as determined by the department. It is crucial for interested individuals to review the specific eligibility criteria provided in the official job announcements or contact the Karachi Police Department for accurate information.
Recruitment Process:
The recruitment process for Karachi Police Constable jobs generally involves several stages, including written tests, physical endurance tests, interviews, and medical examinations. The purpose of these assessments is to evaluate the candidates' suitability for the role, ensuring they possess the necessary skills, knowledge, and physical capabilities to serve as effective constables.
Training and Development:
Selected candidates undergo rigorous training programs at the Karachi Police Training Center to prepare them for their roles as constables. The training encompasses various aspects, including law enforcement procedures, self-defense techniques, firearms training, community policing, and ethical conduct. This comprehensive training equips constables with the skills and knowledge necessary to carry out their duties effectively.
Career Growth and Opportunities:
Joining the Karachi Police Department as a constable opens doors to a promising career in law enforcement. Constables have opportunities for career advancement through promotions based on their performance, experience, and further professional development. They can progress to higher ranks within the police department, such as head constable, assistant sub-inspector, and beyond.
Service to the Community:
Karachi Police Constable jobs offer individuals a unique opportunity to make a positive impact on society. By ensuring public safety, maintaining law and order, and protecting citizens, constables contribute significantly to the well-being and security of the community. It is a role that requires dedication, integrity, and a commitment to serving the people.
Karachi Police Constable jobs in 2023 present an avenue for individuals who aspire to serve their community, maintain law and order, and contribute to the security of Karachi.
Read Also
Sindh Traffic Police Jobs 2023 Application Form Eligibility
The recruitment process, eligibility criteria, and training provided by the Karachi Police Department ensure that constables are well-prepared for their roles. By joining the Karachi Police Department as a constable, individuals can embark on a fulfilling and rewarding career in law enforcement, making a meaningful difference in the lives of the people they serve.