Government of Punjab Schools education department offering many programs for students for study purpose of Punjab, for providing education and other scholarship scheme has been also announced for different level of students specially for needy and merit basis and these schemes is working under chief minister of Punjab Shahbaz sharif. CM Shahbaz Sharif really working for Punjab People for increasing education especially for females. Because it's a famous Quote that give education to one women its mean you are giving education to whole family, educated female can provide education to their children's and then she can know the society that education of Islam and technical education is necessary for every man and women. The religion of Islam is also giving preference that education is a key of success in everywhere.
Chief Minister Punjab Mian Shehbaz Sharif Zevar-e-Taleem's scheme.
Due to this initiative, 460,000 female students will benefit. The Punjab government will provide resources to the tune of Rs. 6 billion per annum for this purpose.
Today dated 15 March 2019 Government of Punjab is going launch a stipend program for secondary school girls by the name of Zaver-e-Taleem Program 2020.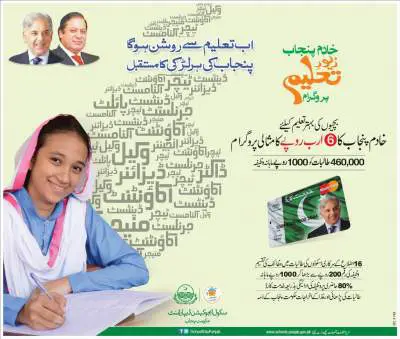 Khadim E Punjab Zewar Taleem Program is specially design for female students of Punjab from lower level of classes.
Chief Minister of Punjab Shahbaz Sharif said the future of girls depends on education. For this purpose CM Punjab Announced the Khadim E Punjab Zewar Taleem Program.
Today, Punjab government is going launch a Stipend Program for Secondary School Girls by the name of 'Zevar-e-Taleem'. pic.twitter.com/rxVrZc1o0L

— Punjab 2013-18 (@Punjab13to18) March 15, 2017

According to Khadim E Punjab Zewar Taleem Program government of Punjab will be give scholarship to more than 460,000/- female students and the scholarship amount is decided Rs. 1000/- monthly for selected female students under this program session 2019-2020.
CM Punjab announced this Program more than 16 districts of Punjab and the scholarship amount has been increased before government give Rs. 200/- monthly per student but now every student who will be selected for this program will be get Rs. 1000/- per month. The talented and needy female students who attendance will be more than 80% the government of Punjab will be give him Khadmat Card and all other expenses of female candidates like eating, and education expenses will be beared by government of Punjab, For this program government of Punjab reserved 6 Arab Rupees.
Said by CM Shahbaz Sharif: He who brings up 2 girls thru their childhood will appear on the Day of Judgment attached to me like 2 fingers of a hand" Holy Prophet PBUH.
Girls have the most critical role in shaping the ethos & direction of a society by virtue of their transformative influence.
"Women are way ahead in all walks of life today. They have left men behind"
"Failure to speak for education in general and girls' education in particular will be a biggest betrayal"
We have to break stereotypes. We have to expose those who oppose girl's education"