First Open Merit List for Undergraduate and Postgraduate Programs
Fee must be deposited in the Bank of Punjab located in College campus from (10:00 am to 02:00 pm). The last date to submit dues for selected applicants is. Candidates who fail to deposit their dues within the due date will forfeit their right to admission.
All selected applicants who have applied for the hostel seats must appear for an interview on at 10:00 am to 01:00 pm in Association Office (A Hostel). Please bring original documents and mark sheets for the interview.
All students are required to bring their original educational documents for verification before fee deposit. Fee challan form will not be issued without educational document verification.
Kinnaird College for Women Lahore Merit List 2023
Kinnaird College for Women starts admissions for 4 years program leading to BA/Bsc Hons BCS Degrees offered by KCW Lahore session 2023
Undergraduate & Postgraduate Admissions Spring 2023
Admission open: 1 June 2023
Last Date to apply: 10 June 2023
Interviews:
Merit List Schedule & Fee Deadlines
Merit List (Open Merit) January (Friday)
Last Date to Submit Fee January (Wednesday)
Merit List (Reserved Seats) January (Saturday)
Last Date to Submit Fee January (Thursday)
Hostel Interviews January (Monday)
Commencement of Classes January (Monday)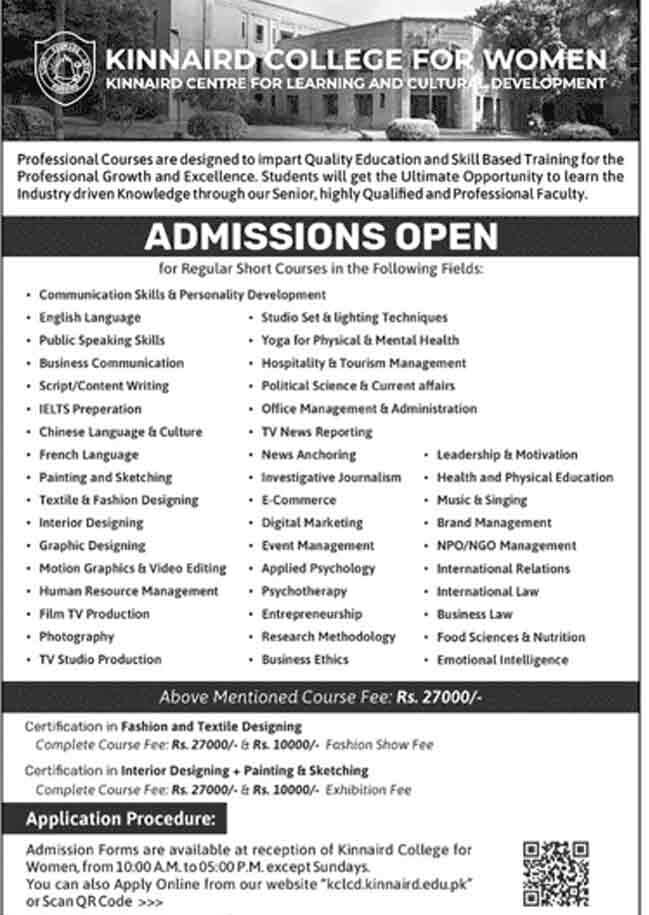 To be eligible, applicants must have obtained their schooling and taken the Board Examination from the province of their domicile. The candidates from the provinces other than Punjab have to route their complete Admission Application Forms for the provincial reserved seats to the College Admission Office through the concerned Provincial Government along with domicile certificates within due date. The candidates must appear for interviews according to the following Schedule.
Read Also:
B.A English Language & Linguistics – First Open Merit List
B.A English Literature – First Open Merit List
B.A International Relations – First Open Merit List
B.A LL.B – First Open Merit List
B.A Media Studies – First Open Merit List
B.A Political Sciences – First Open Merit List
B.A Urdu – First Open Merit List
B.B.A – First Open Merit List
B.Sc Accounting & Finance – First Open Merit List
B.Sc Applied Psychology – First Open Merit List
B.Sc Biochemistry – First Open Merit List
B.Sc Biotechnology – First Open Merit List
B.Sc Chemistry – First Open Merit List
B.Sc Economics – First Open Merit List
B.Sc Environmental Sciences – First Open Merit List
B.Sc Food Sciences & Human Nutrition – First Open Merit List
B.Sc Geography – First Open Merit List
B.Sc Mathematics – First Open Merit List
B.Sc Physics – First Open Merit List
B.Sc Statistics – First Open Merit List
Bachelor of Fine Arts
Bachelor of Design – Textile Design
BCS Computer Sciences – First Open Merit List
M.Phil Accounting & Finance – Open Merit List
M.Phil Applied Linguistics – Open Merit List
M.Phil Biochemistry – First Open Merit List
M.Phil Business Administration (after BBA) – Open Merit List
M.Phil Business Administration (after non business edu.) Open Merit List
M.Phil Clinical Psychology – Open Merit List
M.Phil Computer Sciences – Open Merit List
M.Phil English Language Teaching – Open Merit List
M.Phil English Literature – Open Merit List
M.Phil Environmental Sciences – Open Merit List
M.Phil Food Sciences & Human Nutrition – Open Merit List
M.Phil International Relations – Open Merit List
M.Phil Media Studies – Open Merit List
M.Phil Political Sciences – Open Merit List
M.Phil Statistics – Open Merit List
Kinnaird College for Women Lahore Merit List
Read Also: