Diego Armando Maradona: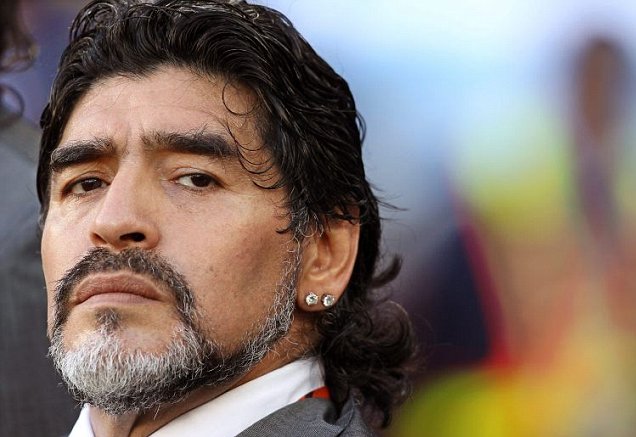 Legend Player Diego Armando Maradona
After Pele (Brazilian player), Diego Armando Maradona from Argentina is the great player of the history.  He is born in 30 October 1960 (age 51). His place of birth is Lanus, Buenos Aires, Argentina. He plays as attacking midfielder, Second striker. His height is 1.65 meter (5ft 5 inch).  He is the great player of all time. This title gives him due to his beautiful and unique playing. Under his leadership, Argentina won the football world cup of 1986. He was the best player in the tournament that was he earned the title golden boot in the tournament. In 1991, accusation on him that he using cocaine bound him out from football for 15 months. He was a great player of all time but controversial stamp was labeled on him. The acceptance of addiction drug by him is the great shock for his fanes. He was also remained head coach of Argentina national team.  The public of Argentina accept him the goddess of football. Now a day he is training young players in Dubai.
In 1991, his carrier is in danger due to the accusation of addiction drug. The punishment of 20 year was surely on proving of guilt. But penalty of 15 month away from football get off scot-free. He was controversial player definitely but there is no reduction in his popularity. In world cup 1994, when he came in the ground people are very enjoyed by watching his unique playing but his DOB test is again positive. Continuously controversies and his high weight force him to left the game in his 37 birthday 1997. He has short coaching experience but select as head coach of Argentina national team of football.  He remained on this seat for 18 month and left this seat in 2010 world cup. Diego Armando Maradona starts his professional carrier in 20 October 1976 at the age of 16 year. He played four world cups for his country. Argentina won 1986 football world cup due to the great performance of Maradona.
In his whole carrier his relation with media is not good. He faced bound on 16 matches and penalty of 3360 dollar due to his fight with referee. Although Merdona was a good player but he made strange gesture to remain in news. He did not arrive for practice on time, not follow the official instructions and quarrels with reporter. These things are affect his play. In February 1995, group of reporter went to his house for his interview. Maradona starts firing on them. This case run in the court but he get off scot-free.