Government of Punjab today announced the official notification about extension of lockdown in Punjab till date 31 May 2020. Official Notification of Govt of Punjab for the extension of lockdown period till 31st May 2020, with additional Exemptions.
Punjab government today receives official order notification from federal government to follow the instructions.  In the national coordination committee meeting dated 07 May 2020, the government of the Punjab is pleased to extend the applicability of this office order of even No Date 24 April 2020, with following additional exemptions till May 31, 2020.
Lockdown Extension in Punjab Notification Relaxation Time Table
All factories including export industry will be allowed to resume their operations. However, detailed notification in this regard shall be issued separately by the industries department.
All shops will be open expect large shopping malls, with guidelines for four days a week operationalization as per government rules. Hair shops barber and beauty parlor gymnasiums subject to adoption of SOPs / guidelines.
Relaxation Time Table:
All shops and business will be remain open for four days in a week from Time 08:00 AM to 05:00 PM and remain closed on Friday, Saturday and Sunday.
Following Business Remain Closed:
Educational institutions
Large shopping malls
Restaurants (expect home delivery only).
Hotels
Marriage halls
Cinemas
Marquees
Sports events and concerts not allowed.
Public transportation expects qingqi and rickshaw.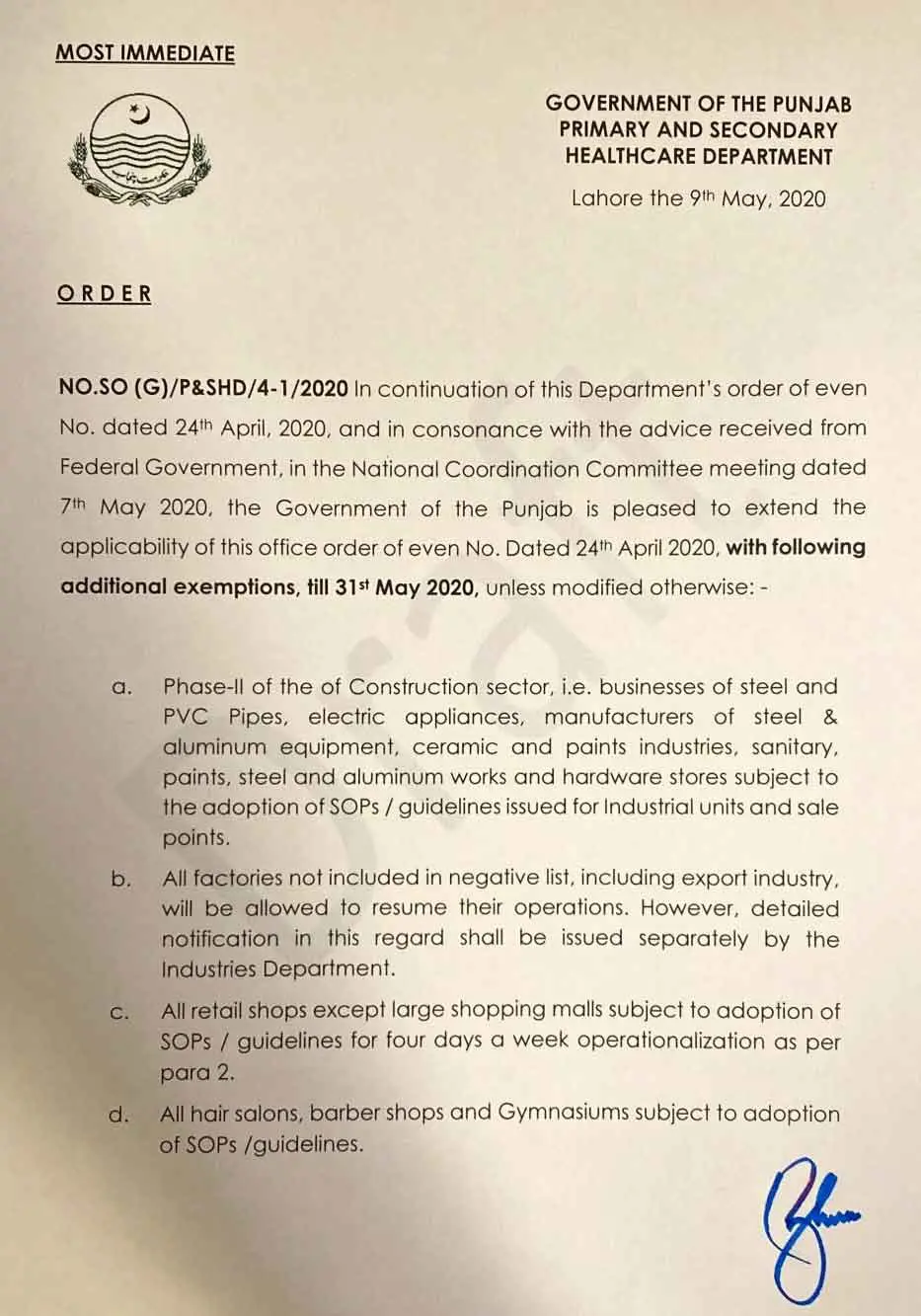 Open all businesses now there is no point to close parks, malls, cinema etc. Prepare SOPs for every sector & give them permission to open 4 days a week. The employees of these companies & sectors are unemployed. Corona will not leave. Learn to live with this virus