Lahore University of management sciences LUMS offering National Outreach Program 100% free scholarship education for talented Pakistani Male and female candidates' session 2023.
LUMS University offer NOP program every year for needy and talented students. The students who passed their Matric or O Level in good marks can submit Application form for getting free high standard level education through Pakistan's best institute LUMS.
Last date of submission of Application form for NOP: 29 March 2023
NOP Summer Coaching Session Application Deadline:
NOP Summer Coaching Session Document Submission Deadline:
Selection of Candidates for NOP Summer Coaching Session: May – June each year
NOP Summer Coaching Session July – August each year
Selection of Candidates for LUMS Undergraduate Application September – October each year
Deadline to apply for admission (online)
Deadline to submit supporting documents
Deadline to take SAT
Admission decisions
Classes Start
Eligibility:
The students who have 80% marks in Matric or O level can submit application form.
The applicants who cannot continue their study due to financial crises or whose cannot afford study after Matric or O level.
The interested and eligible candidates may submit their NOP Scholarship Application form through following process:
The students who wants to avail National Outreach Program opportunity must be submit application form when they was in first year of Matric or O Level, because those candidates who will appear in coaching classes of year session 2023 will be eligible for year session 2024.
For filling online application form goes to www.nopsc.lums.edu.pk for NOP Scholarships online application form first of all you need to create new account.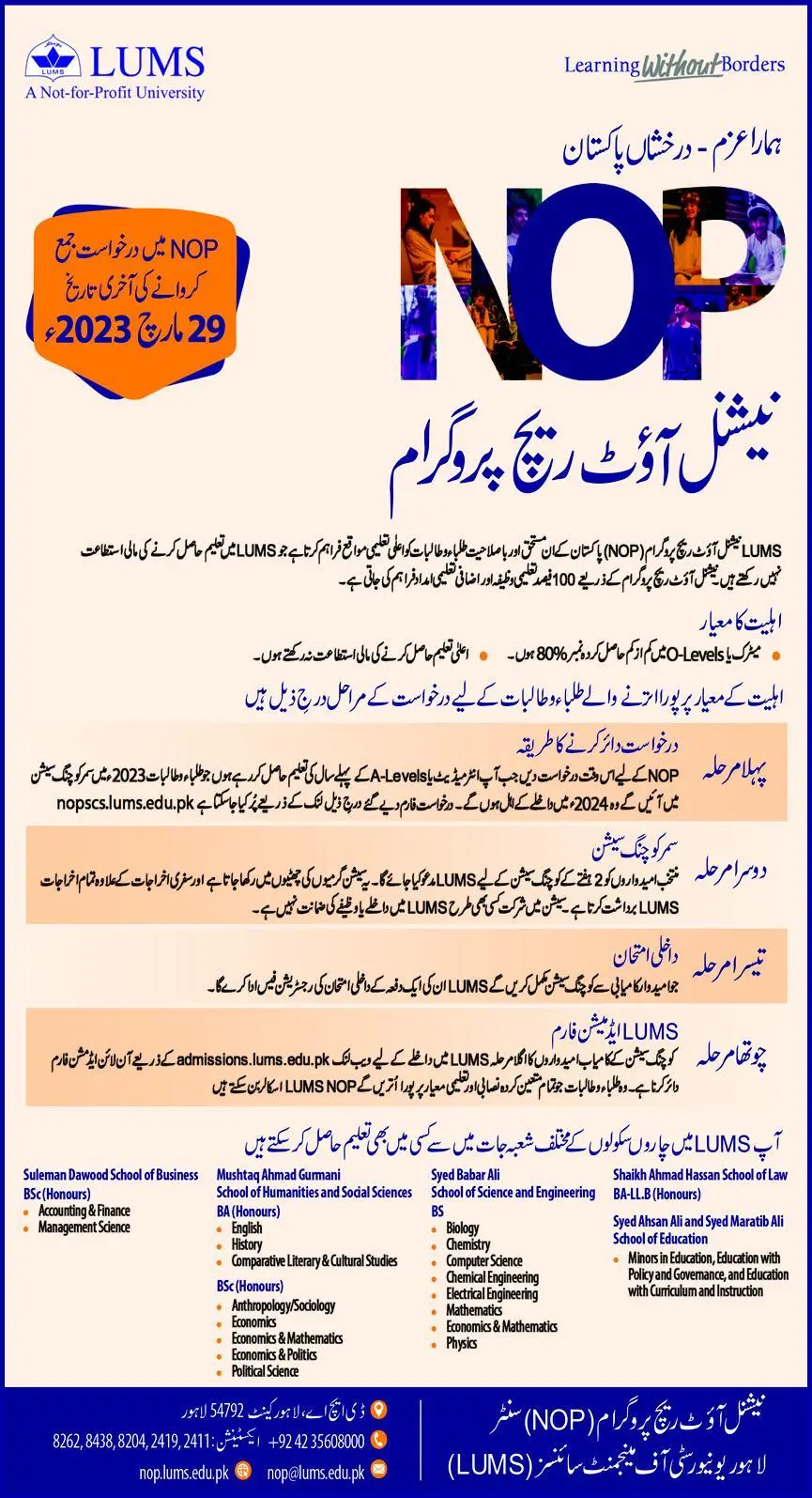 Second phase:
The students who will submit online application form will be called for 2 weeks coaching classes in LUMS. These classes will be in summer vocation and all the expenses of travelling and other expenses will be bear by LUMS.
Third phase: SAT Registration Fee
Entry Test SAT will be held in third phase for those candidates who will be successful in coaching classes of 2 weeks in second phase.
The LUMS will be pay SAT registration fees.
Fourth phase: LUMS Admission Form
All students who will be successful in first all phases will be go to nopscs.lums.edu.pk and for admission admissions.lums.edu.pk for online admission form after filling online admission forms the successful male and female candidates will be eligible for NOP LUMS scholarship program session 2023.