Meezan bank limited is seeking job applications for the position of head of SME from individuals located in Karachi.
The applicant must have good experience in banking field and Master in banking degree, The Meezan bank limited will be provide good salary package and other fringe benefits in a professional environment.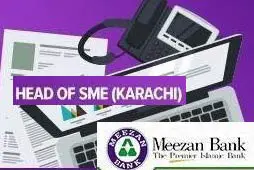 Apply online at www.meezanbank.com/careers latest by 02 November 2018
for Online Job Application From: Click Here
For more information related to Job for Head of SME kindly call to Meezan bank at following numbers
021-111-331-331 and 021-111-331-332
Meezank bank requires Head of SME Karachi, Meezan bank limited Pakistan's leading Islamic commercial bank, operating with a network of 600 plus branches in over 150 cities in across Pakistan.
Eligibility Criteria:
A Master degree in the field of banking and finance.
At least 10 years of banking experience in the field of credit preferably SME/ Middle market business.
Should have excellent communication skills, decision making and strong understanding of SME business.
Key responsibilities:     
To target new business and to build overall annual business strategy to achieve revenue, financing volumes, deposit volumes, Trade Business volumes and cross functional sales to ensure profitability targets and growth for the SME business segment.
To establish high yielding and prudent Small (S) & Medium (M) enterprises financing portfolio by deepening and widening the customer relationship through customer contact and cross sell programs.
Target existing deposit based clientele and consumer segment customers having sizeable account turnover with us having potential to obtain financing under SME / Program Lending business model.
Timely implementation of IFC proposed strategies, tools and guidelines in the Bank and submit Quarterly review of SME business growth Viz a Viz goal and objectives of the segment and to keep record of SME data reconciled with SBP.
Developing SME Banking Strategies aligned with Bank's Vision, Mission and Core Values by using 'Balance Score Card' tool for Strategy execution.
Communicating Department's goals and objectives to the field staff at regular intervals.
Ensuring Credit quality of the portfolio and designing/ re-engineering SME.
Implementation of IFC SME Banking Model and hiring quality resources across the country.
Monitor performance of reporting staff constantly to ensure targets are met or exceeded within the specified time frame.
Evaluate business attrition constantly, identifies trends and takes corrective measures to reverse the attrition trend.
Ensures that guidelines set in the credit policies are being followed and implemented in the credit approving process.
Monitors portfolio health indicators using Hind Sight Reviews, Past due reports and takes remedial action in cases of deviation from specified norms.
Partner in Product Development, managing, enhancing, maximizing retail banking branch and remote access customer base for profitable growth.
Focus on staff productivity by maintaining MIS of weekly NTB pipeline, approved cases and its utilization.
Location:              Meezan Bank Head Office, Karachi
Last date:            November 02, 2018