Microsoft one of the biggest multinational company going to launched Rozgar Ambassadors program in Pakistan. The program launch date is 05 March 2016. According to Rozgar Program Microsoft is looking to hire for 1st batch for Rozgar ambassadors from all over the Pakistan for this purpose Microsoft introduce official website www.rozgar.work, its employment portal in Pakistan. The official website currently showing coming soon program but terms and conditions has been published by web master of Microsoft rozgar ambassadors program.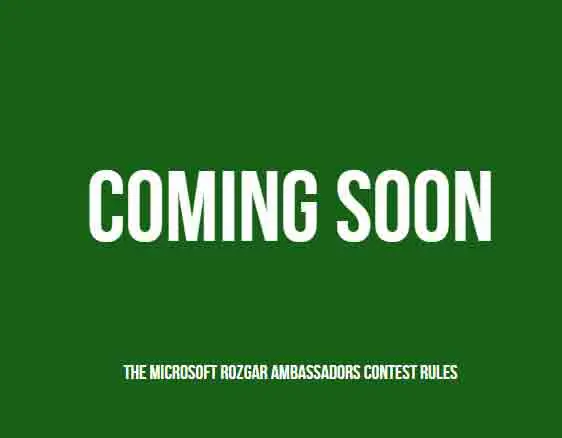 SECTION 1 Purpose of the Contest
Rozgar Ambassadors Program is looking to hire the 1st batch of 20 Rozgar Ambassadors from across Pakistan to help Microsoft launch the first of its kind, Youth Employability Portal in Pakistan (www.rozgar.work). Rozgar ambassadors will work closely with Microsoft Pakistan and its implementing partners to drive subscriptions and help organize employability events at universities, workplaces and beyond. This is a skill-based contest and chance plays no part in the determination of the Rozgar Ambassadors.
In order to select the best ambassadors, we will give a challenge- which is to create videos where applicants will introduce themselves and how they can help create job opportunities in their startups or new businesses.
For the purposes of this contest, each video submission created and submitted in the contest will be called an "entry." All eligible entries received will be judged using the criteria described below to determine Rozgar Ambassadors.
SECTION 2 Dates
This contest starts at 9pm am Local Time on 5th March 12:00 am and ends at 11:59 pm Local Time on 20th March ("15 days"). Entries must be received within the entry period to be eligible.
SECTION 3 Entry
You are eligible to enter this contest if you meet the following requirements:
You are a legal resident of Pakistan and you are between 18 and 25 years of age, at the time of entry;
You are not an employee of Microsoft Corporation or an employee of a Microsoft subsidiary;
You are not involved in any part of the administration and execution of this contest; and
You are not an immediate family (parent, sibling, spouse, or child) or household member of a Microsoft employee, an employee of a Microsoft subsidiary, or a person involved in any part of the administration and execution of this contest.
This competition is open to both male and female contestants. This contest is void outside the geographic area identified above and wherever else prohibited by law.
SECTION 4 Eligibility
To be eligible for judging an entry must meet the following content/technical requirements:
The duration of the video shouldn't be more than 5 minutes. The video should be of good-quality.
In addition, by submitting your entry into this contest you confirm that, to the best of your knowledge:
Your entry is your own original work;
Your entry only includes material (including music, video or images) that you own, or that you have permission from the copyright / trademark owner to use;
You have obtained permission from any recognizable person (parent/guardian, if a minor) that appears in your entry to submit your entry in this contest and to use their personal data in the entry for the purposes of the contest (if applicable);
Your entry has not been selected as a prize winner in any other contest; and your entry complies with terms of use. In the event of a conflict between the terms of use and these official rules, these official rules will govern.
SECTION 5 Potential use of entry
Other than what is set forth below, we are not claiming any ownership rights to your entry. However, by submitting your entry, you:
Are granting us an irrevocable, worldwide right and license, for which you have received a sufficient remuneration, for the duration of the protection of the copyrights to:
Reproduce, copy, modify or alter your entry with all known all later developed means;
Use, review, assess, test and otherwise analyze your entry and all its content in connection with this contest and any future contests sponsored by Microsoft;
Feature your entry and all its content in connection with the promotion of this contest in all media (now known or later developed).
Except where prohibited, hereby waive any and all so-called "moral rights " or any similar right that you may have or hereinafter acquire in the entry and all its content, and to the extent that you cannot, you hereby consent to us doing or omitting to do any act that would otherwise infringe such moral rights or any such similar rights;
Agree to sign any necessary documentation that may be required for us and our designees to make use of the rights you granted above;
Understand and acknowledge that that Microsoft and other entrants may have developed or commissioned materials similar or identical to your submission and you waive any claims you may have resulting from any similarities to your entry;
Understand that we cannot control the incoming information you will disclose to our representatives in the course of entering, or what our representatives will remember about your entry. You also understand that we will not restrict work assignments of
representatives who have had access to your entry. By entering this contest, you agree that use of information in our representatives' unaided memories in the development or deployment of our products or services does not create liability for us under this agreement or copyright or trade secret law;
Understand that you will not receive any compensation or credit for use of your entry, other than what is described in these official rules.
Please note that following the end of this contest your entry may be posted on a website selected by us for viewing by visitors to that website. We are not responsible for any unauthorized use of your entry by visitors to this website. While we reserve these rights, we are not obligated to use your entry for any purpose, even if it has been selected as a winning entry.
If you do not want to grant us these rights to your entry, please do not enter this contest.
SECTION 6 Submission of entry
To submit the entry, you will create a video where you will introduce yourselves and how you can help create job opportunities around you. Share ideas that can make you your own boss and employ folks you know. The participants should post their videos on youtube.com between 5th March and 20th March, and then send the link to the following email addresses: hira_rizvi@wvi.org and v-muusma@microsoft.com. The Microsoft team will publish the videos on www.rozgar.work.
We will only accept 1 entry per person and e-mail address per year. In other words, two people may not enter using the same e-mail address –each individual must enter using a unique e-mail address. We are not responsible for entries that we do not receive for any reason, or for entries that we receive but are not decipherable for any reason.
We will automatically disqualify:
Incomplete or illegible entries; and
Entries that we receive in excess of the entry limit described above.
SECTION 7 Judging the entry
A panel of qualified judges who will be from Microsoft's Citizenship team (whose names will be available on request), which will include at least one independent judge, will review all eligible entries received and select 20 Rozgar Ambassadors based upon the following criteria:
25% public speaking;
25% good presentation skills;
25% ability to take initiative and to suggest new ideas;
25% the number of views that the video receives.
The decisions of these judges are final and binding. The decision will be made on or around 20th March at approximately 2 am Local Time. If we do not receive a sufficient number of eligible entries meeting the entry requirements, we may, at our discretion based on the above criteria, select fewer than 20 Rozgar Ambassadors. In the event of a tie between any eligible entries, the tie will be broken by an additional judge who will judge the tied entries based on the criteria listed above.
The selected students will join the Rozgar Ambassadors Program and Microsoft Pakistan will make at their disposal an ambassador kit that contains a t-shirt, notepad and a pen.
SECTION 8 Prize(s)
The odds of winning will depend on the number of eligible entries received and the level of skill of each entrant.
If for any reason the advertised prize is unavailable, unless to do so would be prohibited by law, we reserve the right to substitute a prize(s) of equal or greater value, as permitted. We will only award one prize per person. If you are selected as a potential Rozgar Ambassador of this contest:
You may not exchange your prize for cash or any other merchandise or services.
You may not designate someone else as the Rozgar Ambassador. If you are unable or unwilling to accept your prize, we will award it to an alternate potential Rozgar ambassador.
If you accept a prize, you will be solely responsible for all applicable taxes related to accepting the prize.
SECTION 9 Notification
If you are a potential Rozgar Ambassador, we will notify you by sending a message to the e-mail address within 3 days following the determination of Rozgar ambassadors. If the notification that we send is returned as undeliverable, or you are otherwise unreachable for any reason, we may reject your application.
If there is a dispute as to who is the potential Rozgar Ambassador, we will consider the potential Rozgar ambassador to be the authorized account holder of the e-mail address used to enter the contest.
If you are selected, we may require you to sign a declaration of eligibility, use, indemnity and liability/publicity release.
SECTION 10 Method of notification
We will post the names of confirmed Rozgar Ambassadors online after 20th March at www.rozgar.work. This list will remain posted until 23th March.
SECTION 11 Conditions. By entering this contest you agree:
To abide by these official rules; and
That Microsoft's decisions will be final and binding on all matters related to this contest; and
That by accepting a prize, Microsoft may use your name and place of residence online and in print, or in any other media, in connection with this contest, without payment or compensation to you. The declaration of eligibility, use, indemnity and liability/publicity release provided to the potential Rozgar ambassadors (pursuant to clause 9 above) will make reference to obtaining his/her free consent to use his/her name and place of residence. In any case, the lack of such consent does not prevent the Rozgar ambassadors from receiving the prize.
This contest will be governed by the laws of Pakistan, and you consent to the exclusive jurisdiction and venue of the courts of the state for any disputes arising out of this contest.
SECTION 12 Unforeseen event
If someone cheats, or a virus, bug, catastrophic event, or any other unforeseen or unexpected event that cannot be reasonably anticipated or controlled, (also referred to as force majeure) affects the fairness and / or integrity of this contest, we reserve the right to cancel, change or suspend this contest. This right is reserved whether the event is due to human or technical error. If a solution cannot be found to restore the integrity of the contest, we reserve the right to select Rozgar Ambassadors based on the criteria specified above from among all eligible entries received before we had to cancel, change or suspend the contest.
Computer "hacking" is unlawful. If you attempt to compromise the integrity or the legitimate operation of this contest by hacking or by cheating or committing fraud in any way, we may seek damages from you to the fullest extent permitted by law. Further, we may ban you from participating in any of our future contests, so please play fairly.
SECTION 13 Sponsor
Microsoft Pakistan & World Vision Pakistan
SECTION 14 Privacy
Microsoft's privacy policy will apply to this contest and to all information that we receive from your entry. Please read the privacy policy on the contest entry page before accepting the official rules and submitting your entry. Please note that by accepting the official rules you are also accepting the terms of the privacy policy.