National institute of cultural studies Offered Courses
Limited Seats Available!
Eligibility Criteria:
– Age limit between 18 to 29 years old
– Matric/Intermediate
– One of the addresses on your ID card MUST be of Punjab
– Should not have done DAE or a funded course offered by PSDF
Last Date of Submission:
*All products in this collage are made by students of NICS.
National Institute of Cultural Studies (NICS) is a first of its kind endeavor in higher education of Pakistan. It is the result of an innovative and path-breaking public-private partnership between the Government of Pakistan through the Institute of Folk and Traditional Heritage (Lok Virsa) and Cosmos Productions (private) Limited, Islamabad. NICS comes with a commitment to the highest possible quality in all of its activities. It is committed to open and critical thinking and all its programs are based on the premise that high quality learning and research requires openness, freedom of thought and expression, debate, and active learning.
National institute of cultural studies Offered Courses in interior design, fashion textile, Hotel Management, and Media studies Program. Fully funded for EOBI/ social security workers and their children's, 2 years diploma course offer by NICS, minimum qualification matric or equipment.
NICS Islamabad certified by national Training Bureau Admissions open for one year diploma session 2021-2022
Give a force of professionalism to your creative hands in order to drive your career and present a story of your success. Turn your dreams into a reality by applying for Career Courses at NICS Islamabad​
Admission Open in textile and fashion designing at NICS Islamabad
Call us for more details at:
051-9249218
Courses Offered:
Media Studies Department
Hotel Management Department
Beauty and Personal Grooming
Information Technology Department
Fashion and Textile Department
Graphic Design Department
Interior Design Department
Eligibility of above programs:
minimum qualification intermediate and age limit 18 to 35 years old.
Last date for submission of admission forms:
Classes will start from dated:
Maximum age limit for workers: 35 years old
Maximum age limit for children's: 28 years old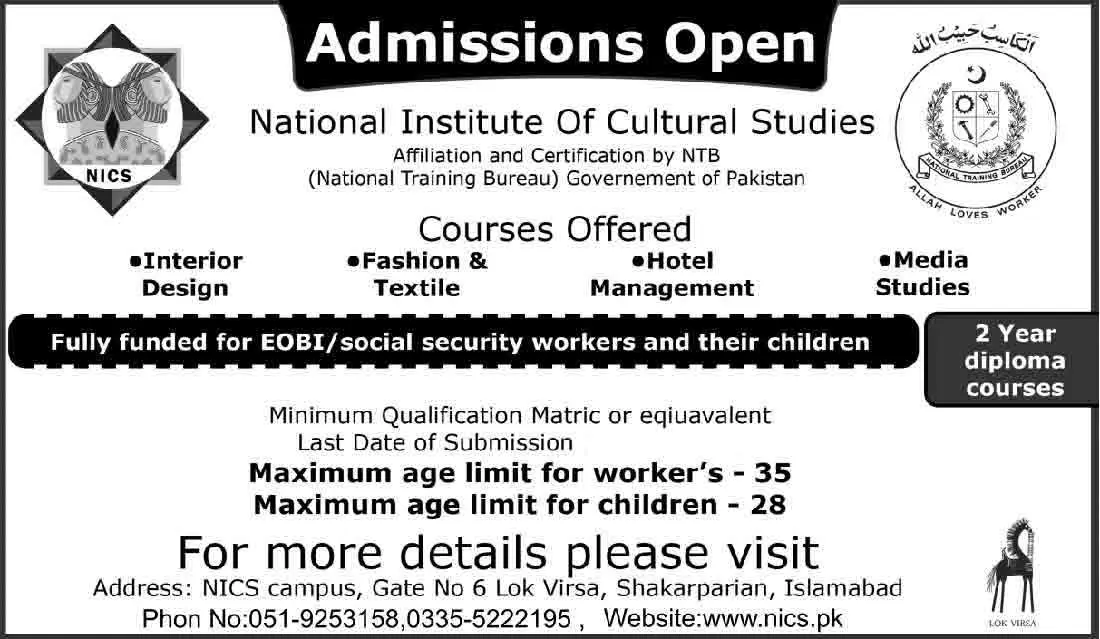 For more information:
Address: NICS campus, Gate no 6 lok virsa shakarparian, Islamabad, Pakistan
Phone Number: 051-92531583
Mobile Number: 0335-5222195
Media Studies
We'll show you how to get the best out of your initial photo sessions, how to play with the camera, lighting and setting and how to perfect your motives in digital processing effectively and creatively.
Hotel Management
Studying Hotel Management will enable students to develop in-depth knowledge of management theories and specialized aspects of hotel management, including housekeeping, food and beverage, front-desk etc that will ensure jobs within Pakistan as well as in the international market.
Fashion & Textile
Textile and Apparel Design is a rewarding professional area that relates the physical properties of textiles to our human need for functional and fashionable clothing and home accessories. This option combines the art of design in a rich and challenging learning environment that prepares individuals for dynamic careers at the creative forefront of the textile and fashion industry.
Graphic Design
This course aims to introduce the students to a variety of a experiences exploring a range of Graphic Design techniques and processes. The aim of this course is to give the students a basic understanding of the principles of graphic design and how to create a range of printed materials using Adobe Creative Suite. Anyone with a keen interest and an eye for design can get enrolled in this diploma course and execute their ideas via Graphics.
Interior Design
In this course students will learn how to create exciting spaces that are functional, aesthetically pleasing and sustainable. The diploma programme is stretched over a period of 6 months and offers a comprehensive education that combines studio courses with theory and history. It teaches a manual and digital drawing skill that allows students to communicate ideas effectively. NICS provides a platform which enables students to build a strong portfolio to kick-start their careers.
Fee Structure
COURSES
ADMISSION &
REGISTRATION FEE
FEE AT THE TIME OF ADMISSION
NEXT INSTALLMENT
TOTAL
* Diploma in Information Technology
(1 year)
2,700
4,200
1,500
(per month)
24,200
Certificate in Information Technology
(6 Months)
—
4,500
1,500
(per month)
12,000
Office Management
(3 Months)
—
4,000
3,000
7,000
Office Management
(2 Months)
—
5,000
—
5,000
Graphics / web Designing
(2 Months)
—
4,000
2,500
6,500
ASP.NET (C#/VB) Web Applications
(3 Months)
—
4,500
3,500
8,000
Desktop Applications using VB.NET
(3 Months)
—
4,500
3,500
8,000
Web Development
(3 Months)
—
4,500
3,500
8,000
AutoCAD
(2 Months)
—
3,500
2,500
6,000
C/C++ Programming Language
(2 Months)
—
3,500
2,500
6,000
Computer Networks
(6 Weeks)
—
3,500
2,500
6,000
Note: ** DIT Fee payable at the time of admission is Rs. 4,200/- (which includes one month tuition fee)