National university of modern languages NUML Sector H-9, Islamabad offer foreign scholarships session 2023.
NUML University Chinese Embassy Scholarship for spring 2023
Chinese Embassy Scholarship is aimed to encourage Confucius institute at National University of Modern Languages NUML in order to strengthen research on the scholarship between china and Pakistan.
Read Also: NUML University Merit List 2023 1st, 2nd, 3rd Selected Candidates
How to Apply:
NUML University students can visit at Student Financial Aid office Room No. 26 Financial Aid office Jinnah Block NUML H-9 Islamabad.
Scholarship Programs:
MPhil / MS
Foreign Scholarship Countries:
China
German
French
It's a wonderful opportunity for master level candidates to make their future by doing MS and MPhil from china, German and French countries, the expenses will be bear by NUML Islamabad.
Read Also: NUML University How to Get E-Roll Number
The selected candidates will undergo their studies in foreign countries. After completion of scholarships program from foreign countries it's necessary to serve NUML University minimum five years after completion of scholarship study.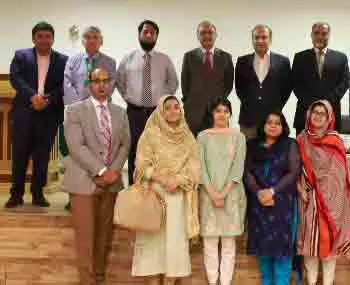 Read also: NUML University HEC Need Based Scholarship 2023
Last date of submission Application Form: 24 July 2023
Eligibility:
The master degree holders minimum 16 years of education from HEC recognized University / institute with at least 2.54/4 CGPA or first division under Annual System.
The applicant will not have 50% marks in annual system in their entire academic education or not less than 2.0 / 4 under semester system.
The applicant must have valid GRE International / NTS or University devised GAT-General with Score 50/100
Only Pakistani and AJK national Candidates will be eligible to apply.
The candidates who are already getting scholarships from government or HEC or any other institute or organisation will not eligible to apply for NUML Foreign scholarship scheme.
The maximum age limit of applicant will not be more than 35 years old but the age relaxation will be given to regular employees of public sector universities / DAIs / R and D organisations. The government employees or sami government and autonomous bodies should send their application through proper channel.
Scholarship application forms available at university website www.numl.edu.pk along with requisite documents may be submitted to academics branch with bank draft of Rs. 1000/- in the name of Rector NUML.
Hello Juniors/Numlians
Apply on or before date and share with other needy students. Look into the criteria well before applying.
This is especially for NUML students who are poor and have somehow satisfactory academic record.
From an Alumni of this scholarship I heard they pay (grant) you your semester fee.
Baki odhr university k Jinnah blocks ma 2nd floor pe Scholarship room ma pata krleee.
Note: This scholarship opportunity is only for NUML Islamabad campus Students.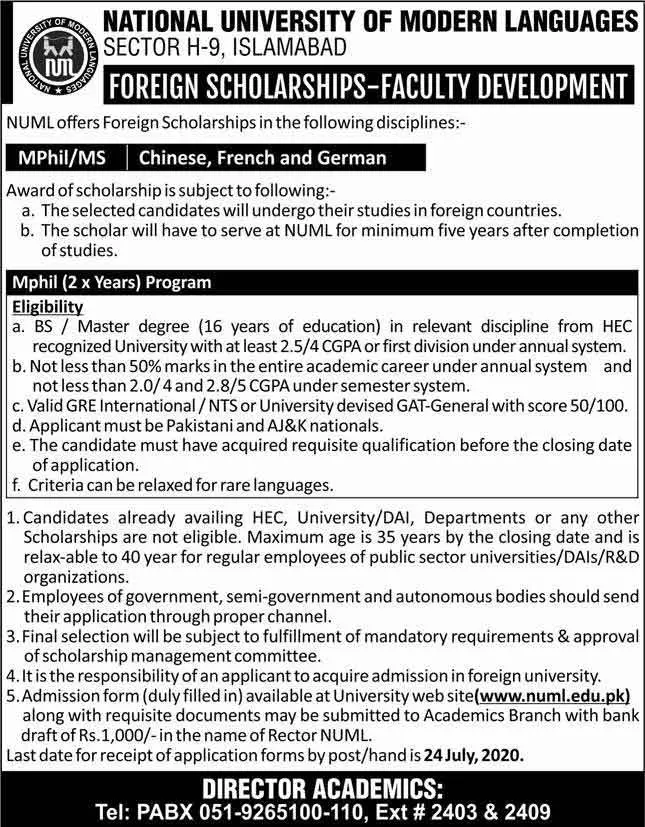 Learn More About NUML University Offers:
2. NUML Foreign Scholarship Criteria 2023 Chinese, French and German
3. NUML University Online Admission 2023 Form Test Date
4. NUML University Islamabad Jobs 2023 Latest Careers Date
5. Confucius Institute NUML Islamabad Chinese Language Course
6. NUML Lahore Campus Admissions in Ielts English Speaking Skills