National Endowment Scholarships for Talent NEST Ministry of federal education and professional training government of Pakistan offering scholarships for Nursing Students of Pakistan. NEST Pakistan is starts taking scholarship application forms through the shortlisted partner institutes.
Nursing Scholarships 2022 NEST Application Form
NEST first time in Pakistan that is providing scholarships for strengthening nursing profession through follows:
Providing scholarship to deserving and talented students in 4 Years BSN (Gen) Program.
Faculty development of nursing institutions through MSN and PhD scholarships.
Eligibility Criteria:
Those students are eligible who have secured admission in the NEST Partner institutions in undergraduate 4 or 5 years degree program.
The eligible students can submit scholarship application form only on prescribed application form that is available at www.nest.org.pk and NEST Partner institute websites and admission offices.
NEST has nominated a dedicated person in their partner institutions for facilitating the students and list of these focal persons is available at website www.nest.org.pk.
After completing the scholarship application form, the form has been submitted to the concerned focal person of the above partner intuitions.
NEST Nursing Institutes List: 
Nest Partner Institute list Available Download and Check NEST Nursing Institute that is near to you, you can apply on that specific Institute: Partner Institute List Available Here
How to Apply:
Need based scholarships are available for nursing education. Those students who want to purse their studies in nursing can download application form.
Please Choose Your Program to download Scholarship Application form.
The list of partner institutions PNC recognized who are providing scholarships in Nursing is available at nest.org.pk.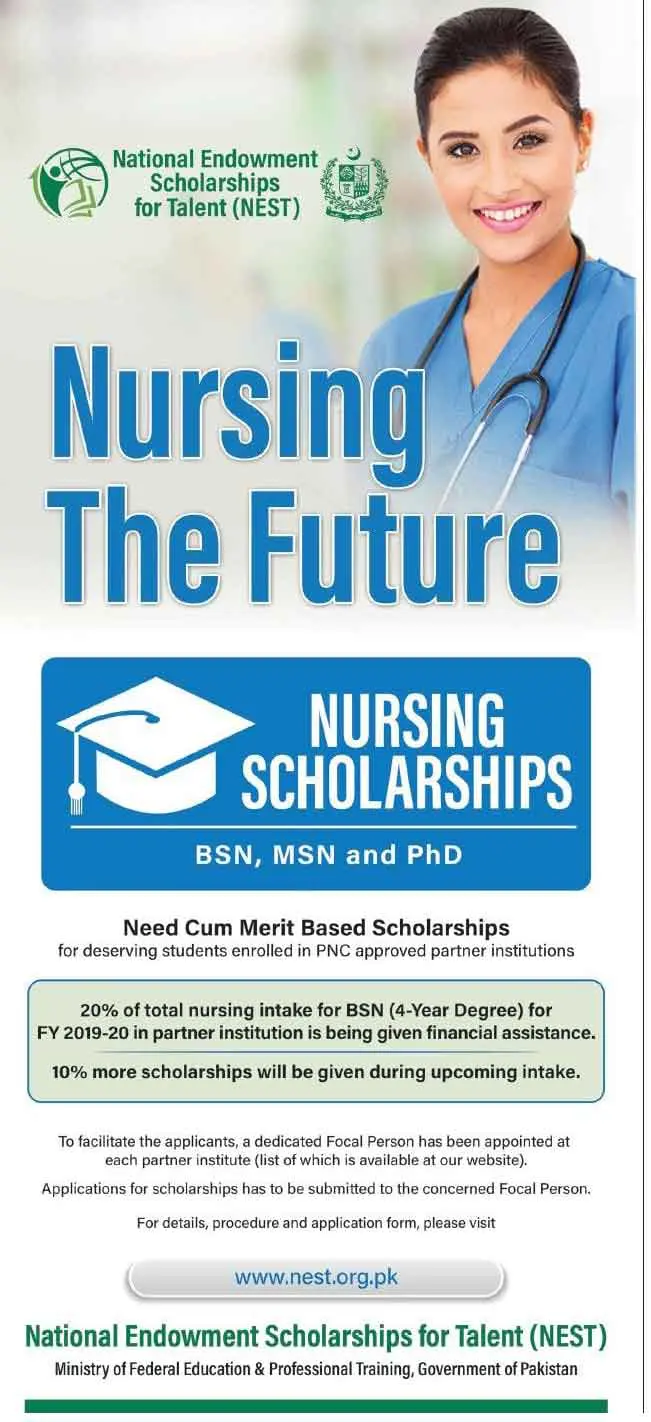 the list of Require documents with Scholarship Application form: Available Check Here
Nursing Need Cum Merit Based Scholarships for BSN MSN and PhD for deserving students enrolled in PNC approved Partner institution.