Overseas Pakistani foundation OPF ministry of overseas Pakistani and human resource development overseas Pakistani foundation scholarships for the children of overseas Pakistani under overseas Pakistani Foundation Fund session 2023.
It's a wonderful program by government of Pakistan under overseas Pakistani foundation, the children of overseas Pakistani who's studying in Pakistani Educational institutions in following classes:
FA / FSC / I.com / ICS Intermediate
BA / BSC / B.com /BCS Graduate
MA / MSC / M.com / MCS / MS / Master Degree Program
Also including MBBS / BDS / 16 years or 18 years education can submit Scholarship Applications.
Intermediate, Graduate or master degree programs are eligible to avail OPF Scholarships.
How to submit Scholarship Application Form:
The eligible applicants can download application form from OPF and PEEF official opf.org.pk or peef.org.pk and hard copy of application form can also be obtained from OPF head office, Islamabad and OPF regional offices a t Lahore, Karachi, Peshawar, Quetta, Mirpur AJK and Multan. for more information go to opf.org.pk
Scholarship applications can also be submit PEEF Punjab educational endowment fund PEEF head office Lahore.
Last date for submission of scholarship application form: 14 September 2023
The scholarship applications who will receive after last date will not be entertained.
Eligibility criteria:
The parents or students who want to avail OPF scholarships must have 60 percent marks or 3.00 CGPA In his / her last class like SSC / HSSC Board examination or BA / BSC / B.COM / BS / BBA etc from HEC higher education commission recognized institution or university.
The monthly income parents of the student or applicant must not be more than Rs. 100,000/-
The applicant is currently not getting any scholarship during current academic year.
Scholarships for the children of Overseas Pakistanis Studying in Pakistan
Provincial domicile
The student year passing HSSC / SSC or enrolled as a regular student in any of the public / Private Sector College or university of Pakistan during academic year 2023.
Read Also: Scholarships for SSC Matric Science Students by Pakistan Science Foundation
The Overseas Pakistanis are making valuable contribution in the socioeconomic development of the country and are sending billions of dollars as remittances which are strengthening the foreign exchange reserves of pakistan. in order to facilitate the children of overseas pakistanis to pursue their education in professional colleges / universities, OPF has launched a scholarship program.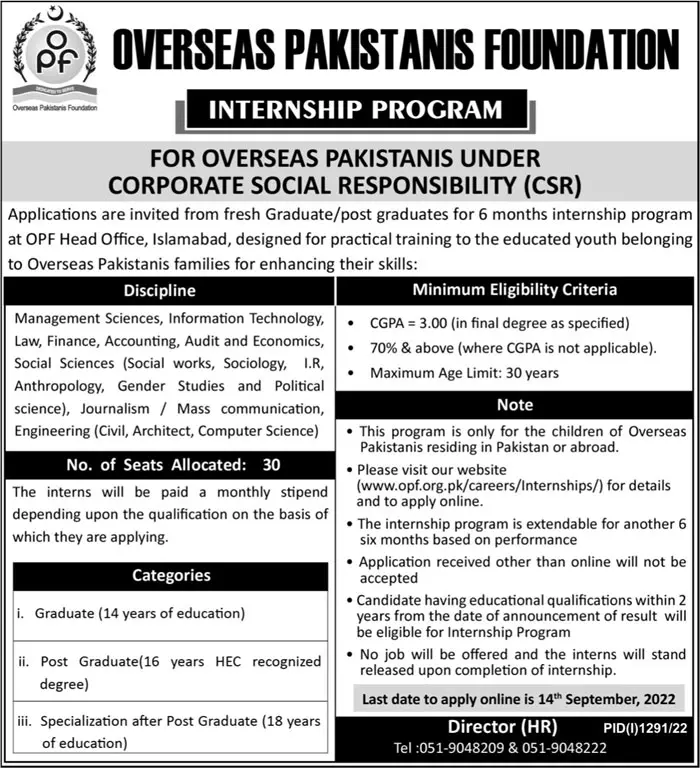 Monthly Scholarship Amount:
Program Day Scholar Borders
Intermediate Level Rs. 1,500/- Rs. 3,000/-
Graduation (B.A, B.Sc) Rs. 25,00/- Rs. 4,000/-
Professional Degree / Courses (BS, B.Sc. Hons., MBBS, Engineering, B.Com, IT, etc : Rs. 3,000/-Rs. 45,00/-
Master Level (Public Sector Universities) Rs. 3,000/- Rs. 5,000/-