PAF KIET is chartered by Sindh government as degree awarding institute. Now PAF Karachi Institute of economics & technology opening admissions for the year 2022-2023.
Last Date to apply for admission  01 January 2022
Forms are available for Rs. 1500/- from all PAF-KIET Campuses. Those awaiting results may also apply for admissions.
PAF KIET Offering following admissions
Computing and information sciences
Management Sciences
Engineering
Media and arts.
BBA, MBA, MS/M.Phil, PhD, BSCS, MCS, MSSE, PhD in computer science, PGD, BS erp, BCA, BS TV, BE, and masters in computer Arts.
The Sunday news paper advertisement of PAF Karachi Institute of economics & technology Admissions, check below this advertisement dated 19 December 2021 Sunday.
how to apply online: www.kiet.edu.pk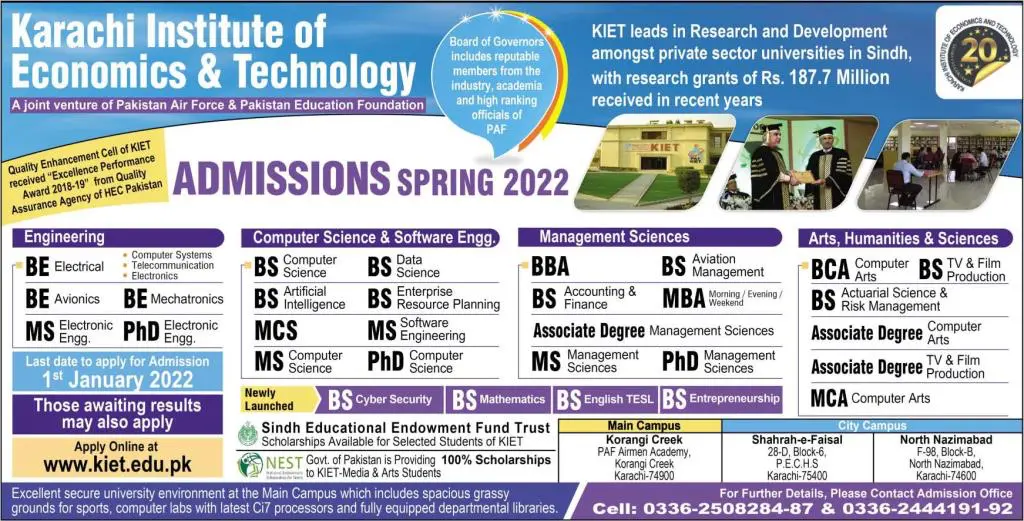 Eligibility Criteria
Eligibility for Master Level Programs: 14 years of educational degree from any HEC recognized University or institute in relevant field.
Eligibility for Bachelors level programs: 12th year educational degree in relevant field or equivalent
Eligibility for PhD: 16 years educations in relevant field.
Campuses:
Main Campus, PAF Base Korangi Creek
City Campus 28-D Block 6 PECHS
North Nazimabad Campus F-98 Block B.
KIET Talent Hunt and Support Program
KTS program offers training and scholarship to prospective students who aspire to undertake engineering education. Students enrolled in KTS program will experience a glimpse of four years engineering degree through a series of extensive training sessions from 19 November to 22 December 2021. All students who clear admission test for BE Electrical (any specialization) will be eligible to enroll in KTS program.