No. F. 1-14/2019 (Admin-IH (PIMS)
PAKISTAN INSTITUTE OF MEDICAL SCIENCES
Islamabad
APPLICATIONS FOR HOUSE JOB AT PIMS ISLAMABAD
Applications are invited for one year House Job 2020-2021 according to the PM & DC regulations from fresh Medical Graduates (MBBS/BDS) of the year 2020 provisionally registered with PMDC.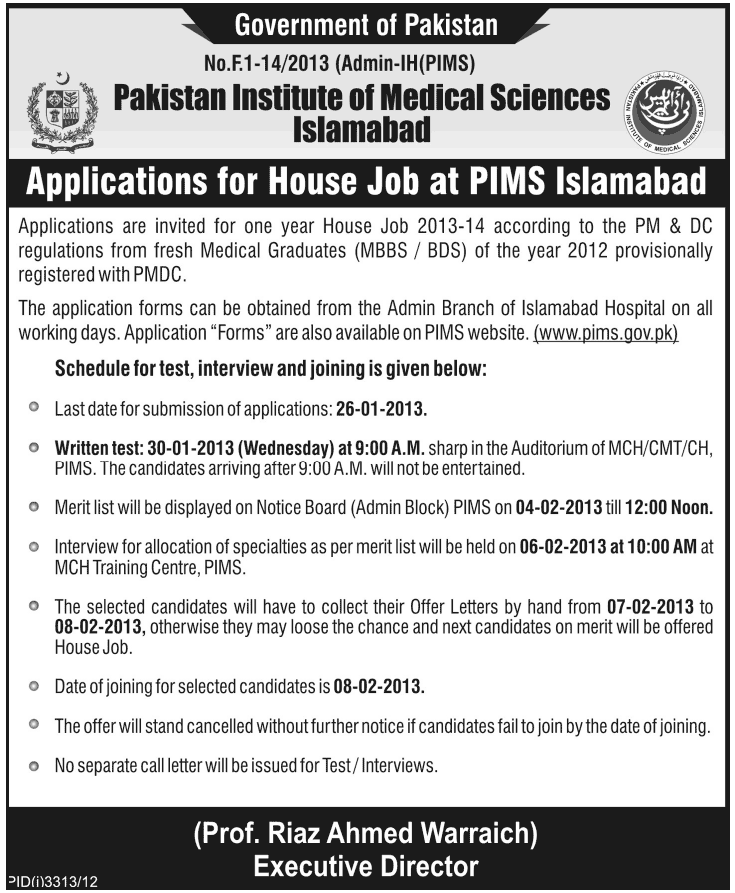 The application forms can be obtained from the Admin Branch of Islamabad Hospital on all working days Application "Forms" are also available on PIMS website. (www.pims.gov.pk)
Schedule for test, interview and joining is given below:
Last date for submission of applications: 26-01-2020
Written test: 30-01-2020 (Wednesday) at 9:00 A.M. sharp in the Auditoriums of MCH/CMT/CH, PIMS. The candidates arriving after 9:00 A.M. will not be entertained.
Merit list will be displayed on Notice Board (Admin Block) PIMS on 04-02-2020 till 12:00 Noon.
Interview for allocation of specialties as per merit list will be held on 06-02-2020 at 10:00 AM at MCH Training Centre, PIMS.
The selected candidates will have to collect their Offer Letters by hand from 07-02-2020 to 08-02-2020, otherwise they may lose the chance and next candidates on merit will be offered House Job.
Date of joining for selected candidates is 08-02-2020
The offer will stand cancelled without further notice if candidates fail to join by the date of joining.
No separate call letter will be issued for test/ Interviews.
(PROF. RIAZ AHMED WARRAICH)
Executive Director