Pakistan Scottish Scholarship Scheme Application Form for session 2023-2024. The Pakistan Scottish Scholarship Scheme is a scholarship financed by the Scottish Government that aims to provide chances for young women in Pakistan to continue higher education at the postgraduate level. The scholarship scheme is specially designed for female Pakistani students for master's level education, and this scholarship is approved by the Higher Education Commission of Pakistan in the following fields:
Education
Health Sciences
Food security and agricultural
STEM Engineering
Sustainable Energy
Learn Read Also:
Punjab Workers Welfare Board Scholarship Form 2023 EOBI, PESSI
The Pakistan British Council will bear the following expenses:
tuition fee for master's level education
University Hostel Expenses
Award holders will be receive cash prizes
free hostel living expenses with three times the travel expenses from hostel to home within one year.
The last date to submit the application is September 15, 2023.
Read Also: Scholarships for SSC Matric Science Students by Pakistan Science Foundation
Eligibility Criteria
Pakistani national holder female candidates only
The applicant must live in Pakistan.
The applicant's age limit must not be more than 35 years old.
Only one- or two-year master's degree holders scholarships will be granted to selected candidates.
Applicants must be approved HEC recognized degree holders.
How to apply
A complete application will include:
A duly filled out application form
Scanned copy of CNIC
A scanned copy of transcripts
Proof of admission and/or enrollment at the master's or bachelor's level
Tuition fee form
The IELTS Prize 2023 application process

The application for the IELTS Prize 2023 is divided into two stages:
Phase one of the application – begin writing! Filling out a thorough form will be the first step in your IELTS Prize application.
Phase two of the application – start filming.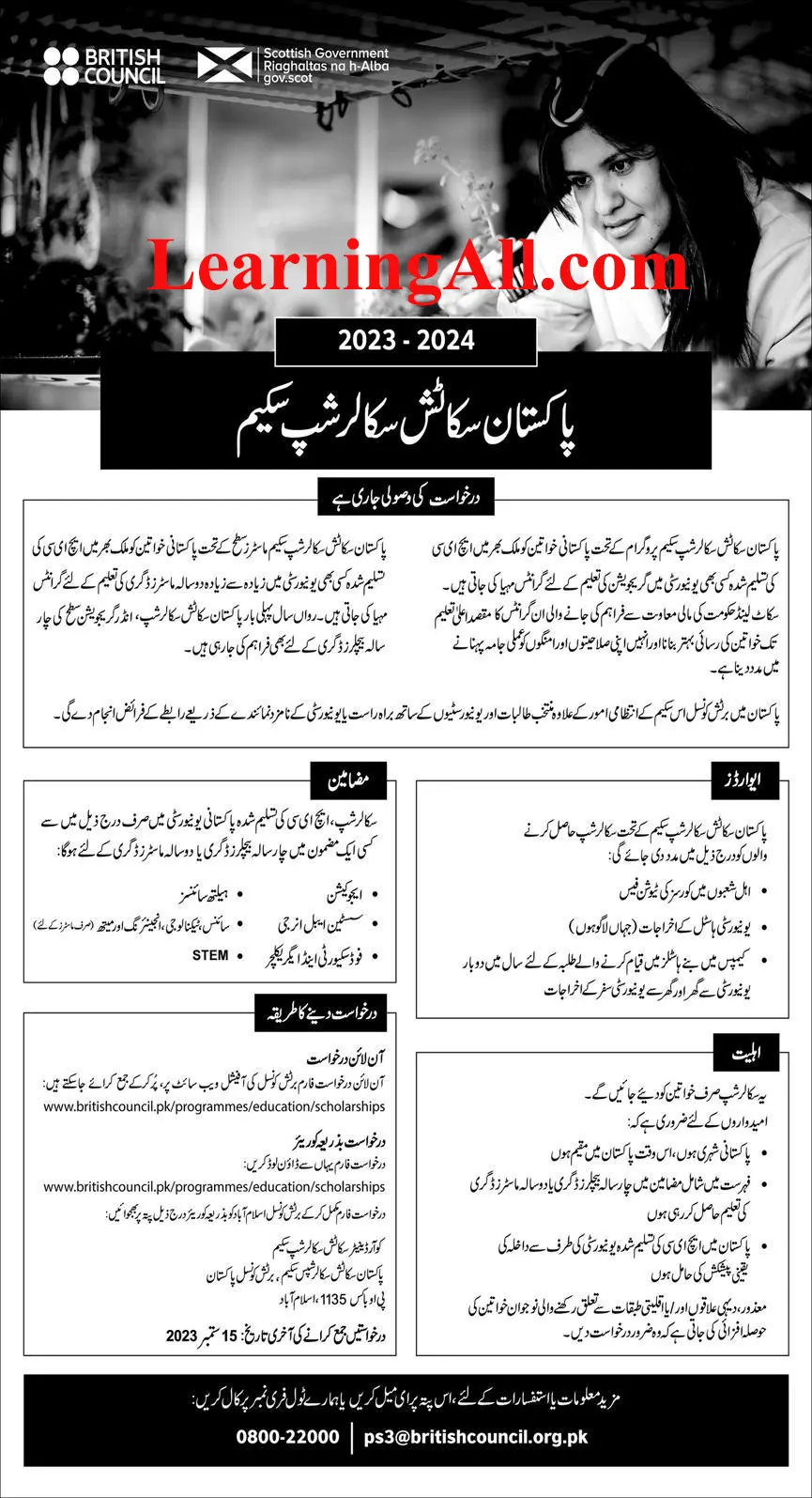 Applying Online:
The online application form can be filled out and submitted on the official British Council website by clicking here.
Click here to view some of the most frequently asked questions (FAQs) about the Scotland Pakistan Scholarship Scheme.
For further information or queries, please write to us at ps3@britishcouncil.org.pk or call our toll-free number 0800-22000
APPLYING VIA COURIER
Application forms can also be downloaded from the Downloads section below.
Completed applications should be sent via courier to the British Council Islamabad office at the following address:
Pakistan Scottish Scholarships Scheme  British Council Pakistan, PO Box 1135, Islamabad
Scholarships for Pakistani women from UK 
Calling all Pakistani science aficionados: As part of our Science is Great campaign, Education UK looks at scholarships, grants, work experience opportunities, and competitions for International students and researchers. Check out the latest opportunities available:
Read Also:
OPF Scholarships 2023 Form for Overseas Pakistani Eligibility Criteria
Official website: britishcouncil.pk
IELTS: ieltsprize.takeielts.britishcouncil.org