Parbat Foundation's Summer Internship Program 2018 Online Application Form
Introduction:
Parbat foundation is working to empowering women society, Parbat foundation is a vocational training Organization for needy women founded by a group of professionals. Organization focuses on helping under privileged women for their vocational training needs. The main purpose is to enable them to be a bread earner for their families so that they enhance their quality of life and be able to send their children to schools not to work. This will shape an educated society and ultimately help the economy.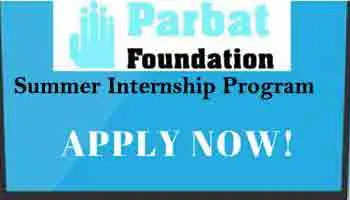 Training is imparted in the areas of stitching, knitting and ICT. Education is provided in the area of ICT while educational grants are provided for needy students for completing their higher educations.
Parbat foundation is also working in collaboration with other NGO's such as "PEN" (Progressive Education Network) to bring first hand computer knowledge and skills to children of all ages those who study in government schools which have no computer lab facilities by setting and running computer labs. . So far, Parbat has established Computer Labs in:
Government Girl's Elementary School, Ghopal Nagar,Lahore
Government Boy's Primary School, Township, Lahore
Parbat Vocational Training Centre, Chichawatni
Parbat foundation offering summer internship Program session 2018, Applications are now open for Parbat Foundation's Summer Internship Program 2018.
Please fill in the following form Online: Click Here
Last date for submission of online application form: 15 June 2018
English Language, Social Skills & Communications, Arts & Crafts, Ethics & Moral Values Class