Baqai Medical University, Baqai institute of pharmaceutical sciences starts admissions in Doctor of Pharmacy session 2022. admission forms are available at the admission cell, medical university from 9:00 am to 4:00 pm on all working days.
commencement of session: for more detail click on below this image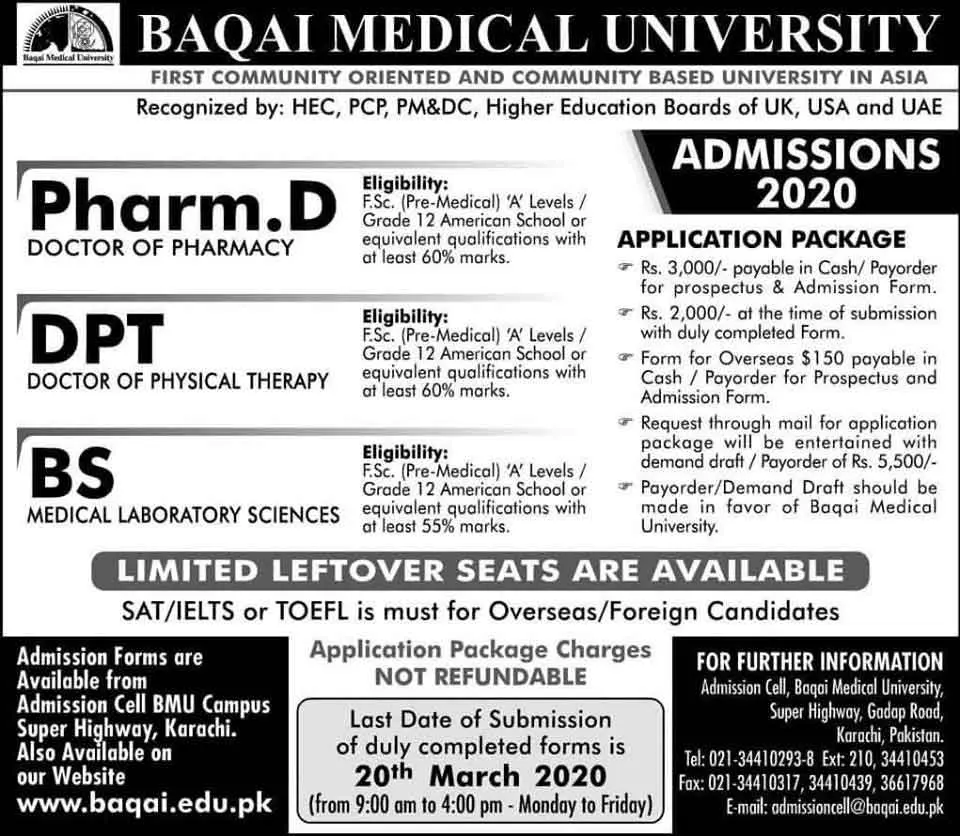 Study carefully the University Prospectus and the instructions before filling the application form.
The minimum requirement for application is a scholastic score of at least 60% in the Higher Secondary School Certificate (HSSC) examination (pre-medical group) of the Boards of Higher Secondary School Education in Pakistan or an equivalent examination recognized by the university.
The application should include:
a) Attested copies of the following documents:
High School Mark Sheet / Certificate
High School Provisional Certificate
iii. Higher Secondary School Mark Sheet / HEC-I Admit Card
Higher Secondary School/College Provisional Certificate
2nd year Admit Card photocopy to be attached if Mark sheet is awaited. Submit F.Sc.-II, Mark sheet as soon as it is received otherwise your case will not be processed.
Domicile Certificate or PRC or Father Domicile certificate or receipt of domicile application.
vii. Equivalence Certificate of "A" & "O" level/Grade 12/other equivalent examination.
viii. Extra-Curricular activities certificates, if any
b) Form Issue fees Rs. 2000/-.
c) Form Submission fees Rs. 1500/-
d) By Pay order / Courier fees Rs. 4000/-
e) Three recent passport size photographs with your name at the back, one photograph should be pasted on the space provided in the application form.
Incomplete application will not be processed.
The application form with its enclosures may be submitted by hand to the Admission Cell, Baqai Medical University, Super Highway, Karachi, between 9:00 a.m. to 4:0 p.m on working days. Application may also be posted by registered mail to the Director Admissions, Admission Cell, Baqai Medical University, Super Highway, Gadap Road, P. O. Box. 2407, Karachi-74600
Read Also: Baqai Medical University Admission 2022 MBBS, BDS, Pharm.D
academic Calendar – 2022
First Semester:
Teaching:
17–01–2022 to 06–05–2022 (16 Weeks)
Mid-Term: 07–03–2022 to 14–03–2022
Lab Exam: 09–05–2022 to 13–05–2022
Examination: 27–06–2022 to 15–07–2022
Second Semester:
Teaching:
25–07–2022 to 11–11–2022 (16 Weeks)
Mid-Term: 12–09-2022 to 16-09–2022
Prep. Leave: 14–11–2022 to 18–11–2022
Lab Exam: 21–11–2022 to 25-11-2022
Examination:   28–11–2022                to         16–12–2022  
Pharm D FEE STRUCTURES
DOCTOR OF PHARMACY – 2022
S. No.
PARTICULARS
AMOUNT (in Rupees)
1.
Admission Fee
One Time
50,000
2.
Tuition Fee
Each Year
2,30,000
3.
Security Deposit
One Time
5,000
4.
University Charges
Each Year
50,000
5.
Terminal Examination Fee
Each Year
10,000
TOTAL Rs.
3,45,000