University of Karachi Starts admissions 2020 for entry test based morning and evening programs of Pharmacy D. applications are invited for entry test based admissions to Pharm D.
Faculty of pharmacy university of karachi has the honour of being the first faculty of pharmacy in pakistan. it caters the need of hospitals and pharmaceutical industries. the faculty of pharmacy is equipped with state of the art laboratories and modern technology imparting quality education and training.
minimum 60 percent marks in HSC pre medical.
application seeking admission on the basis of certificate other then those awarded by public sector boards of pakistan, must submit the equivalence certificate issued by the IBCC. detail of regarding admissions and admission forms can be download from official website of University. Click Here for more detail www.uok.edu.pk.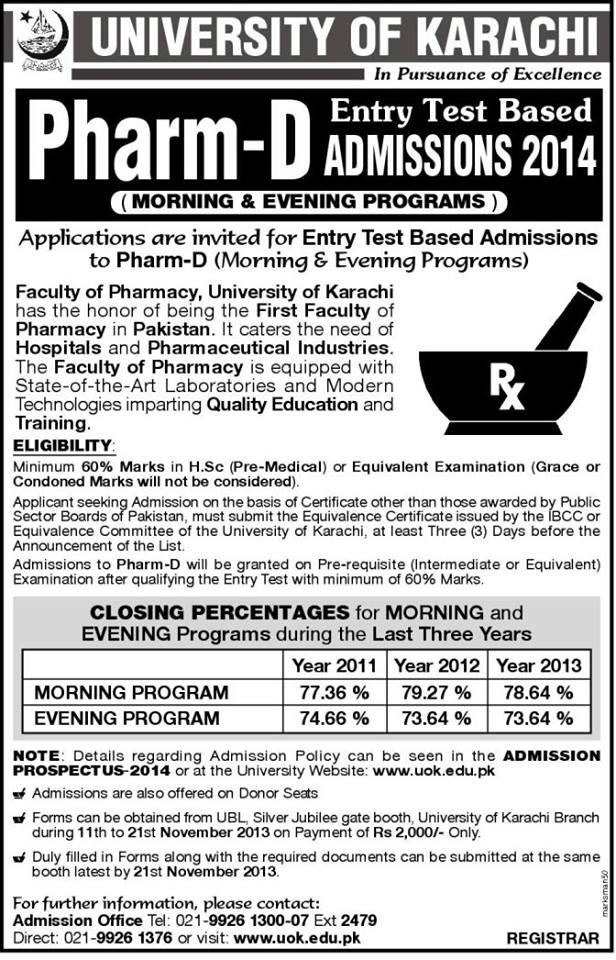 Eligibility Criteria:
Pharm-D (Five years Program): H. S. C. (Biology Group) or equivalent with a minimum of 60% marks ('B' grade)
In addition, the three- and four-year degree holders can upgrade their degrees to Pharm. D. (five-year degree program) after completion of deficiency courses.
200 seats are available on merit basis for Pharm. D program in morning + reserved seats including foreign students.
50 seats are available for one year program for the students holding four-year degree in order to upgrade to Pharm. D. (five years program).