Higher Education Commission Pakistan Scholarship Announcement PhD Scholarships in US Universities Academic Session 2023-2024 Under the US Pakistan Knowledge Corridor Initiative of HEC PhD Scholarships 2024 for Pakistani Students in US Universities
The HEC Higher Education Commission of Pakistan today announced an advertisement about PhD scholarships in American (USA) universities for the spring session 2023-2024. The students of Pakistan now study in the USA for PhD-level education.
HEC Pakistan starts taking scholarship applications online to study in the United States of America (USA). Under the US Scholarships under the US-Pakistan Knowledge Corridor Initiative, students of Pakistan who want to study in the USA can submit online applications through scholarships.hec.gov.pk until January 10, 2024.
Eligibility Criteria:
The Pakistani national outstanding / AJK Nationals for the award of PhD Scholarships in QS World Ranked US Universities.
The candidate having minimum 4 years Bachelor degree BS/BSc/BE 16 years formal Education.
Maximum one second division and no 3rd division in entire academic career.
The age limit of applicant must not more than 40 years old in case of regular faculty members of public sector universities/ government colleges and researchers of approved registered organizations.
Selection formula:
The minimum GRE score 60 percent preference will be given to higher score candidates.
Those having the GRE waived by the host university will be required to appear in the HAT test and have a minimum 60 percent marks. Additional students must meet the eligibility criteria of the selected institute or university.
HEC AEF formula: 30 percent
The student will not be availing of any other scholarship.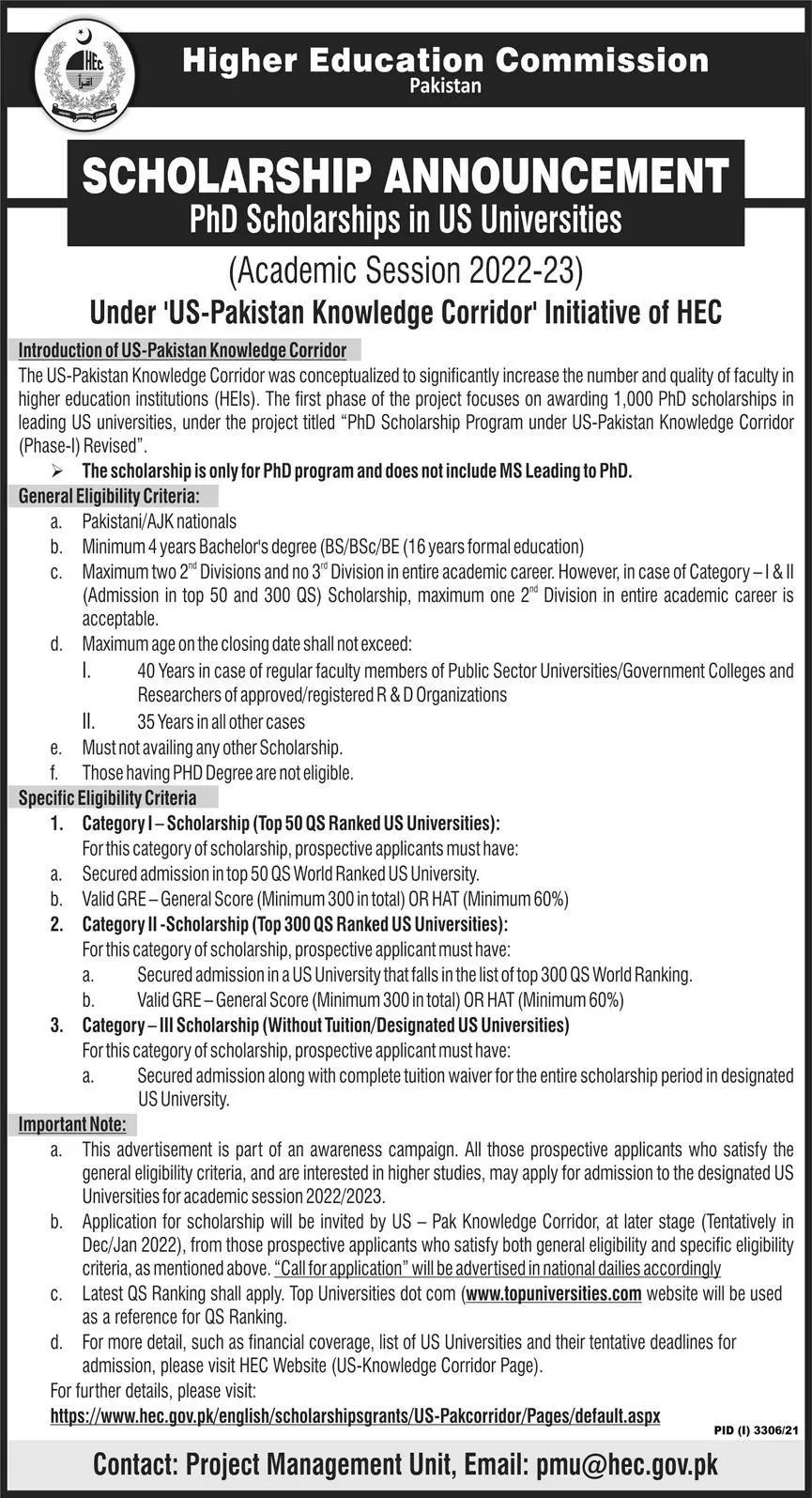 How to apply online:
Eligible students can submit their scholarship application forms online through scholarships.hec.gov.pk before January 10, 2024.
Deadline: 10-01-2024
For more information, students can review hec.gov.pk/English/scholarships/us-pakcorridor/pages/default.aspx.
Read Also:
One year Fully Funded US Scholarship 2024 for class 9th & Matric Students