PIEAS Entry Test 2020 KIPS Students Get Positions
Pakistan institute of Engineering and applied sciences PIEAS Islamabad announced today entry test Result for Session 2020. KIPS Entry Test Preparation student's gets first three positions.
KIPS Education System becomes most famous entry test preparation institute in Lahore. KIPS Institute is working from 28 years to provide educational activities and entry test preparation from many years.
Read Also:
PIEAS Admission 2020 Entry Test Result Merit List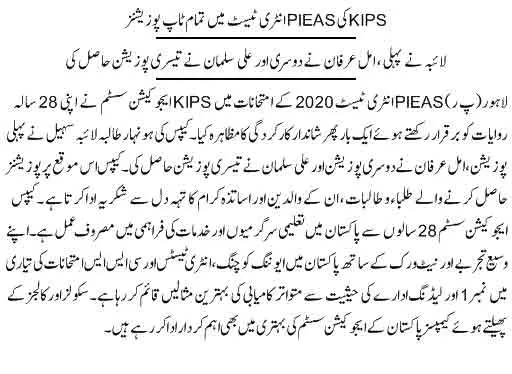 PIEAS Entry Test Position Holders:
Laiba sohail gets first position
Irfan gets second position
Ali Salman gets third position
Above three students get entry test preparation from KIPS Entry Test Preparation institute.
Congratulation to all PIEAS Entry Test Position holders and other successful students.
KIPS Institute is increasing their schools and colleges to different locations and cities.
Read Also:
Kips Entry Test Preparation 2020 Fee Structure NUST, FAST GIKI, NTS