PM Free Skilled Education Program Offered by NAVTTC
Government of Pakistan announced Prime minister free skilled education program though national vocational and technical training commission (NAVTTC) scheme for session 2020. NAVTTC Quetta starts free education program in Balochistan Pakistan. NAVTTC is a government educational institute that is providing free educational activities in all over the Pakistan. According to this program government Pakistan gives free technical education with Rs. 6000/- per month scholarships to every candidate who got the admission in this institute. The candidates who want to take admission in NAVTTC must be from 18 to 35 years old. The admissions applications can be submit till 14 August 2020.
Please download Admission Application Form: 
Application Form
This is special free course for balochistani people, because balochistan is a poorest province of Pakistan.
The detail of approved institutes from NAVTTC list is given in below this image with detail of candidates.
Apply online today though official website of NAVTTC www.youth.navttc.org/Apply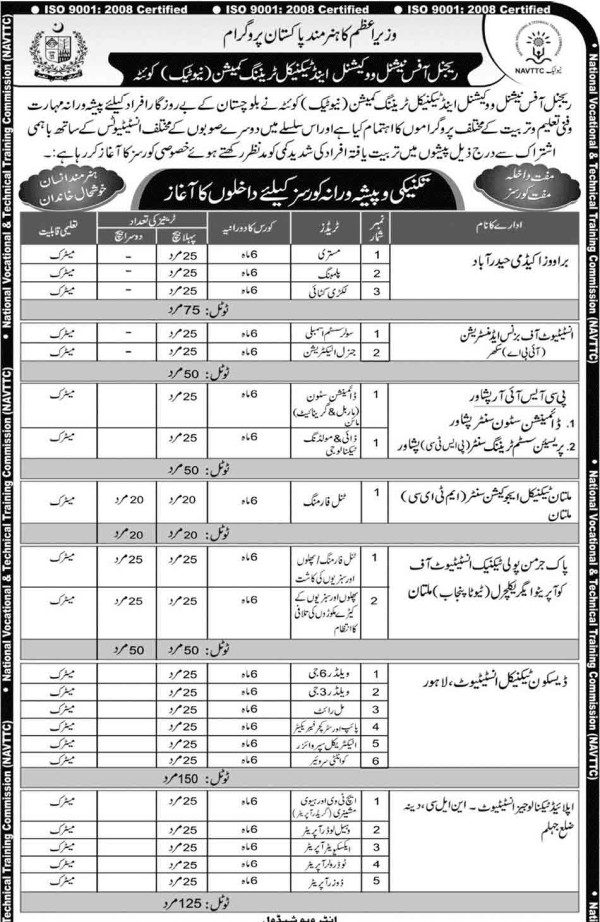 Interview Date from 14th July to 17th July, 2019 09:00 AM to 02:00 noon
Final List will be display on: 21st July, 2020
Commencement of Classes 1st Batch: 03rd August, 2020
Commencement of Class 2nd Batch: 14th March 2020
Important Dates for Gems and Jewelers Training and Manufacturing Center, Lahore
Last Date for Application Submission: 06th July, 2020
Interview Date for: From 23rd July to 30th July, 2020 09:00 AM to 02:00 noon
Display of Final List: 31st July, 2020
Commencement of Classes 1st batch: 03rd August, 2020
Commencement of Classes 2nd Batch: 29th February, 2020
Note: This Schedule is as per previous years date, as soon as the officials are announced the new schedule for 2020 we will upload here.
Read Also: How to Apply for PM Hunarmand Pakistan Program 2020 Apply Online