PM Imran Khan Naya Pakistan Housing Scheme in Punjab Cities 2018-2019
Prime Minister Imran Khan Naya Pakistan Housing Scheme is entry in Punjab now, today's press conference by Federal minister of housing and works Shabir Ali Qureshi, housing minister of Punjab Mian Mehmood ur Rasheed, housing task force chairman Dagim Mahmood Razvi and housing task force member Syed Firdous Shamim Naqvi said that government will be start Prime Minister naya Pakistan Housing Scheme in Punjab by January 2019. He said 50 Lakh houses will be made under the supervision of Chairman of Pakistan Tehreek Insaf currently Prime Minister of Pakistan Imran Khan. Firdous shamim Naqvi said that these houses are for low income persons that will be provided on monthly installment.  Firdous shamim Naqvi said they are working to talk with banks for financing purpose and banks will be pay loan 5% to those who are low income and want to invest in their own house under PM Imran Khan Naya Pakistan Housing Scheme. Government also decreases Tax on income of banks for Naya Pakistan Housing Purpose.
Naya Pakistan Housing Scheme Monthly Installment will be 18000/- Per Month and 20 % from House cost, will be payable in advance.
The person who owns five marla plot can take loan 5 to 6 Lakh
In the first phase of Imran Khan housing scheme in Punjab government starts working in six districts of Punjab and the districts are follows:
Sialkot
Lodhran
Chiniot
Bahawalnagar
Muzaffargarh
Jhelum
The construction work in above five districts will be start in January 2019 and will be made housing as early as possible in five districts after that they are also working in other districts in Punjab and also doing meeting with Government of Sindh to make Houses under PM Naya Pakistan Housing Scheme in Karachi and other cities of Sindh.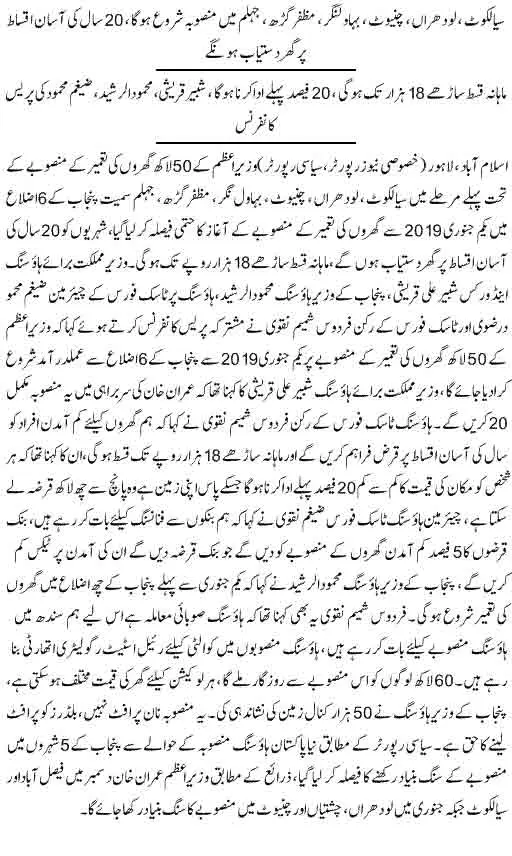 Government is making special royal state regularity for checking quality of houses, under PM housing scheme   more than 60 Lakh candidates will be get Jobs and business opportunities in the contraction field.
The house price will be different as per location of house; Punjab Minister of housing has arranged 50 thousand areas Canel for PM Imran Khan Housing Scheme.  The PM Housing program is not a nonprofit, the builders has a right to take profit.
According to News report Prime Minister Imran Khan will be start Housing scheme in December for Faisalabad and Sialkot city and in January 2019 for Lodhran, Chiniot and chishtian bahawalnagar.