PM National Internship Program 2023
PM National Internship Kamyab Jawab Program is announced today date 07 March 2023 PM imran Khan approves 100 Billion to provide Internship Training to Students and Youth of Pakistan.
Organization Kamyab Jawan Internship Program
Gender Male/Female
Monthly Stipend Rs 30,000/- to 40,000
Application Deadline 30 April 2023
Kamyab Jawan Programme is bringing this opportunity for you with the opening of Online Internship Program for the selective fields in collaboration with PepsiCo.
For applying, visit: kamyabjawan.gov.pk
Last Date to apply: 30 April 2023
Kamyab Jawan Program:
Every PSDP and ADP Project: must entertain a certain number of internees.
Public Private Collaboration:
Every Graduate will do a minimum period Internship with the government as regulatory and certification body.
Training of Youth in Conventional Trades as well as the high skilled emerging technologies. 150,000/- Youth Trained in market driven skills including digital / computing skills each year.
Wide publicity will be given in TV and print media upon start of the scheme.
Kindly contact on these numbers for information. 051-9244464 051-9205978
Stipend has been disbursed to the bank accounts of the eligible interns. Please see Latest News section for details
Geographical Spread All over Pakistan
Stipend: Rs.30,000 per month for 12 months
Number of Interns: 60,000
Last Date for submission of Internship Application Form: 30-04-2023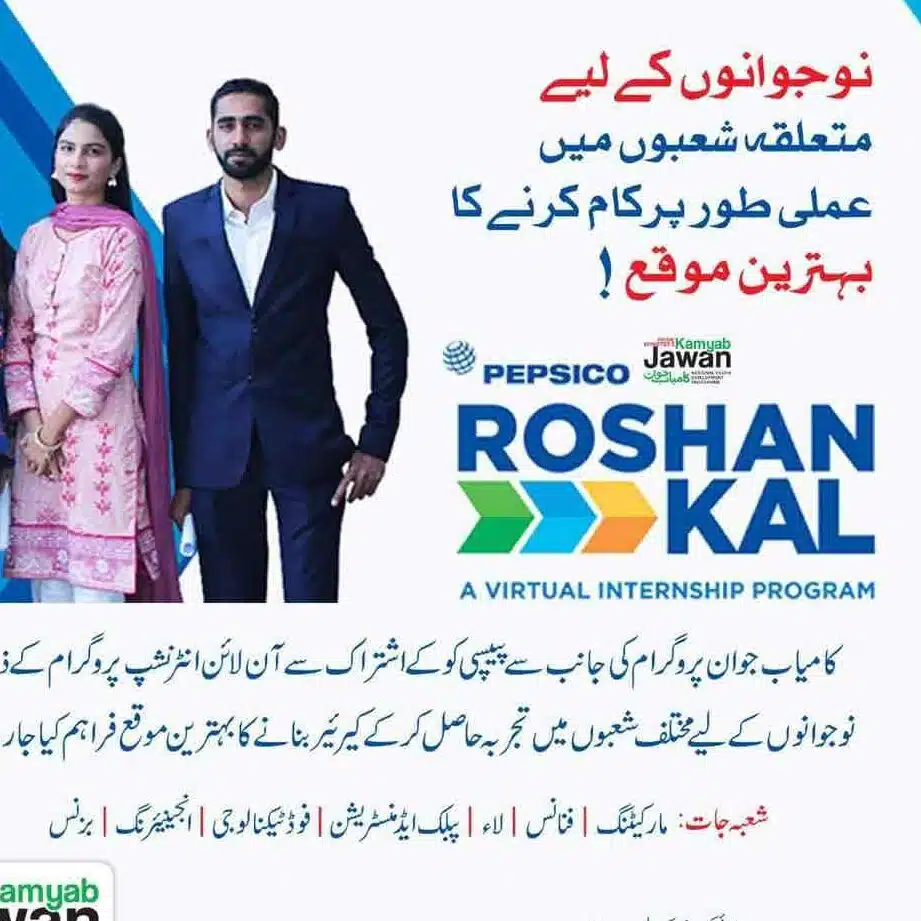 Eligibility Criteria
16 years HEC recognized degree or equivalent.
Diploma of 3 years after Matric / FSc.
Madrassah graduates are also entitled to apply.
50% of marks or 2.5 CGPA in final degree/diploma is the minimum threshold for selection of interns.
Age Group: The age limit is up to 25 years & for AJK, GB, FATA, Southern Punjab (Multan Division, Dera Ghazi Khan Division, Bahawalpur Division) and Balochistan is 30 years as on 05-11-2023
Pakistani National.
There is no gender discrimination female candidates will be encouraged to apply.
NIP National internship program Prime Minister Youth Training scheme offering training program only for engineers registered with PEC.
This internship program is all provinces including FATA, GB, AJK and ICT for government sami government and private organization through prime minister youth training scheme.
How to submit online application:
The interested and eligible engineers can apply online through kamyabjawan.gov.pk or send email for more information and mobile numbers: 051-9204200 and 051-9244462.
PM Youth Training Internship 2023 Scheme Kamyab Jawan Apply Online
NIP Eligibility criteria for Engineers:
2.5 CGPA or minimum 50% marks in final degree program.
The age limit of applicant is up to 25 years old and for GB, FATA, AJK, and southern Punjab and balochistan candidates' age limit is 30 years old on date
Female candidates will be encourage to apply online Pakistani national holders can submit application form.
2% quota for disabled persons
5% quota for minorities is reserved
Below information is for normal candidates and above information is for Engineers.
NIP News update date:: NIP starts working with Pakistan Engineering Council for providing Internship to Engineers Students, Prime Minister has approved 20,000/- paid internships for young engineers under Youth Training Scheme session 2023. the competent authority has approved the MOU to be sign between Pakistan Engineering Council and National Internship Program. m/o Inter Provincial coordination for the intake of twenty thousand engineers as interns under prime minister Youth Training scheme from Phase III (3) is enclosed for further necessary action by PEC.
Dear Intern
All formalities regarding your stipend are complete. Your stipend will be transferred into your account on Monday
Prime Minister's Youth Training Scheme,
National Internship Program,
10th Floor Shaheed-e-Millat Secretariat, Islamabad
Dear Interns please visit your relevant branch of NBP for biometric verification to validate your NBP Asaan account under PMYTS. for checking online NBP Bank Account check this nip.gov.pk/nbp-account-status
NBP Account Process (How To GET ATM CARD & CHEQUE BOOK)
Dear Selected Candidates of PM Youth Training Scheme Program.
Procedure to activate your Asaan Account By National Bank of Pakistan (NBP).
It is only for those candidates Who have submitted their Bank form now they will receive an account Number through SMS send by NBP.
SMS Look Like Below.After almost one month.
Your Asaan Account Exp (1234567890) has been opened successfully.
For Assistance Call 021-111-627-627
ACTIVATE NBP ASAAN ACCOUNT AND GET ATM CARD & CHEQUE BOOK
Step By Step Procedure:-
First of all Visit monitoring.nip.gov.pk for downloading your Placement Latter.
After print the placement letter goes to 18 or 17 scale Person like teacher for Attestation form.
Next Your actual identity card, whether it be unto you.
Attested Photocopy of valid CNIC intern.
Attested Photocopy of valid CNIC Next of Kin( Mentioned on online form).
Latest Original Utility Bill.
Two Attested passport size Photograph if Signature are in Urdu shaky or simple.
Asaan Account Form ( NBP will provide it ),
SS Card Sign (NBP will provide it and Signature must be same as on CNIC ).
Print of email Containing Account and Stipend information by NIP.
After completion of this process you will get ATM CARD And CHEQUE BOOK.
After get ATM and Cheque Book you received your 1st Stipend on your WEB Portal..
Update: PM YOUTH INTERNSHIP PROGRAM
Those who applied before they should check their Emails now. Preference will be given to Government Universities pass out Students. Selected candidates will receive a user name and password. the official website: monitoring.nip.gov.pk
Go to monitoring.nip.gov.pk and enter your user name and password (given in email)
Then go to download section and download your offer letter. Follow offer letter points for Joining
Dear Students! The verification process for National Internship Program is now initiated and the last and final end date for verification is , so hurry up verify your record by submitting required documents prior 9th May 2023 in my office. if anyone failed to submit documents he/she may be rejected.
If your name is in the attached list, u have to verify your record:Enriching organizations with quality human resources expression of interest of hiring interns under Prime Minister Youth Training Scheme Phase 2.
Last Date to submit Application:11 April 2023
Last date for submission of employer's requirements is 30-04-2023
Prime Minister Youth Training Scheme Phase II 16 years of education or diploma holders. Madrassa Students can also apply. 25 or less years of age . For Balochistan, its is 28 years or less The fields are Business studies, Public Administration, social science, Computer science, human resource development, MBAs , Last Date to apply: 30 April 2023
The federal government under the vision of prime minister of Pakistan intends to provide 50,000/- internships to the unemployed educated youth 16 years of education / 3 years diploma ) who will be placed in the reputed public and private sector organizations of Pakistan for the period of one year. The expenditure on internship will be borne by the government of Pakistan and their would be no liability of any kind on the part of the employer.
The interested candidates may register yourself though www.bnip.gov.pk
Purpose of scheme:
Besides improving institutions performance prime objective of PMYTS is to provide equal opportunities to the educated but unemployed youth of the country for their professional growth.
Interested employers may send their requirements to NIP office though our online portal nip.gov.pk.
Helpline: 03311001000 offered by national internship program.
Prime Minister Youth Internship Programme 2023
Those candidates who applied in October-November 2023
Placement email sent to selected candidates.
Selected Interns can download their placement letter by putting their REF.No by opening this link.
Prime Minister Youth Training and internship Scheme starts under government National internship program ministry of provincial coordination. The online registration starts now, candidates may submit their online applications though kamyabjawan.gov.pk, government only accepts online applications paper application will not be accepted. Government of Pakistan offering 21000 opportunities of internship to the unemployed educated youth of all provinces and regions FATA, GB, AJK, and ICT. apply today and get free education with Internship of Rs. 12000/- per month. the program of education is business studies, public administration, social science, human resources development, computer science and MBAs.
PM Youth Training Internship Selected Candidates:
Basic Education /Qualification :
16 year education ((BA, BBA, BS, MBA, M.COM, MA, M.SC, MCS) or DAE ( 3 year diploma holder in any technology)
with 25 age limit.
25000 Internees will be selected and will be paid 12000 per month.
NIP Phase 1 Batch 3 will be start after
Eligibility:
16 years HEC recognized degree or equivalent / diploma of 3 years after Matric / Fsc 50% marks or 2.5 CGPA in final degree.
the age limit upto 25 years old on 30-09-2023 for balochistan 28 years old.
Female candidates are encourage to apply.
the candidates who have awaiting training program under any government youth training program scheme will not be eligible to apply.
A Full time student of any university of institute public or private university will not be able to apply. National Internship Program office ministry of inter provincial coordination.
PM Youth Training Internship 2023 Scheme BNIP Apply Online
NIP online Registration Date has been changed Registration will be started from 01 March 2023
Government of Pakistan offering training programs for unemployed educated youth of Punjab, FATA, GB, AJK, ICT and all provinces of Pakistan, Sindh, KPK, and Balochistan.
PM Kamyab Jawan Program 2023 Application
The last date of submission online applications:
Monthly Internship Amount stipend of Rs. 30,000/- 40,000 per month for one year.
The selected candidates will be eligible to earn internship with free training in government /Sami government and private organisations though prime minister Youth program to enhance their skills and employability. The selected interns will be placed in federal ministries / divisions, provincial departments and industries, banks, corporations and various public and private institutions having learning environment for internship.
Mr. Umar Farooq,
Director General NIP
051-9204200
Mr. Umar Farooq,
Director General NIP
051-9204200
E-mail Address
info@bnip.gov.pk
contact@nip.gov.pk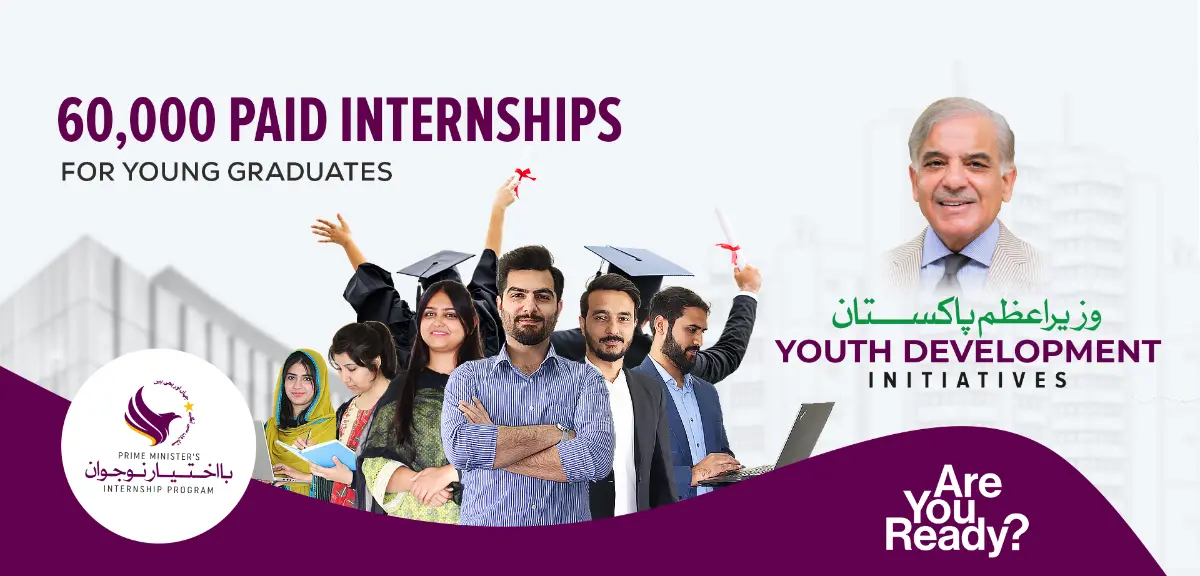 PM Shahbaz Sharif Announced the Internship Program.
PM Shahbaz Sharif Internship Program 2023 Apply Online Below