Pakistan Army Offers 153 PM Long Course; registration will be open from today, October 9, 2023, to November 17, 2023. Pakistan Army every year takes candidates through the PMA Long Course. The test exam date is postponed and will be announced later.
Join the Pakistan Army as a commissioned officer through PMA Long Course 152 Training, which lasts two years. The online registration starts today, and the registration deadline is November 17, 2023. For online registration, please visit joinpakarmy.gov.pk or the nearest army selection and recruitment centers in Rawalpindi, Lahore, Karachi, Peshawar, Quetta, Hyderabad, Gilgit, Multan, Dera Ghazi Khan, Muzaffarabad, Faisalabad, Khuzdar, and Pano Aqil cities of Pakistan.
Batch 153 for the PM Long course will be taken this year from 09-10-23 to 09-17-2023.
Read Also: Cadet College Sargodha Admission 2024 6th, 7th, 8th, 11th Class Entry Test
The past papers schedule for online registration is given on the official Pakistan Army page, joinpakarmy.gov.pk. For registration in 2024, interested and eligible candidates may submit online application forms. To make registration, candidates need to go to joinpakarmy.gov.pk.
Eligibility criteria:
Gender: Male
Nationality: Citizens of Pakistan and Azad Kashmir/Gilgit-Baltistan.
Physical Standards:
Minimum Height: 5'- 4"(162.5 cm)
Weight: As per the Body Mass Index
Education: FA, FSc and marks Minimum 60% marks in FA/FSc and equivalent
Candidates who secure 60% marks or above in BA/BSc, BA/BSc (Hons), and BBA/ BPA with 50% marks in FA/FSc are eligible for the PMA Long Course. For serving Army soldiers: 50% marks in FA/FSc and equivalent
Unmarried male candidates have an age limit of 17 to 22 years old.
Currently, the Pakistani army does not give the official advertisement in newspapers for the hiring or registration of PM Long Course 153. The candidates who want to register for the PM Long course need to prepare for a written test, a physical medical test, an interview test, and an intelligence test that is tough for many applicants in previous years.
Read Also: PAF College Lower Topa Murree Admission 2024 Form Test Result
The best way to prepare for PM Long Course tests is to join Pak Army Academies; they can easily give you all types of training that are beneficial for you to give PM Long Course tests after registration. The PM Long course is only for male candidates; female candidates are not eligible to apply for the PM Long course, but there are other options for female candidates to join the Pakistani army and serve the nation of Pakistan.
Read Also: Military College Murree Admission 2024 Form Entry Test Result
The latest jobs in the Pakistan Army have a few days remaining for registration.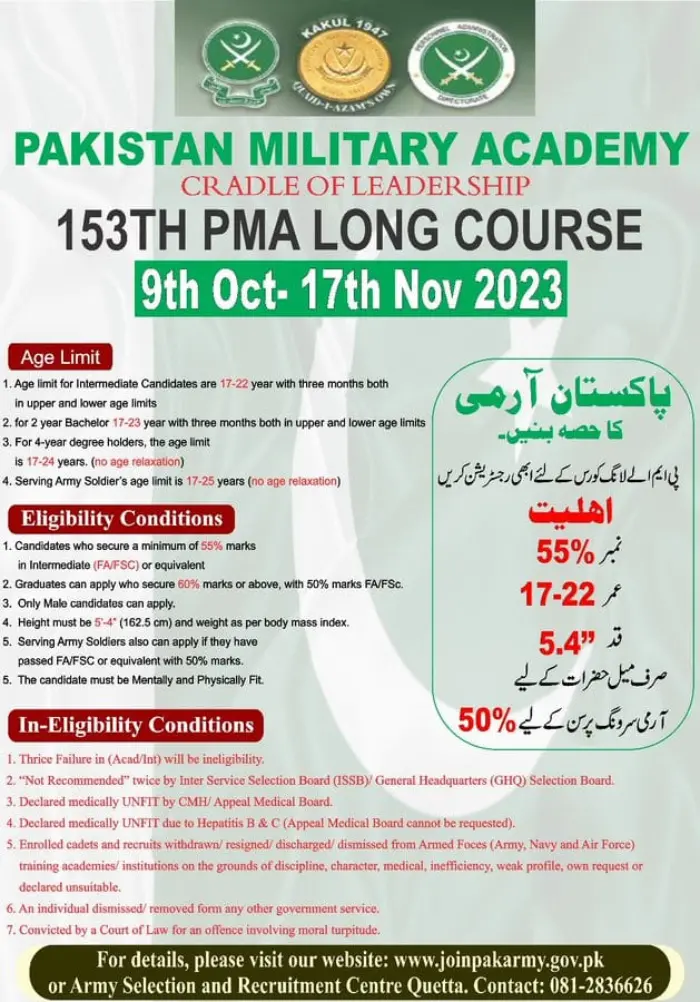 PMA Long Course Apply Online Here
The eligible students can join online through www.joinpakarmy.gov.pk or visit the nearest Army Selection and Recruitment Canters at the following city canters:
Rawalpindi
Lahore
Karachi
Peshawar
Quetta
Gilgit
Hyderabad
Multan
Dera Ismail Khan
Muzaffarabad
Faisalabad
Khuzdar
Pano Aqil
Pakistan Military Academy Cadet of Leadership 153th PMA Long Course registration date October 9, 2023, to November 17, 2023 for further details and registration please visit www.joinpakarmy.gov.pk