The Council is pleased to announce that the Medical and Dental College Admission Test (MDCAT-2023) will be held on September 10, 2023, for all local and international aspiring candidates through provincial level Public Sector Medical Admitting Universities.
The approved MDCAT curriculum is now available on the official website (www.pmdc.pk). The registration fee will remain the same as last year i.e., Rs. 6,000/- PKR.
Candidates are directed to visit the official website of PMDC regarding the registration of upcoming MDCAT-2023 through exam registration portal.
PMDC MDCAT Result 2023
The results of MDCAT-2023 are no longer valid for seeking admission in session 2023 as those results were only applicable for session 2023 as it was mentioned on the individual results.
The MDCAT Result 2023 of one province shall be valid for the entire country and shall be valid for a period of three years from the date of its examination as per section 17 of PMDC Act 2023.
MDCAT Registration Fee
The Registration fee will remain the same as last year i.e. Rs. 6,000/-
Read Also:
How to Download Roll Number Slip from Punjab University
Furthermore, the registration portal for the Medical and Dental College Admission Test
(MDCAT-2023) will be open in the month of July 2023.
For further queries, kindly contact the examination PMDC.
Log on to the PMDC online website between August 17 and August 21, 2023, and schedule your exam date by choosing the MDCAT Examination time slot. There will be two examination slots per day to choose from between August 27 and September 30, 2023. Your Requested exam date will be scheduled subject to availability and priority given to the registration date.
Registration applications will be provided 1 practice examination.
Registration applicants will be provided with sample questions in all subjects for practice.
For more detailed information about how to register for the MDCAT examination, please visit user guide button on the pmdc.pk
PMDC MDCAT Registration 2023 TEST Date | How to Apply Online
The matriculation result for 2023 federal board SSC 2 will be announced on August 25, 2023. Changes may be made accordingly.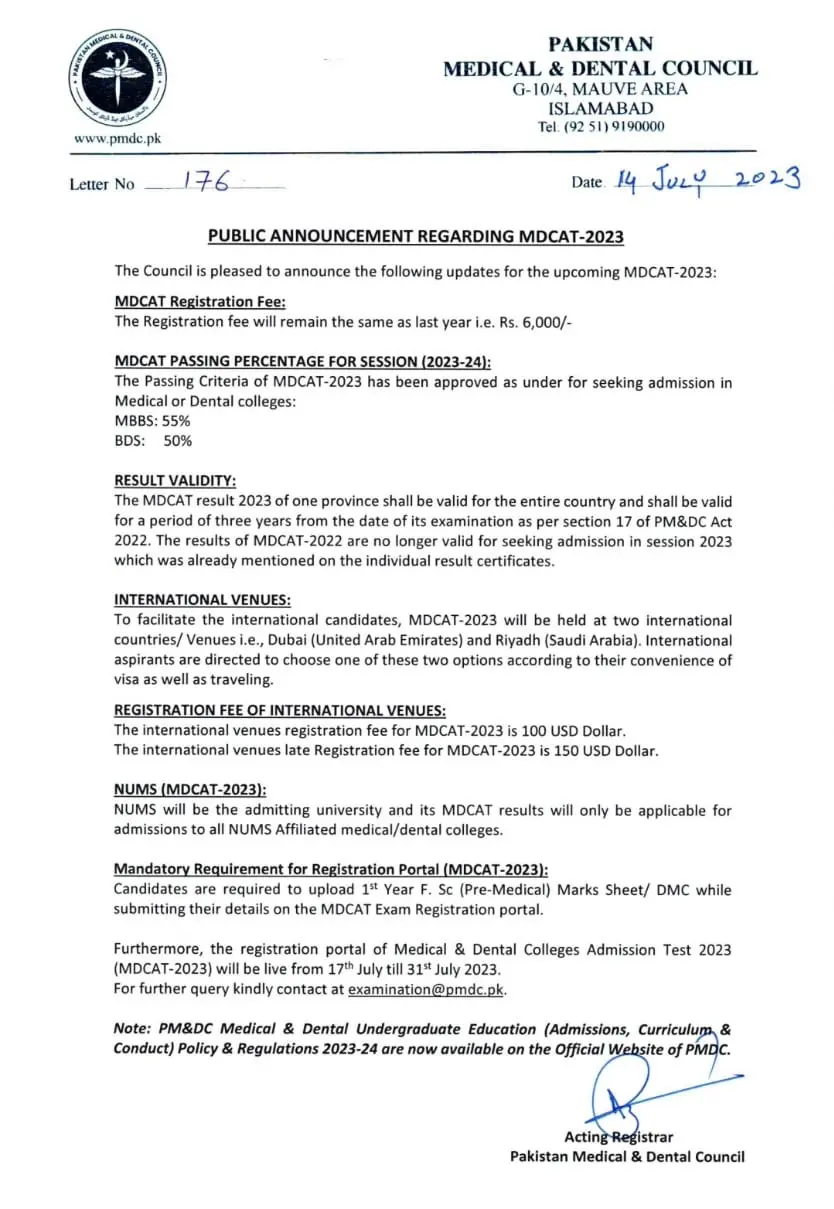 PMDC MDCAT Special Late Registration for 2023–2024
Pakistan Medical Commission (PMDC) opened online registration for MDCAT Session 2023–2024. The MDCAT Test will be held on November 15, 2023. PMDC announced detailed application procedures for MDCAT registration. PMDC also announced the MDCAT Syllabus and Entry Test Sample paper recently. The Students rejected the syllabus that was announced by PMDC. The students who want to take admission in MBBS and BDS are blaming PMDC over the announcement of the syllabus just one month before the MDCAT entry test.
PMDC MDCAT Registration
Today, PMDC opened online registration on July 17, 2023. The last date to submit online registration is July 31, 2023. So the time for students is only one week.
The registration will be through PMDC (Pakistan Medical and Dental Commission Islamabad), The students can register through pdmc.pk or PMDC and fill out the application form online.
Please follow these steps after registration.
Step 1: Save your application.
Step 2: Print the fee challan.
Step 3: Upload paid fee challan.
Step 4: Final submit your application.
Step 5: Print your application and send a signed copy via courier.
PMDC MDCAT Schedule
Online Registration open from July 17, 2023
Last Date to submit online Application Form: July 30, 2023
MDCAT Entry Test Will be held on date: 10 September 2023 (Final)
PMDC Deposit Challan
The Officials of PMDC said that: All Applicants of National MDCAT 2023-2024 are required to deposit the application fee only in favor of Pakistan Medical Commission on the prescribed challan. Previously deposited challans in favor of any other entity/organization will not be accepted.
A special PMDC committee has been formed to deliberate with postgraduate students associations, CPSP, post graduate institutes and universities to finalize a national policy regarding working hours of postgraduate students subject to requisite teaching hours as well.
A student may seek transfer from one college to another at any time, subject to rules of transfer imposed by the relevant university of both the leaving and receiving college.
PMDC will not regulate the transfer of students.
How to Apply online
For online registration students can go to pmdc.pk and click MDCAT online portal that will go to www.pmdc.pk than register and submit application form online.
Registration is open by using CNIC/B-Form number/passport number; mobile number and email address (please use the mobile number and email address which is acceptable to you for receiving the SMS/ email message.
The login details will be sent through email, after that login to your account by using the username and password above to fill the application form (personal and educational information) students have to upload educational certificates online.
Passport size latest photograph with blue and white background.
CNIC/B Form / NICOP or passport.
After save the online application form, students must submit Fee challan.
Candidates have to deposit the fee challan generated through online application in any branch of HBL (habib bank limited), ABL or MCB (Muslim commercial bank limited) before date 02 November 2023.
Students are required to scan and attach the paid copy of the fee challan by logging back in to his/her MDCAT Portal Account.
The challan Form after submitting fees to bank, must be attached and submit the final Application form online.
Read Also
List of Medical Colleges in Pakistan Recognized by PMDC
The system will give the facility to the students to download application form. These form candidates must be send through courier with Signature and copy of Challan form to National Testing Services Pakistan Plot No. 96 Street #4 h-8/1 Islamabad.
For MDCAT Queries: Email: mdcat2023@pmdc.pk Phone: 051-8855000
Download Syllabus and Test Paper
The Syllabus for Medical and Dental Colleges Admission Test MDCAT for 2023 is now available.
PMDC MDCAT Syllabus Download PDF: Download Here
The Syllabus for NRE Medical and Dental Examination 2023 is now available.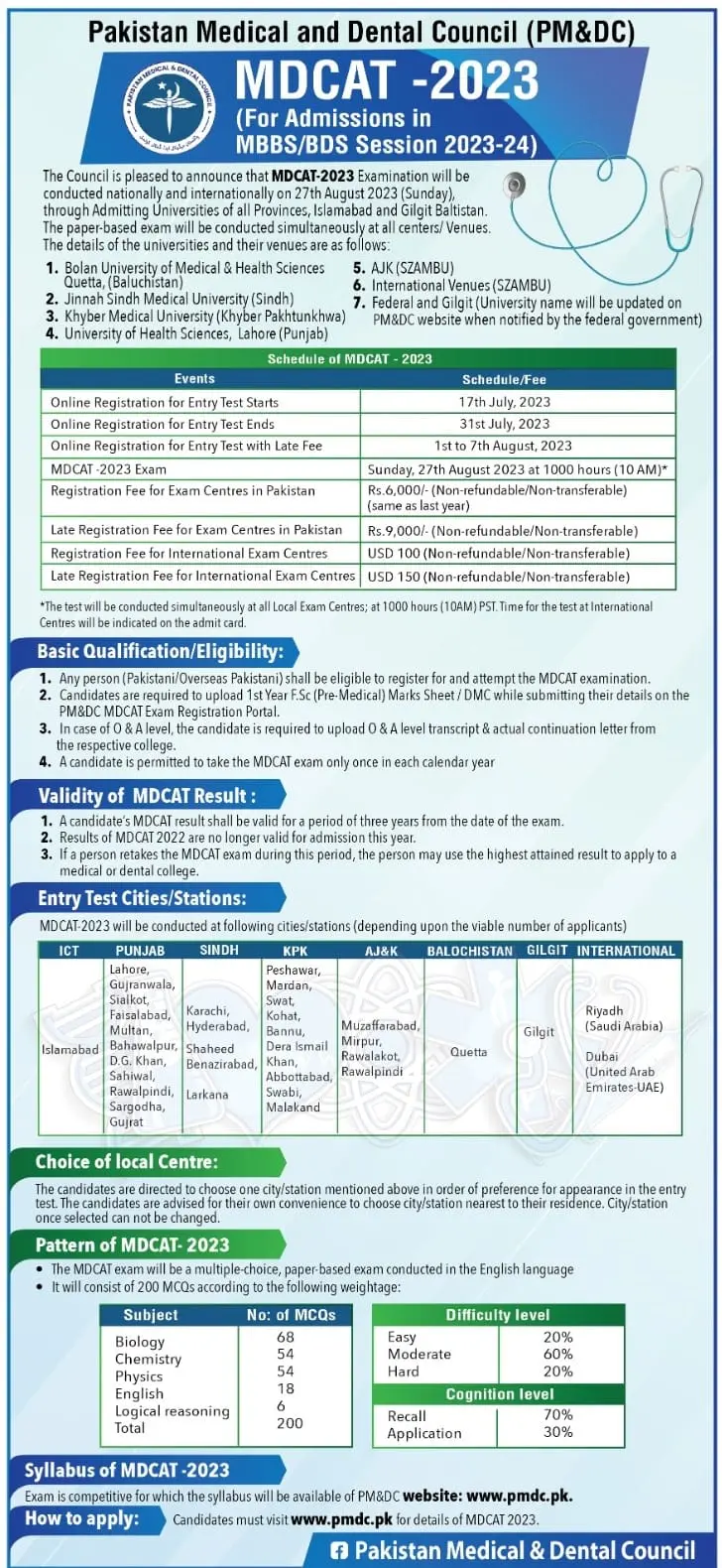 PMDC NRE Medical and Dental Examination: Download Here