Federal public service commission PPSC Announced the notification on date 15 January 2021 about CSS Exams and confirms that examination will be held as per Date sheet schedule.
CSS Competitive Examination 2021 shall be held as per original schedule i.e from Date 18 January 2021 to 26 February 2021.
FIA arrested some people who was leaking PPSC Papers through whatsapp. Due to this many candidates were worried about CSS Examination that why PPSC published the notification today.
Check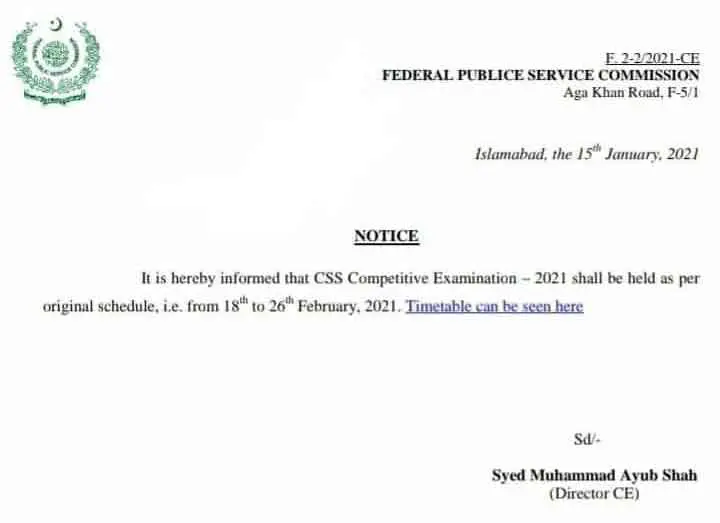 Examination will be held as per below Date sheet 2021
DAY
DATE
SUBJECT
PAPER
TIME
THURSDAY
18.02.2021
English (Precis and Composition)
09:00 to 12:00
English Essay
02:00to 05:00
FRIDAY
19.02.2021
Islamic Studies Comparative Study of Major Religions (for Non-Muslims)
09:00to 12:00
General Knowledge General Science and Ability)
I
03:00to 05:00
SATURDAY
20.02.2021
General Knowledge (Current Affairs)
II
09:00 to 12:00
General Knowledge (Pakistan Affairs)
Ill
02:00 to 05:00
OPTIONAL SUBJECTS
SUNDAY
21.02.2021
international Relations
I
09:00 to 12:00
Political Science
Accountancy and Auditing
Computer Science
Economics
International Relations
II
02:00 to 05:00
Political Science
I Accountancy and auditing
MONDAY
22.02.2021
09:00 to 12:00
Punjabi
Pushto
Psychology
Sindhi
Journalism & Mass Communication
Geography
Anthropology
Balochi
Arabic
Persian
Gender Studies
02:00 to 05:00
Environmental Sciences
Agriculture & Forestry
Zoology
Urdu literature
English Literature
Botany
TUESDAY
23.02.2021
Criminology
09:00to 12:00
International aw
Constitutional Law
Muslim Law S. Jurisprudence
Mercantile Law
Philosophy
Law
History of USA
02:00 to 05:00
History of Pakistan &India
Islamic History & Culture
European History
British History
WEDNESDAY
24.02.2021
Public Administration
09:00 to 12:00
Business Administration
Governance & Public Policies
Town Planning & Urban Management
Statistics
02:00 to 05:00
THURSDAY
25.02.2021
Physics
I
09:00 to 12:00
Chemistry
I
Applied Mathematics
Physics
II
02:00to 05:00
Chemistry
II
Pure Mathematics
FRIDAY
26.02.2021
Geology
09:00 to 12:00