Punjab skilled development fund announced focused training program for women's of Punjab. Government of Punjab giving training to 2000 unemployed women's of Punjab for making her trained in different programs.
PSDF will be provided professional education for women that they can improve their life style by doing work in industries in Pakistan as well anywhere in the world. This training program will give the wonderful chances for females to learn professional courses and get good job or they can start their own business in their homes.
The successful females will be received training certificates from PSDF. During training program the training females will be get free books, uniforms and monthly stipends scholarship payments from government of Punjab under PSDF Program.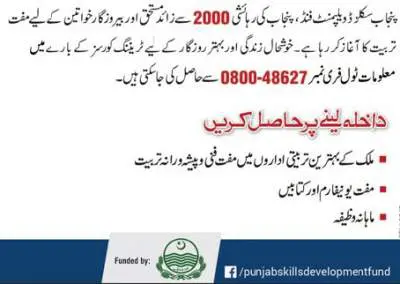 PSDF is serving first come first serve basis to female candidates of Punjab. The interested women can apply today and get start training in Pakistani best training institutes. The textile industry is best industry for females for getting early job and good salary after PSDF Training program. Females can apply for domestic tailoring psdf.gov.pk provides service to search district of training with sector and trade in their specific industry.