PTCL One-Year Internship Program 2023, Our 6 week internships are open throughout the year and we provide you with an opportunity to explore and learn about the corporate sector in today's fast-paced work environment.
How to Apply Online: here for complete Information.
You are provided with challenging tasks and feedback upon your performance that helps you explore your skills and align them with your future aspirations.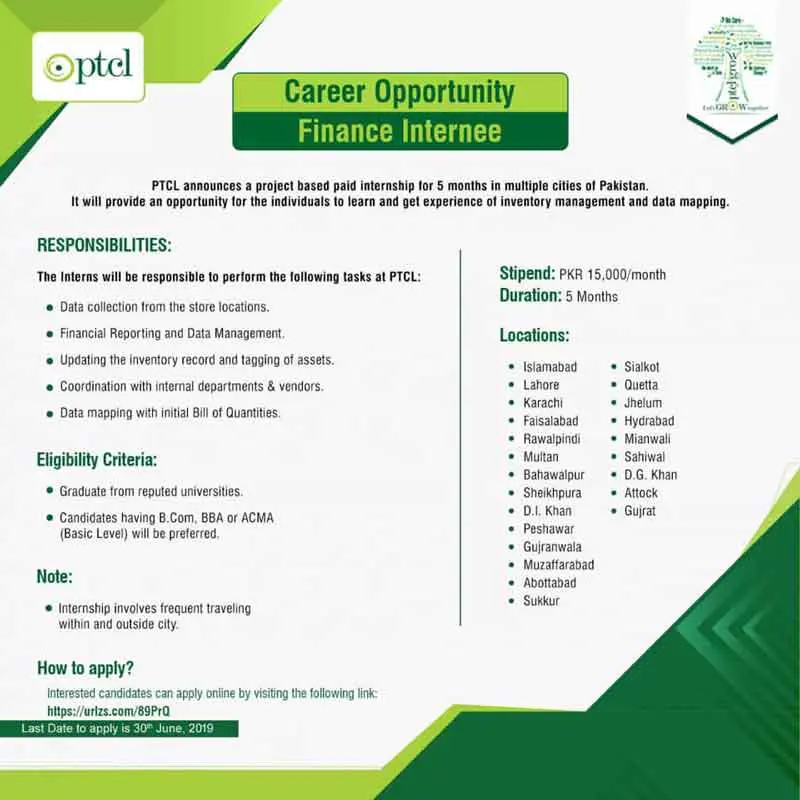 LOCATION: Pakistan
APPLY BEFORE: 30 June 2023
Pakistan telecommunication limited announced one year internship program for all over the students of Pakistan.
The country's largest integrated telecommunications company is opening its doors to bring you a spectacular learning and professional development opportunity. After successful graduation of 500 interns in various discipline in first batch. Pakistan Telecommunication Company Limited (PTCL) now offers one-year internships to energetic, ambitious and qualified youth for the second time.
Read Also: Dubai Islamic Bank Summer Internship Program 2023 Last Date
Features & Benefits:
Hands-on experience of thriving business operations & practices
Attractive stipends
Live projects, extensive coaching & career counselling
Exposure to cutting-edge ICTs & platforms
Development of professional skills & competencies
Access to a dynamic corporate environment & culture
Interaction & engagement with acclaimed industry leaders
Read also: Airblue Internship program 2023 Apply Online Jobs
Last Date for Application Submission:
Requirement:
Information Technology (IT)
MCS, BCS (Hons), BIT (Hons), BBA-IT
Business Administration
MBA (HR/ Marketing), BBA (Hons)
Finance & Accounting
MBA (Finance), M.Com, B.Com (Hons), ICMA, CA Inter or 16 years equivalent degree/ Qualification in
(Accounts/ Finance/ Commerce) fields
Engineers
BE/BS Engineering (Electrical, Electronics, Telecom, Computers)
Diploma Holders
DAE (Electrical, Electronics, Telecom, Computers) or B-Tech
Criteria
Minimum criteria would be CGPA 2.80/70% aggregate for Business, IT Graduates & Engineers
Minimum 60% aggregate for Diploma holders or B-tech
Age limit 18-25 years
Study completion year should be 2023-2024. Candidates completed their education before 2020 are not eligible to apply.
Apply here also: PCRWR Internship 2023 Ministry of Science & Technology Pakistan
Location:
The internship opportunities are available all over Pakistan.
NTS Registration