PTCL Business Intelligence Trainee Program 2022
Pakistan Telecommunication Limited PTCL and Ufone 4G offering Business Intelligence Trainee Program Session 2022. PTCL and Ufone enhance the career of Computer Graduates with PTCL. PTCL Group Offers business intelligence Trainee Program. The Bachelor degree holders can apply online and get the opportunity to work at Pakistan Leading ICT Company PTCL Pakistan.
PTCL every year providing Training Programs for Bachelor Degree holders to fulfil vacant positions in different departments of Pakistan Telecommunication Limited PTCL and other Telecom Companies Like Ufone, Telenor, Mobilink Jazz, Warid and Zong 4G Telecom Companies.
After the successful completion of Business Intelligence Trainee Program candidates will be hired by PTCL and other telecom companies in Pakistan as well as overseas telecom companies.
This opportunity will enhance the career of the candidate in the field of Information Technology, Computer Science and Data Analytics.
Eligibility Criteria:
The applicants having Bachelor Degree (BS) Computer Science, Information Technology and Data Analytics can apply online.
Fresh BS Graduates are encouraged to apply, both male and female candidates are eligible to apply online.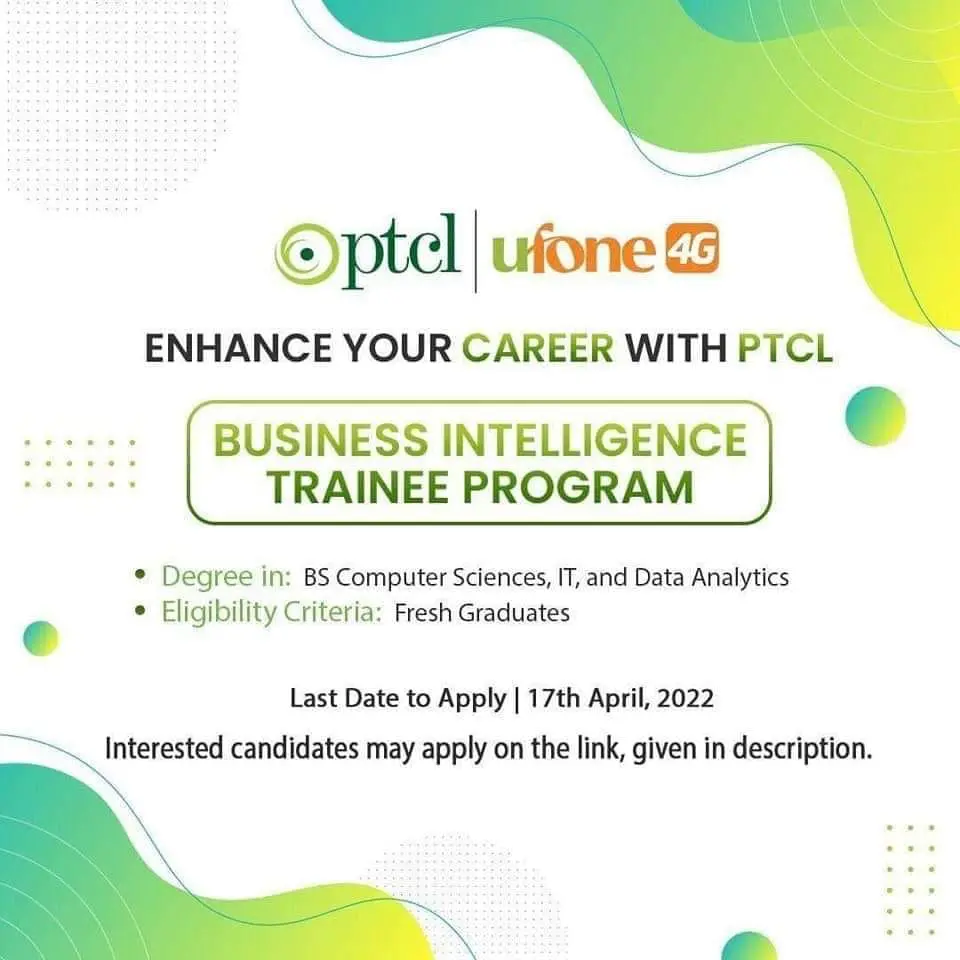 Application Deadline:
Last date to submit Application Form: 17 April 2022.
How to apply online:
The candidates can go to ptcl.taleo.net career section and click on apply online. The ptcl.taleo.net will ask students to sign up through Email Address. If you have no login details students can sign up and make own Account and then fill the Application form online and submit the Application form before date 17 April 2022.
PTCL One Year Internship Program 2022 Students of Pakistan
To access your account, please identify yourself by providing the information requested in the fields below, then click "Login". If you are not registered yet, click "New user" and follow the instructions to create an account.