Punjab Group of Colleges starts entry Test preparatory classes by experienced and dedicated teachers for ECAT, MCAT, NTS. Institute related to Engineering, Medical, and commerce education.
Get registered your self with Punjab College to pass Entry Test of different universities of Pakistan.
Classes will be commencing from March 2023. Website of college: www.pgc.edu
STEP Self-Assessment Test Date: 19 March 2023
Introduction to Self-Assessment Test 2023
Benefits for SSAT
Eligibility Criteria for SSAT
Scholarship Policy for SSAT
How to register for SSAT?
National MDCAT/ECAT/ETEA Syllabus
Test Pattern
Instructions
Duration & Marks
Test Pattern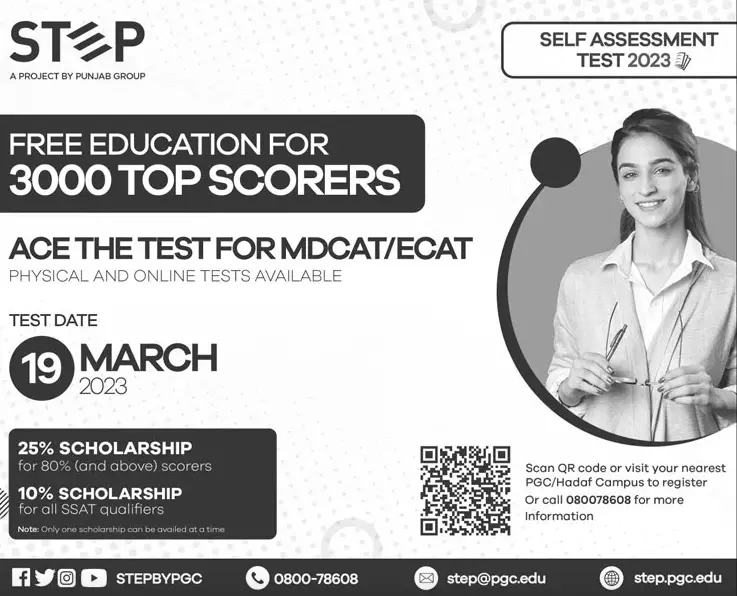 NMDCAT-SSAT 2023
No Subject No. OF Mcq's In Test
1 BIOLOGY 40
2 CHEMISTRIES 30
3 PHYSICS 20
4 ENGLISH 10
GRAND TOTAL: 100
Duration For NMDCAT-SSAT= 75 Minutes
ECAT-SSAT 2023
No Subject No. OF Mcq's In Test
1 PHYSICS 30
2 MATHEMATICS 30
3 CHEM/COMP 30
4 ENGLISH 10
GRAND TOTAL: 100
Duration For ECAT-SSAT= 100 Minutes