Punjab University BA/BSC Exams 2021 Postponed
University of the Punjab Lahore PU News update today date 26 March 2021. PU Punjab University Lahore Postponed BA / BSC and Associate Degree Science and Arts Part 1 and Part 2 Annual examination for 2021 due to Coronavirus cases increasing in Pakistan. As Prime Minister of Pakistan Imran Khan and his wife Bushra BIBI also affected from COVD-19. So, the government of Pakistan and education ministers decided to lockdown schools, colleges and universities. So, University of the Punjab Lahore is also affected from the decision.   
So, officials of Punjab University Announced that BA BSC and Associate Degree Science and Arts Annual Examination will not be held on time and consider to be postponed till next Announcement from Punjab University and Government of the Punjab.
The New Examination Date Sheet for BA / BSC will be announced later.
BS 4 Years Program first, fifth, and third and seventh Semester Examination 2021 will be conducted as per old Announced Date Sheet Schedule.
It's a second time and Punjab University Postponed Annual Examination of BA and BSC before they postponed on date of 24 November 2020 Tuesday for All Examination for MA and MSC Part 1 also.
The students of Punjab University are unlucky and they are upset about their future because due to COVID-19 they do not know what is happening Next and no any final date has been announced till.
Today date 26 March 2021 Doctor Muhamma Irfan Deputy Controller Conduct Announced the Official Notification NO. 111 / Cond. D.S.
Official Announcement from Punjab University:
"In continuation of this office Notification Nos. 84, 85 & 88/Cond. D.S., dated 16.03.2021, it is hereby notified that the off-campus examinations of Associate Degree in Arts / Science Part-II and Part-I, B.A. Hearing Impaired and B.A / B.Sc. Special Category [Doctor / Nurse / Fazil / Wafaq-ul-Madaris / Additional Subject(s), Annual Examinations, 2021 starting from 1st and 15th April, 2021 are postponed. The next date of examinations shall be notified two weeks before exams"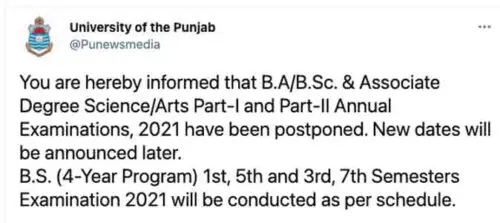 Punjab University Lahore BA BSc Exam Schedule 2021 Date Announced
"Punjab University Department of Examinations has postponed the annual examination of associate degree arts/science part 2 and part 1, which were scheduled to commence from April 01, 2021. The decision was taken in the meeting of deans of faculties chaired by PU Vice Chancellor Prof Niaz Ahmed Akhter. The Vice Chancellor said that the decision has been taken in the best interest of students and keeping in view the worsening situation of COVID 19. He urged the Pakistani nation to adopt preventive measures against COVID 19 in order to control the increasing spread of the disease. PU Controller of Examinations Mr Rauf Nawaz said that as many as one hundred and thirty-eight thousand students were appearing in the annual examinations. He said that new date will be announced later. He clarified that semester examinations would be held as per schedule"
Punjab University B.sc Nursing Exam Date Sheet 2021