How to Download Roll Number Slip from Punjab University
University of the Punjab PU Lahore first Admission Test and second admission test schedule has been announced today date 17 June 2023. The first admission test Roll number slips are available to download. The students can download roll number slip online through pu.edu.pk.
The first admission test will be held on date 25-06-2023 Sunday so student download roll number slip and read the instructions carefully before appearing on Admission test examination.
PU First admission Test Date
The first admission test will be held on date 25 June 2023 Sunday Morning 09:00 AM Pakistan Standard Time.
How to Download Roll number slip PU Lahore
The students who want to appear in first admission test must be download roll number slip online.
Download roll number slip in 2 easy steps.
First enter CNIC no. OR Application form serial number.
Finally click the green button (submit to download)
Select the program
Write CNIC Number
Write Form Serial Number
Click button Submit to download
The PDF Roll number slip will be download on your Computer laptop or Mobile.
Save the roll number slip or take print
University of the Punjab Lahore Admission test for Undergraduate Degree Program Academic year 2023-2024.
| | |
| --- | --- |
| Written Examination Day | Sunday |
| Exam Test Date | 25-06-2023 |
| Subject | PU-E |
| Test Exam Time | 09:00 to 11:00 AM Morning |
| Paper | A |
| Group | G-I |
| Roll Number | 028551 |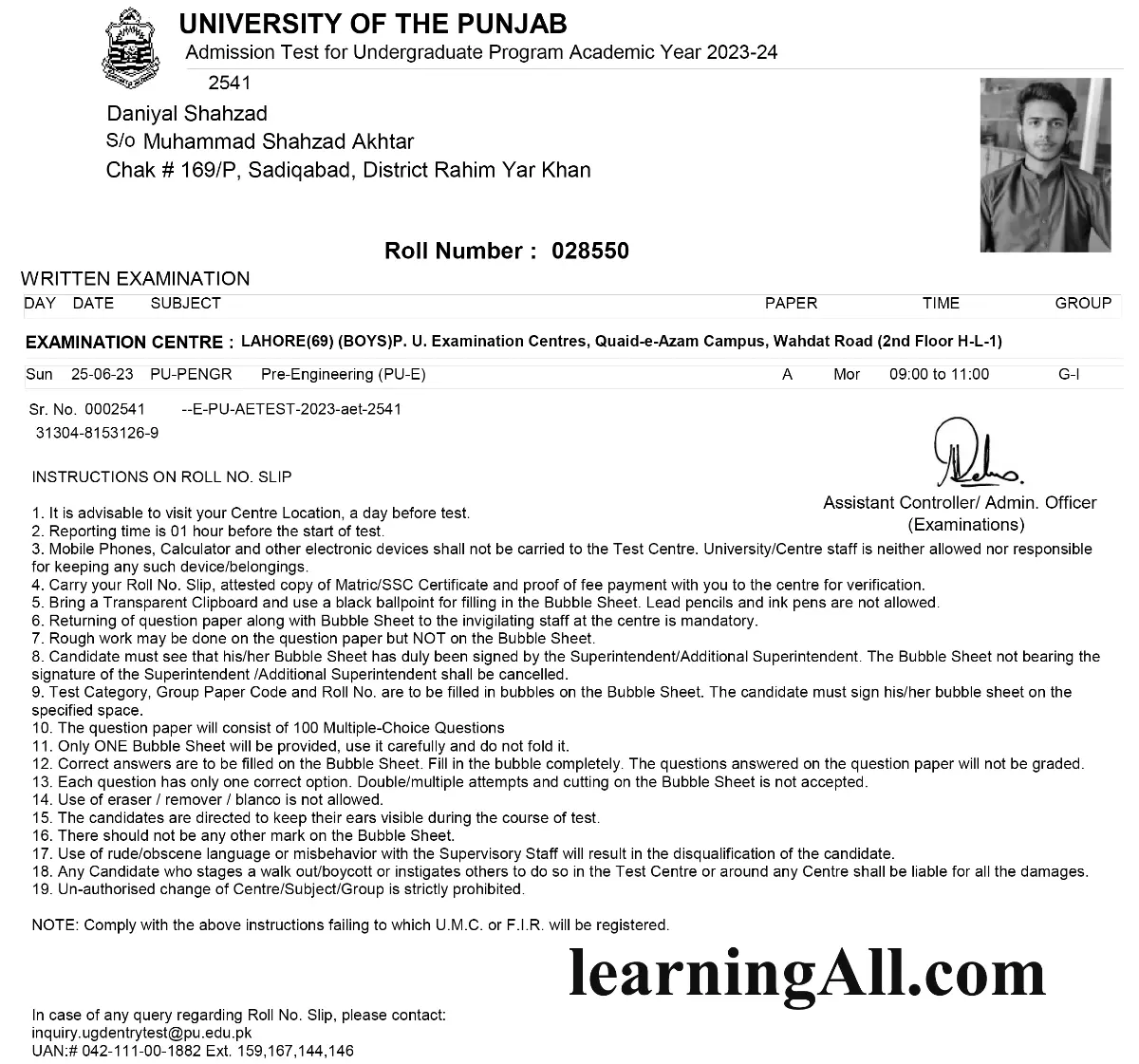 Read Also:
IBA Punjab University Lahore MBA Admission 2023
Rules and Instructions for Roll Number Slip
1. It is advisable to visit your Centre Location, a day before test.
2. Reporting time is 01 hour before the start of test.
3. Mobile Phones, Calculator and other electronic devices shall not be carried to the Test Centre. University/Centre staff is neither allowed nor responsible
for keeping any such device/belongings.
4. Carry your Roll No. Slip, attested copy of Matric/SSC Certificate and proof of fee payment with you to the centre for verification.
5. Bring a Transparent Clipboard and use a black ballpoint for filling in the Bubble Sheet. Lead pencils and ink pens are not allowed.
6. Returning of question paper along with Bubble Sheet to the invigilating staff at the centre is mandatory.
7. Rough work may be done on the question paper but NOT on the Bubble Sheet.
8. Candidate must see that his/her Bubble Sheet has duly been signed by the Superintendent/Additional Superintendent. The Bubble Sheet not bearing the
signature of the Superintendent /Additional Superintendent shall be cancelled.
9. Test Category, Group Paper Code and Roll No. are to be filled in bubbles on the Bubble Sheet. The candidate must sign his/her bubble sheet on the
specified space.
10. The question paper will consist of 100 Multiple-Choice Questions
11. Only ONE Bubble Sheet will be provided, use it carefully and do not fold it.
12. Correct answers are to be filled on the Bubble Sheet. Fill in the bubble completely. The questions answered on the question paper will not be graded.
13. Each question has only one correct option. Double/multiple attempts and cutting on the Bubble Sheet is not accepted.
14. Use of eraser / remover / blanco is not allowed.
15. The candidates are directed to keep their ears visible during the course of test.
16. There should not be any other mark on the Bubble Sheet.
17. Use of rude/obscene language or misbehaviour with the Supervisory Staff will result in the disqualification of the candidate.
18. Any Candidate who stages a walk out/boycott or instigates others to do so in the Test Centre or around any Centre shall be liable for all the damages.
19. Un-authorised change of Centre/Subject/Group is strictly prohibited.
NOTE: Comply with the above instructions failing to which U.M.C. or F.I.R. will be registered.
Punjab University Lahore BS Admission Registration 2023: Download BS Admission