Punjab workers welfare Fund board government of Punjab offering scholarship program for the children's of employees, the parents who are registered in EOBI (employees' old age benefits) and PESSI (Punjab employees social security), Government of Punjab offering scholarship with the name of Talented Scholarship session 2023-2024.
Punjab Worker Welfare Fund Admission 2023
Punjab government's ministry of human resource and welfare department has announced admissions in fall 2023 under Punjab workers' welfare fund. Under this project the children of workers working in industry and mines can get scholarship of 30% quota in COMSATS Islamabad and Lahore campus.
Courses Description of Fall 2023
Undergraduate program
In undergraduate programs students get admission in the following courses:
English
Physics
Pharm-D
Statistics
Economics
Psychology
Mathematics
Computer Science and Engineering
Master of Science
Following courses are opened for admission in MS program:
Physics
Chemistry
Statistics
Chemistry
Economics
Mathematics
Computer science
Clinical psychology
Engineering courses
Eligibility Criteria:
EOBI, PESSI Registered employees with minimum three years working duration, and the company where the employee is working is paying government EOBI and PESSI Fees monthly. The employees who are dead and the employee or his wife gets the pension under PESSI or EOBI from government of Punjab are also eligible to apply.
disabled employees have special quota so they must bring legal certificate from medical board.
Eligibility for student:
It's necessary for the student he must take passing marks CGPA that college / university require to issue degree, and the student must be clear his degree on time. When the admission is done, no one can change the course of study.
for KP scholarship read also.
KP Workers Welfare Board Talent Scholarship 2023 for Youth
Scholarship details:
The students who are eligible in above section can avail following scholarship.
The all expenses of the student like transportation, college / university fees /admission fees / examination fees / library fees / lab fees/ hostel fees and other charges will be bear by Punjab workers welfare board.
selected students will also avail following payment monthly:
Intermediate / or technical education or studying in any cadet college will be earn monthly scholarship amounted: 1600/-
HEC recognized college / university bachelor degree 2 years or 4 years will be award scholarship amounted: 2500/- monthly.
Master degree from HEC recognized institute will be award scholarship amount monthly: 3500/-
Scholarship for MS / M.Phil / PhD for these degrees: government of Punjab also bears all expenses. The scholarship application form can be download from www.wwf.gov.pk
For more information kindly call to Punjab workers welfare board on following number: 042-99260242 and the address of Punjab workers welfare board is F-A/1 Khyber block Allama Iqbal town, Lahore.
Last Date for submission of Admission application form:
Complete Scholarship Information: Click Here for PDF Policy
Download scholarship application form: Click Here for Scholarship From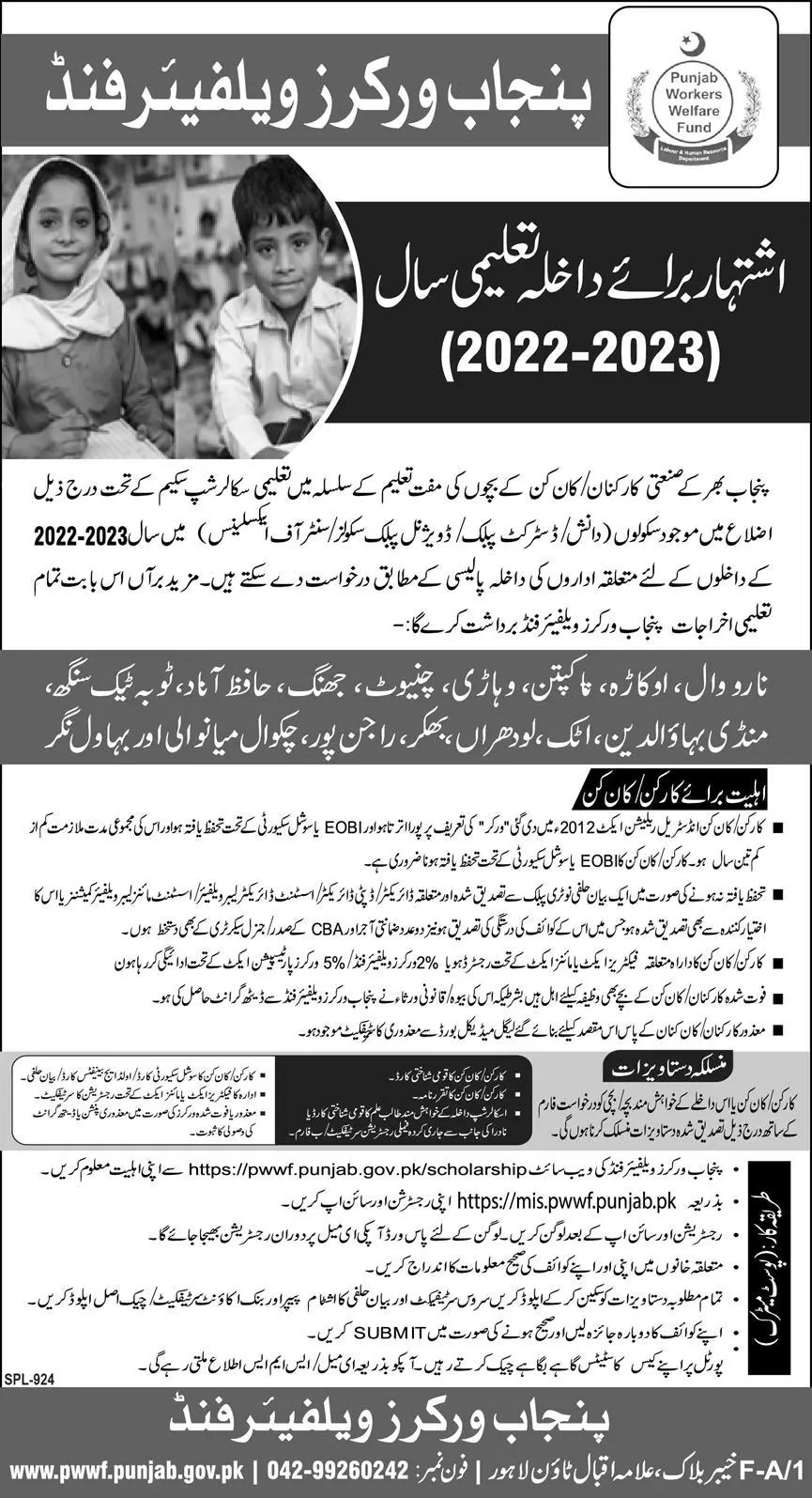 Following Universities will Offer free admission to worker's children:
Comsats University Islamabad (ALL CAMPUS)
AIR UNIVERSITY ISLAMABAD
BAHRIA UNIVERSITY ISLAMABAD (KARACHI and ISLAMABAD)
LUMS UNIVERSITY LAHORE
NUST UNIVERSITY
UNIVERSITY OF MANAGEMENT AND TECHNOLOGY UMT (ALL CAMPUS)
RIPHAH INTERNATIONAL UNIVERSITY (ISLAMABAD & LAHORE)
Punjab Workers Welfare Board Scholarship Apply Online: Apply Here