Quaid e Azam Medical College, Victoria Hospital Civil Hospital Jubilee Female hospital and School of nursing Bahawalpur requires senior registrar neurology and librarian. Eligible for the post of registrar neurology is MBBS or equivalent medical qualification recognized registered by the PM and DC. And for the post of librarian graduate with diploma in library science from the recognized university of Pakistan with basic computer skills will be preferred.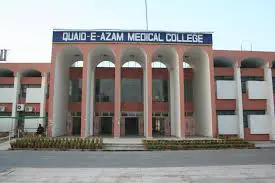 The interested candidates may send their job applications with job application form and details of information are available in the office principal quaid e azam medical college Bahawalpur. The job application must be reached to office before ten days of this advertisement; college will be conducted only short listed candidates for test and interviews.
The job applications will be accepted according to government policy, professor Doctor Khawaja Haroon Khurshid Pasha Principal / head of institutions, Quaid e azam medical college bahawalpur victoria hospital civil hospital jubilee female hospital and school of nursing bahawalpur.
Phone Number: 062-9250431 and fax number : 062-9250432