Quran Lecture is necessary for Punjab Universities
University of the Punjab announced that Quran Education is necessary for Muslim students. Voice chancellor professor doctor Nayaz Akhtar organizes the committee for implementation of Quran Classes.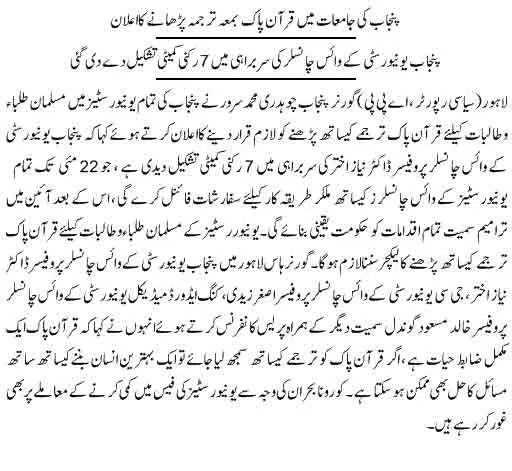 Chaudhry mohammad Sarwar Governor Punjab announced that its necessary for all universities in Punjab they must provide Quran study to male and female Muslim students with Urdu translation.
Today governor house meeting with all university voice chancellors decided to follow this decision.
Following Voice chancellors participated in Meeting:
University of the Punjab Lahore (Professor Doctor Nayaz Akhtar)
Government college University (GCU) Lahore (Professor Ashgar Zadi)
King edward medical university Lahore (Professor Khalid Masood Gondal)