Famous Pakistani singer, actor and model Rabi Pirzada leaves showbiz after contravention video leaked. Rabi pirzada is famous for making contravention videos before she makes snake videos that become viral in social media. But this times Rabi Pirzada videos are leaked by someone maybe his boyfriend and some sources said she sell his mobile phone and shopkeeper recover his data and leak the unseen videos and pictures in social media.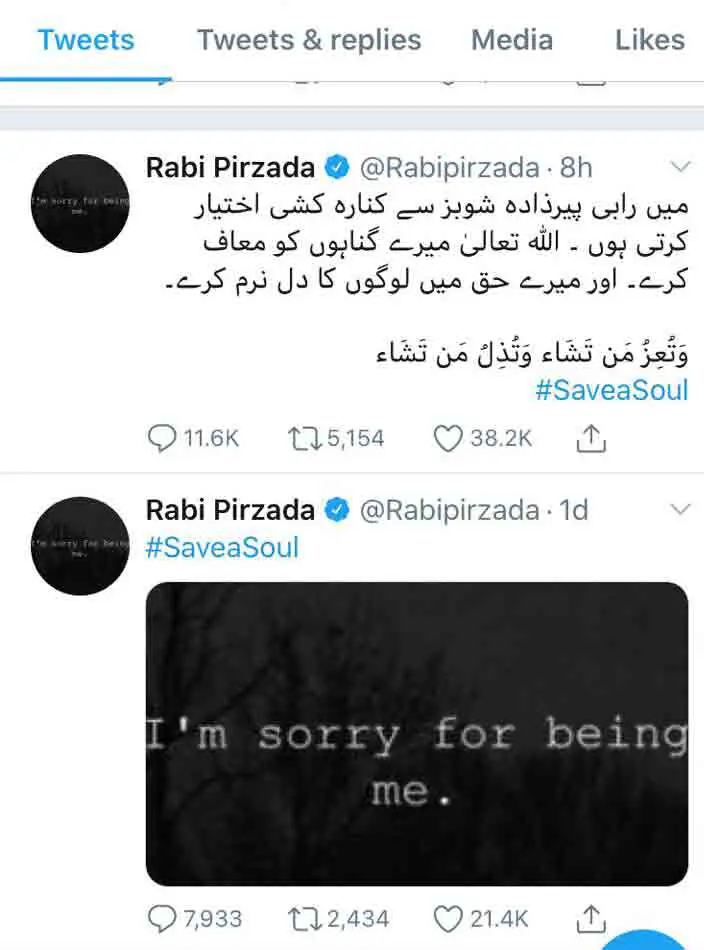 Rabi Pirzada belongs from good family and his father was army officer. After watching videos of Rabi Pirzada, peoples of Pakistan become angry and some people starts supporting Rabi Pirzada for this bad time for Rabi Pirzada.
After two days rabi Pirzada posts in social media his personal account twitter that she leaves showbiz and will do umra. She also writes Quran ayet that respect and disrespect is provide by Allah.
Read Also: Sara Chaudhry First Interview after Leaving Showbiz
Actually Rabi Pirzada is innocent but unfortunately after leaking her videos, people become crazy to blame. These days are very hard for her that for her family. Every one hoping that she comes to their regular life.
Read Also: Sara Chaudhry And Sataesh Khan Left Showbiz
میں رابی پیرذادہ شوبز سے کنارہ کشی اختیار کرتی ہوں ۔ اللہ تعالیٰ میرے گناہوں کو معاف کرے۔ اور میرے حق میں لوگوں کا دل نرم کرے۔

وَتُعِزُ مَن تَشَاء وَتُذِلُ مَن تَشَاء#SaveaSoul

— Rabi Pirzada (@Rabipirzada) November 4, 2019