Rehmatul lil Alameen Scholarship 2022-2023 Punjab Apply Online
Government of Punjab announced the Rehmatul lil Alameen Scholarship Scheme for the Punjab students on Merit and Need based.
Chief minister of Punjab Usman Buzdar announced the scholarship program for the students who are studying in Punjab colleges and universities in intermediate and graduation program. On the directions of chief minister of Punjab government of the Punjab launches Rehmatul lil Alameen Scholarship at a cost of Rs. 1 Billion per annum for students across the province on merit and need basis.
891 undergraduate scholarships annually for students of 30 public sector universities of Punjab. At a cost of Rs. 268 million till Year session 2023-2024.
14000 intermediate scholarships annually for students of all public-sector colleges on merit and need basis, at a cost of Rs. 350 million in CFY and 700 million per annum afterwards.
How to apply:
The Punjab students can apply online, because government of Punjab launches online and transparent system of submission of applications online verification of eligibility and data from concerned board, college/university and district administration.
Transparent disbursement of scholarship through banking channels.
Last Date to Submit Scholarship Application Form: 31 March 2022
Students for more information or submission of online scholarship applications can apply at
www.hedscholarships.punjab.gov.pk or signup to https://hedscholarships.punjab.gov.pk/sign-up
these scholarships amounted funded by government of Punjab through higher education department Punjab.Rehmat Ul lil Alameen Scholarship is sounds that government of Punjab love their prophet Muhammad and Prophet Muhammad is only who is Rehmatul lil Alameen for all Punjab and whole word. students of pakistan wishes that Rehmatul lil Alameen Scholarship will be for whole Pakistan and All Provinces students will be included by federal government and students also requesting to Prime Minister of Pakistan Imran Khan to offer Rehmatul lil Alameen Scholarships on federal level same like PEEF Scholarship Scheme offering Scholarships to All Pakistani students like BEEF Scholarship scheme for Balochistan and PEEF Scholarship Scheme for Punjab, Sindh and KPK Khyber Pakhtunkhwa and FATA students.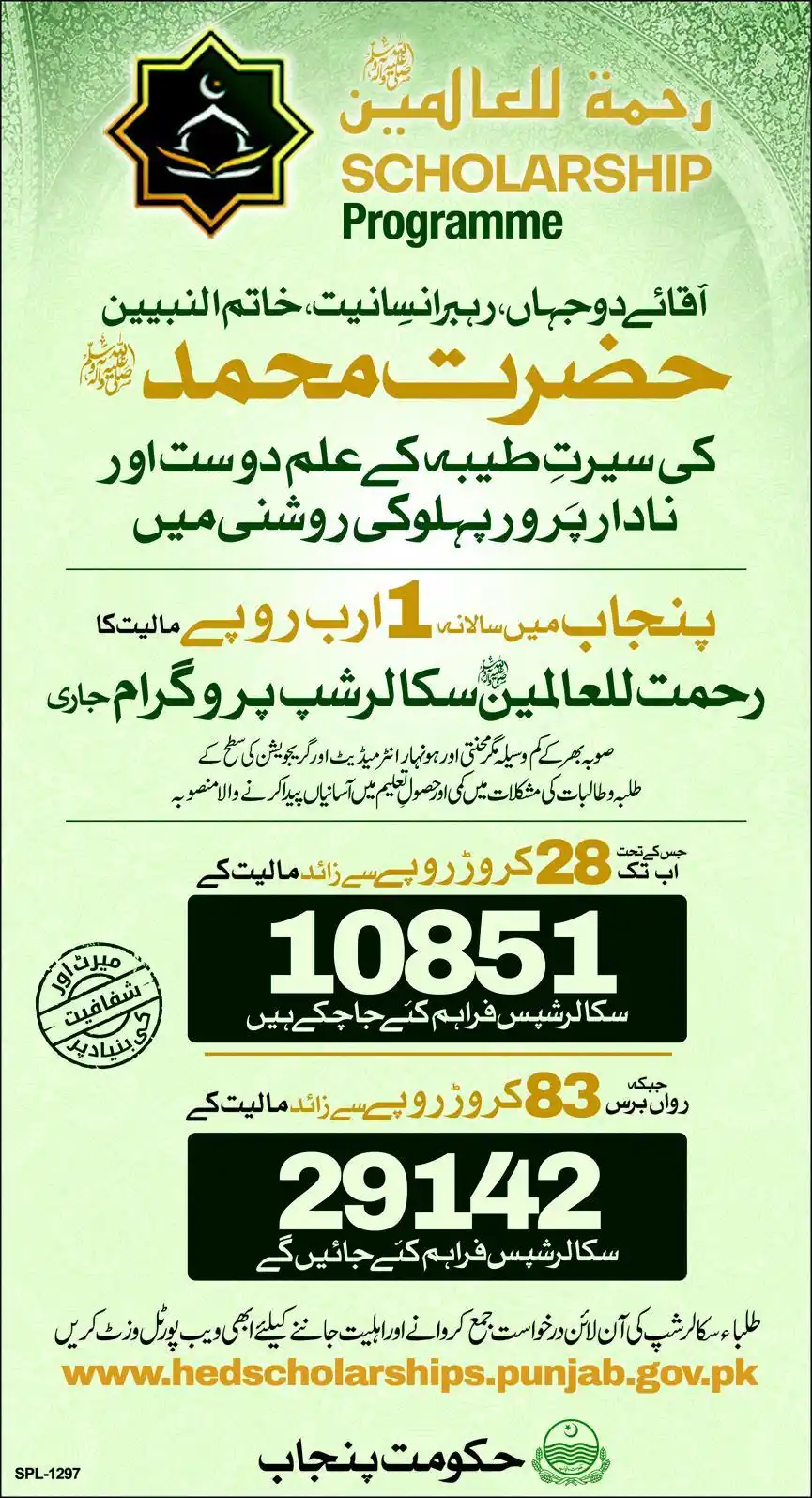 PEEF Scholarships 2022 for Intermediate & Graduation
| | |
| --- | --- |
| Launched Date | 16 October 2021 |
| Last Date | 31 March 2022 |
| Scholarship Worth | Rs.25,000/- |
| Students eligible to apply | Matric Pass, Inter Pass |
BEEF Balochistan Education Endowment Fund Scholarship 2022 Form
Rehmatul lil Aalameen PBHU Scholarship Program 2022-2023 that was launched by the chief minister of Punjab Sardar Usman Buzdar on date 22 February 2022 has got overwhelming response from students for merit and need based scholarships, and over 6000/- students has already registered for the scholarship portal of higher education department Punjab. Education department has received large number of applications from all 36 districts of Punjab. Keeping in view the students' response to the scholarship program, higher education department Punjab has announced the extension in deadline. The decision was taken in the high-level meeting, and after due deliberation department has extended the deadline till date 31 March 2022 to encourage more bright students to submit scholarship applications.
Joint Director IT-Solutions PITB conducted an online meeting with the Secretary Higher Education Department (HED) Punjab Nadeem Mahboob as well as an in-person meeting with Special Secretary HED Naeem Ghaus and Deputy Secertary Dr. Rehana. to review the current progress of Rehmatul-lil-Alameen (PBUH) Scholarship Programme and discuss the way forward in order to facilitate students studying in public sector establishments in obtaining scholarships.
Team PITB IT-Solutions conducted a training session for the principals of all the Government colleges in Punjab regarding the process of online applications submitted for Rehmatul-lil-Alameen (PBUH) Scholarship Programme launched by Higher Education Department (HED), Punjab. Apply online click here https://hedscholarships.punjab.gov.pk/sign-up
Prime Minister Imran Khan launched Rehmatul-Lil Alameen scholarship program for intermediate and undergraduate students in Islamabad on Thursday Date 31 March 2022.