Sasta petrol Relief scheme 2022 786 Online Apply for Rs. 2000
Prime minister of Pakistan Shahbaz Sharif Announced Sasta Petrol and Sasta Diesel scheme for the people of Pakistan who have monthly income less then 40,000/- Pakistan Rupees.
Eligibility criteria:
The Registered candidates under Benazir Income Support Program BISP are eligible to apply for Sasta Petrol Sasta Diesal Program.
60 Lack families having maximum monthly salary package Rs. 40,000/- can take benefit from the Scheme.
All BISP registered candidates
One person from One family.
Married women/ divorce women's are eligible to apply online.
How to Apply Online:
The applicants can apply online through SMS.
Write Your National ID Card and send it to 786.
Ehsaas Scholarship 2022 Program for Undergraduate Students
Shazia Murree Federal Minister Said:
All those who are facing delay in receiving reply SMS from 786 under Sasta Petrol Sasta Diesel Scheme. Please wait, you will receive a reply SMS soon. Because Benazir Income Support Programme (BISP) receive a large number of messages and their answers are lined up and CNICs are also verified before sending replies which results in delay in reply. You will receive a reply SMS shortly.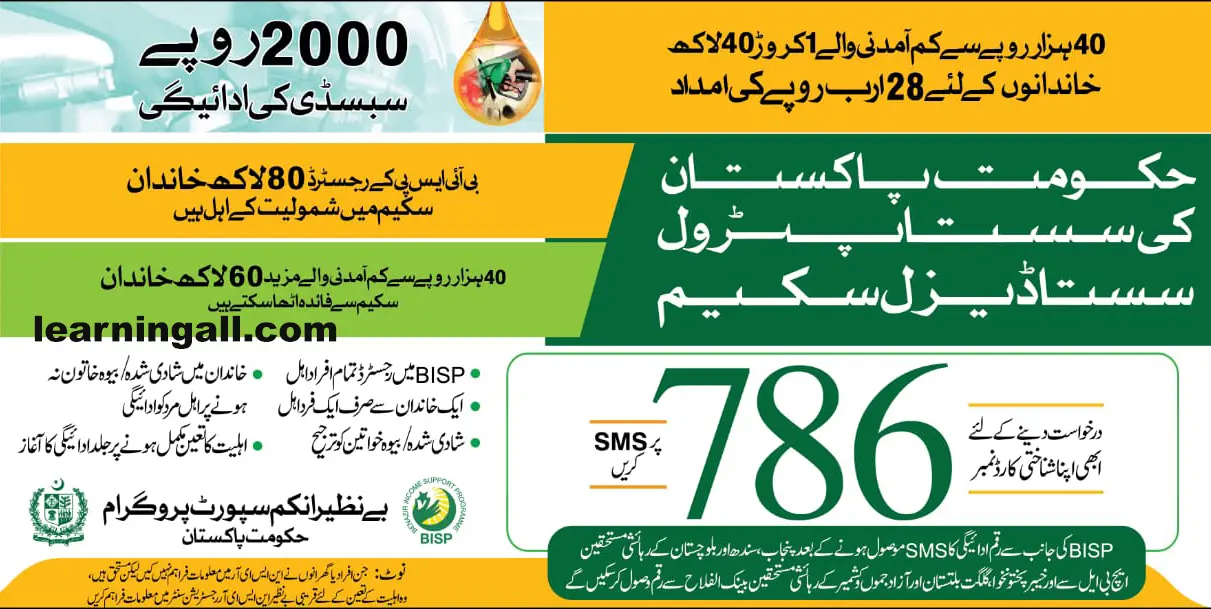 PM Kamyab Jawan Program 2022 Application Form Youth Loan Scheme
World Bank Delegation Meets Federal Minister Shazia Murree Benazir Bhutto's support program needs technical support from international organizations. Poor people are in need of government assistance in view of Pakistan's economic situation.
Latest Internship Programs 2022 Pakistan Opportunities