We would like to inform you that the authorities in Saudi Arabia have decided to ease some restrictions put in place over corona virus fears, allowing movement in all regions except the holy city of Makkah, resumption of some economic and commercial activity.
The move allows resumption of domestic flights, opening of mosques, restaurant and cafes and work attendance, however, and the temporary suspension of Umrah pilgrimage remains in force.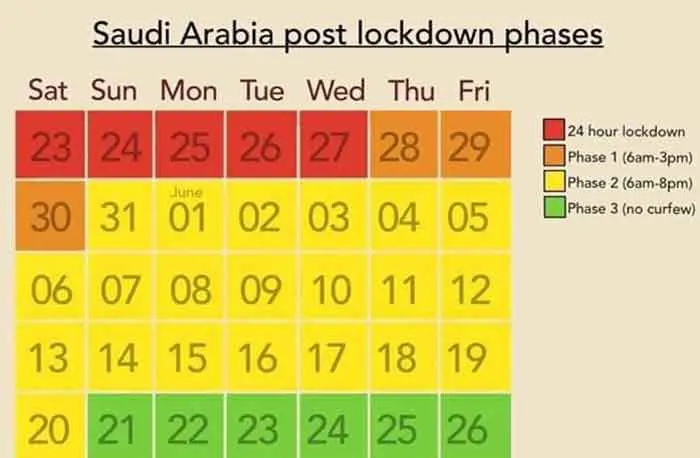 The easing restrictions will be carried out in a phased manned, beginning on Thursday and ending on 7 Shawal 1441 AH (30 May 2020).
First phase:
in the first phase, the movement within and between all regions of the Kingdom in private cars will be allowed from 6 a.m. to 3 p.m. except in Makkah. Economic and commercial activities will resume in retail and wholesale shops and malls but beauty salons, barber shops, sports clubs, health clubs, entertainment centers and cinemas will continue to remain shut due to social distancing concerns.
Second Phase:
The second phase which begins on 8 Shawal 1441 AH (31 May 2020) and ends on 29 Shawal 1441 AH (20 June 2020) the movement, is allowed between the hours of 6 a.m. and 8 p.m. in all areas of the Kingdom, except in Makkah. The suspension of workplace attendance will end, allowing all employees in ministries, government entities and private sector companies to return to working from their offices provided that they follow strict precautionary guidelines.
In this phase, airline will be allowed to operate domestic flights if they adhere to precautionary measures set by the civil aviation authority and the Ministry of Health. The suspension on travel between regions in the Kingdom using various transport methods will end.
Restaurants and cafes serving food and beverages can reopen, however, beauty salons, barber shops, sports clubs, health clubs, entertainment centers and cinemas will be barred from reopening in the second phase. The ban on social gatherings of more than fifty people, such as weddings and funerals will; also continue to remain in force.
Third Phase:
In the third phase commencing on 29 Shawal 1441 AH (21 June 2020), the Kingdom will return to "normal" conditions as it was before the coronavirus lockdown measures were implemented.
Hope you and your family good health and happy days. Read Also: Local KSA Hajj Registration 2020 Form How to Apply Online