CM Punjab women Motorcycle scheme 2023
Lahore news update: Government of Punjab Chief Minister Shahbaz Sharif launched the scheme with the name of Women on Wheels motorbike subsidy program to empower the women of Punjab, you can call it Women on Wheels Phase 2 program.
Under this program, the government of Punjab will distribute more than 3000 motorcycles to the women of Punjab through a transparent balloting process.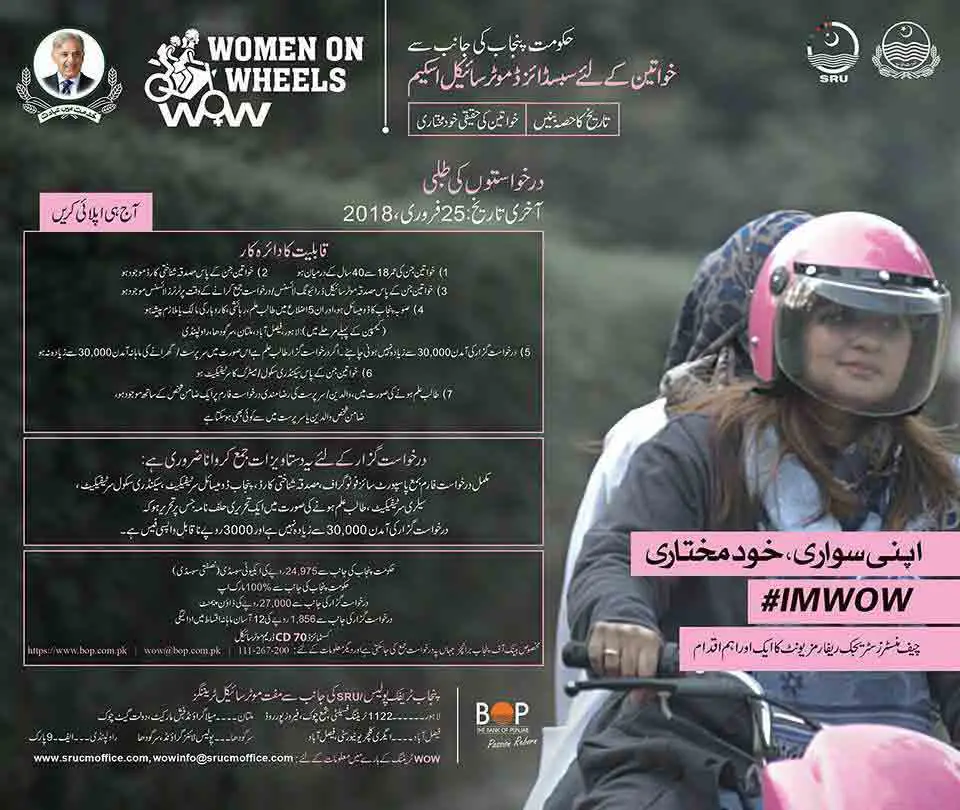 This project is started with the collaboration of the transport department and the Bank of Punjab.
The interested candidates can submit their application form as of today, January 22, 2023, and the last date of submission of the application form is February 25, 2023.
Director General Salman Sufi said this campaign is specially designed by the order of Chief Minister of Punjab Shahbaz Sharif to empower women and serve as a powerful counter narrative at a time when bigotry and attacks on women are rising in the country.
Females aged between 18 to 40 with a valid learner's driving license or actual license can avail themselves of the subsidized motorcycle scheme. All relevant documentation, including a passport-sized photograph, a valid CNIC, a Punjab domicile certificate, a secondary school or matriculation certificate, and, in the case of the student, an affidavit stating that the maximum income does not exceed Rs 30, 000, along with a Rs 3000 non-refundable application fee, needs to be submitted to BOPS branches.
Under this scheme, the Punjab government will provide an equity subsidy of Rs 24,975 and a 100 percent markup on the motorcycle. The applicant will make a down payment of Rs 27, 000 and pay in 12 easy installments of Rs 1, 856 monthly.
Women interested in availing the training can visit any of SRU & Punjab Traffic Police training centers. The ultimate aim of the Wow campaign is to promote mobility of women in Punjab and empower them to become independent individuals.