Government of Punjab Shahbaz sharif starts Shahbaz sharif youth Internship program from January 2018 again. Punjab government starts registration for internship program 2018-19 and the last date of registration is 20 January 2017. CM Shahbaz Sharif announced the program for educated youth of province of Punjab. This scheme offered by government of Punjab for unemployed educated youth for providing the facility to educated youth of Punjab, in this internship program Punjab government gives 15000 to selected candidates of youth internship program. Punjab government will be selected 25,000/- educated and professional unemployed candidates from all over the Punjab. The selected candidates will received continues Rs. 15000/- per month for six months. online registrations from 1 January and the last date of online registration is 20 Jan 2018.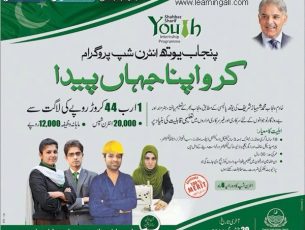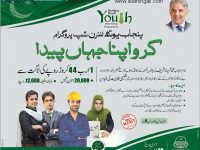 Eligibility for Youth Internship program 2018
16 years degree program or matric with 3 years technical education degree/ vocational diploma holders/ sub engineers, health technicians, paramedical staff, agriculture and livestock candidates are eligible for submitting applications for youth internship program.
Age limit for this program is 30 years.