Shaheed Benazir Bhutto University
Scholarships in Shaheed Benazir Bhutto University, Benazirabad
Shaheed Benazir Bhutto University is offering scholarships in Nawabshah Benazirabad for indigenous, overseas, and split Phd scholars for Sindhi master's degree holders. The PhD Scholarships are under the Higher Education Commission (HEC) Islamabad. The Admission form and application start on July 1, 2023.
Shaheed Benazir Bhutto University (SBBU) is a prestigious educational institution in Pakistan, renowned for its commitment to academic excellence and holistic development. As the year 2024 approaches, prospective students are eagerly anticipating the admission process for SBBU. This article aims to provide an overview of the Shaheed Benazir Bhutto University admission process for 2024, highlighting key aspects such as eligibility criteria, application process, and the university's commitment to fostering a vibrant learning environment.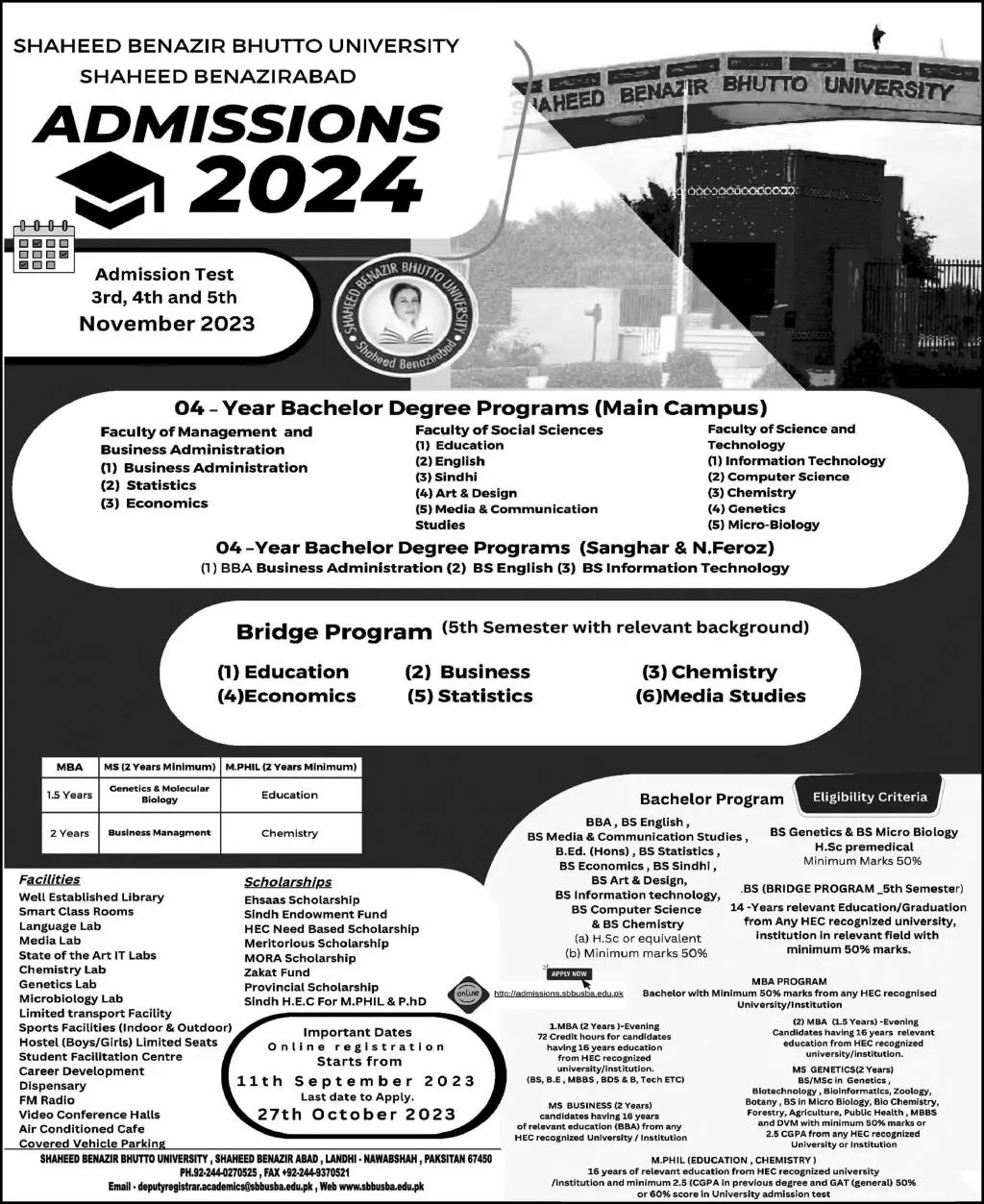 The last date of submission of Scholarship application Form: is October 27, 2023
How to Apply:
Shaheed Benazir Bhutto University, Shaheed Benazirabad, invites applications from the candidates on the prescribed form, which should reach the undersigned on or before October 27, 2023, during office hours. Application should include attested Photocopies of all relevant documents and a demand or pay order of Rs. 1000 (non-refundable) as processing fee in the favor of Director Finance, Shaheed Benazir Bhutto University, Shaheed Benazirabad, for the under mentioned posts. The prescribed application form(s) can be downloaded from the website.
The Scholarship Application form can be downloaded from here: www.sbbusba.edu.pk