Shifa College of Pharmaceutical Sciences is a project of Shifa Tameer e Milat University Islamabad. Shifa College of Pharmaceutical Sciences is federally charted HEC recognized university in collaboration with shifa International Hospital Islamabad.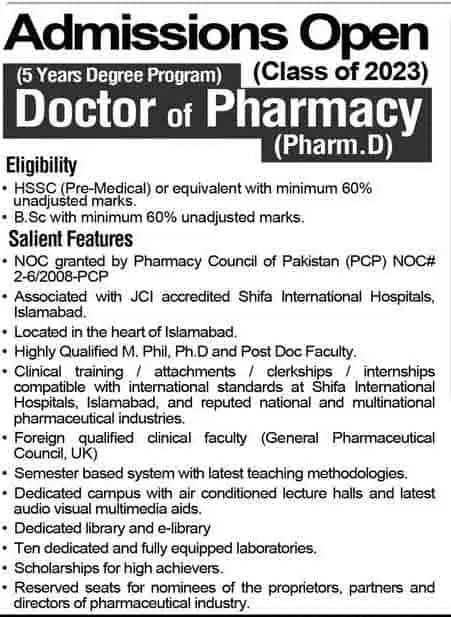 Shifa College of Pharmaceutical Sciences Islamabad starts taking admission applications for doctor of pharmacy Pharm-D 5 year's degree program session 2020-2021.
Eligibility Criteria for Admission in Pharm-D:
HSSC Pre medical or equivalent with minimum 60% marks.
BSC with minimum 60% Un adjusted marks.
Last Date for submission of Admission application form: 26 October 2020
Entry Test and Interview Date: 04 November 2020
Online Registration:
For online registration visit stmu-oaa.almusnet.com for more information about online admission call to number 051-8493009
Final selection shall be made on the marks of HSSC, HSSC or equivalent foreign qualification, Entry test and interview.
Candidates who have qualified NTS / provincial test for MBBS / MDS shall be exempted from entry test on provision of their respective results with minimum 50% marks.
Equivalence to be determined by the inter board committee of chairman IBCC Islamabad.
Doctor of Pharmacy (Pharm. D) – Shifa College of Pharmaceutical Sciences
Doctor of Pharmacy (Pharm. D) Fee Schedule

(Effective for new intake from 1st July 2020 onwards)

Semesters

Heads

Charges (Rs.)

Payment Schedule

1st Semester

(22 CH) #

Prospectus fee

1500

At the time of seeking admission

Admission Processing fee

2000

Admission fee

25,000

One time Charges

(After Confirmed admission)

University Registration Fee

8000

Security (Refundable)

10,000

Pharmacy Council Reg.

1000

Semester Enrollment Fee

5500

Recurring fee for every Semester

(Total 10 semester spread over 5 years)

Tuition Fee / Credit Hour (@ Rs. 5000/CH)

110,000

Co-Curricular / Recreational activities

1000

Examination fee

6000

Total (1st Semester):

166,500/- *

2nd Semester

(20 CH) #

Semester Enrollment Fee

5500

Recurring fee for every Semester

Tuition Fee / Credit Hour (@ Rs. 5000/CH)

100,000

Co-Curricular / Recreational activities

1000

Examination fee

6000

Total (2nd Semester):

112,500/- *

3rd Semester

(22 CH) #

Semester Enrollment Fee

5500

Recurring fee for every Semester

Tuition Fee / Credit Hour (@ Rs. 5000/CH)

110,000

Co-Curricular / Recreational activities

1000

Examination fee

6000

Total (3rd Semester):

122,500/- *

4th Semester

(21 CH) #

Semester Enrollment Fee

5500

Recurring fee for every Semester

Tuition Fee / Credit Hour (@ Rs. 5000/CH)

105,000

Co-Curricular / Recreational activities

1000

Examination fee

6000

Total (4th Semester):

117,500/- *

5th Semester

(20 CH) #

Semester Enrollment Fee

5500

Recurring fee for every Semester

Tuition Fee / Credit Hour (@ Rs. 5000/CH)

100,000

Co-Curricular / Recreational activities

1000

Examination fee

6000

Total (5th Semester):

112,500/- *

6th Semester

(19 CH) #

Semester Enrollment Fee

5500

Recurring fee for every Semester

Tuition Fee / Credit Hour (@ Rs. 5000/CH)

95,000

Examination fee

6000

Co-Curricular / Recreational activities

1000

Medical Check Up for Clinical rotations at SIH

5000

One time

Total (6th Semester):

112,500/- *

7th Semester

(19 CH) #

Semester Enrollment Fee

5500

Recurring fee for every Semester

Tuition Fee / Credit Hour (@ Rs. 5000/CH)

95,000

Co-Curricular / Recreational activities

1000

Examination fee

6000

Total (7th Semester):

107,500/- *

8th Semester

(19 CH) #

Semester Enrollment Fee

5500

Recurring fee for every Semester

Tuition Fee / Credit Hour (@ Rs. 5000/CH)

95,000

Co-Curricular / Recreational activities

1000

Examination fee

6000

Total (8th Semester):

107,500/- *

9th Semester

(18 CH) #

Semester Enrollment Fee

5500

Recurring fee for every Semester

Tuition Fee / Credit Hour (@ Rs. 5000/CH)

90,000

Co-Curricular / Recreational activities

1000

Examination fee

6000

Total (9th Semester):

102,500/- *

10th Semester

(18 CH) #

Semester Enrollment Fee

5500

Recurring fee for every Semester

Tuition Fee / Credit Hour (@ Rs. 5000/CH)

90,000

Co-Curricular / Recreational activities

1000

Examination fee

6000

Total (10th Semester):

102,500/- *