Silk bank is one of the growing bank of Pakistan that is providing wonderful ways to serve banking industry of Pakistan. Now Silk Bank is increasing their business in banking sector and opens more branching in different area of Pakistan to provide banking service near of every Pakistani. Due to expanding banking business, silk bank starts hiring fresh graduates to give them Training in banking sector that they can serve banking industry in Pakistan as well as worldwide. For this purpose Silk Bank Starts Summer Internship Program session 2023, that officials of Silk bank can find talented candidates for future managers of banking sector of Pakistan.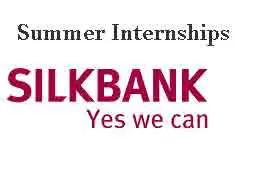 Silkbank has launched 'Summer Internship Program 2023' and is hiring interns across Pakistan. The program will provide an exciting opportunity to students in gaining professional knowledge and experience and learn about the Banking industry in Pakistan. This will be paid internship which may lead to employment in future.
How to submit Internship Application Form:
To apply, send us your resume at recruitment@silkbank.com.pk with 'Summer Internship' in subject line.
Read this for All Summer Internship Programs here Internship Program
This Summer Session 2023 again Silk Bank of Pakistan offers Summer Internship Program with conductive learning environment to students, where they gain professional knowledge along with development traits that help the student to become to ture professional in baking field. BBA / BS / Banking and Finance / Commerce B.com Candidates can submit their Internship Application form through email.