South Asian University SAU is an international university focused on post graduate teaching and research jointly established and funded by the eight SAARC countries. SAU located in New Delhi is looking for outstanding highly qualified and experienced faculty members and non-teaching staff.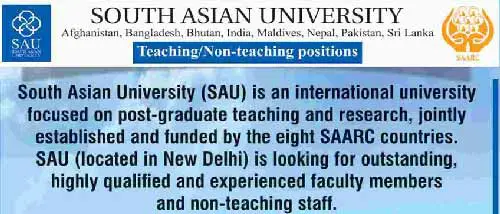 Teaching Positions:
Professors requires for following subjects computer science and legal studies.
Assistant professor requires for economics subject.
Position is open to any citizens of any country in the world. Attractive salary in US dollars exempt from income tax.
Non-teaching staff:
Director admissions and examinations require.
Attractive salary package in US Dollars taxable.
Those who have applied in response to any of the previous advertisement for teaching and non-teaching positions must apply fresh.
For more information check official website www.sau.int.
Last date for job application form 14 December 2018