Bank Loans in Pakistan, dated January 3, 2023: Summit Bank of Pakistan offers a wonderful loan scheme in Pakistan. Summit Bank, one of the leading banks in Pakistan, brings a loan scheme to 2023. You can get a loan in place of gold. This is an easy way to get a loan from Summit Bank because, in almost every home in Pakistan, the gold remains for a long time without any use.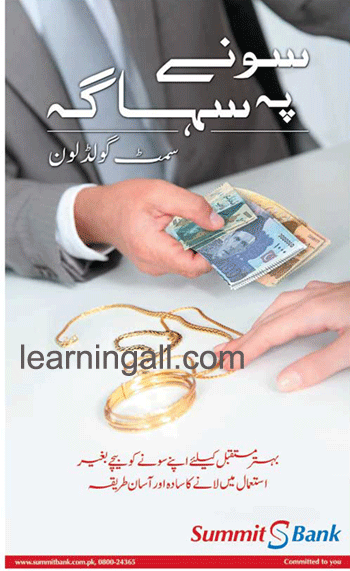 Just give your gold today to Summit Bank and get a cash loan today; your gold will remain the same, and you can withdraw your gold to give back the cash loan to the bank at any time.
For future planning, I think this is the best offer for those who cannot buy their gold, and can get their loan back when they want.
Benefits:
Instant loan
Low Competitive Markup
Utmost safety of Gold
Minimum Documentation
Higher loan-to-value
Easy repayment
No minimum income criteria
A one-time payment option is available
Features:
Age Limit: 18–60 Years.
Loan Amount: Maximum up to $2 million.
Markup Rate: 3 months Kibor +5% or Minimum 15% (Per annum).
Loan Limit: Up to 60% of the gold value.
Tenure: Up to 1 Year on a roll over basis.
Loan Type – Running Finance / Term Finance
Repayment option: monthly, half-yearly, or yearly.
Withholding tax is applied and zakat is deductible unless exempted.
Requirements:
Accounts will be opened in accordance with documentary requirements laid down in the SOP of "Account opening and Management."
Must be a resident Pakistani
No minimum income required
2 passport size photographs of applicant
1 passport size photograph of Nominee
2 References
Quality of Gold: Not less than 18 Karat