System Administrations Jobs Cadet College Hasan Abdal 2018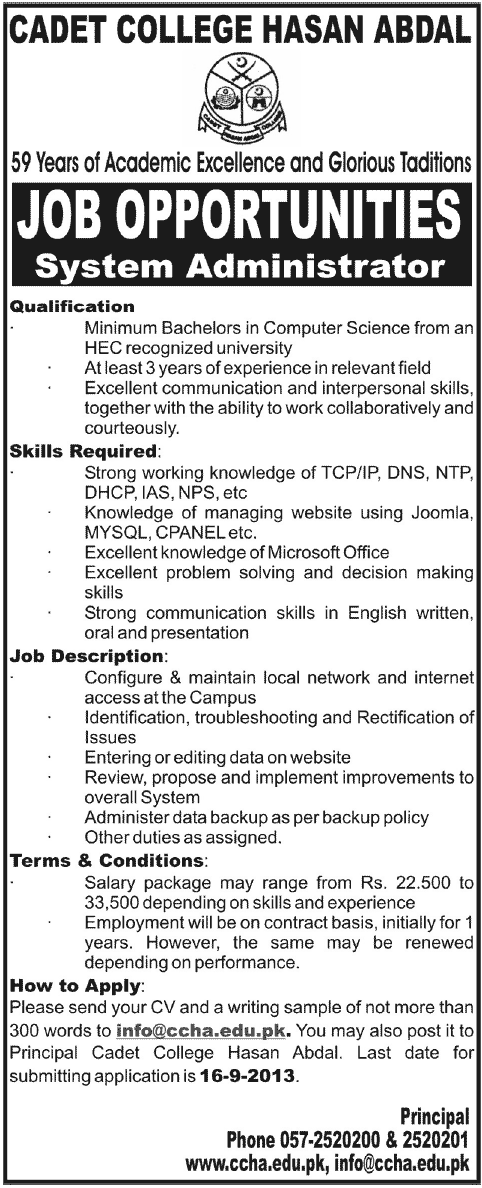 Qualification:
Minimum Bachelor in Computer Science from HEC recognized institute with 3 year minimum experience.
Skills:
Strong working skills of TCP/IP, DNS, NTP, DHCP, IAS, NPS, ETC
Good Knowledge of Microsoft Office
Jobs Description:
Configure and maintain local network and internet access the campus.
Administration data backup as per policy other duties as assigned.
Salary is "between"22,500 to 33,500 according to situation
Send your CV to info@ccha.edu.pk
You can also post your CV to College address
Last date of submission CV is 16th September 2018
For Contact:
Principal
Cadet College Hasan Abdal
Phone: 057-2520200, 2520201
Website: www.ccha.edu.pk
Email: info@ccha.edu.pk