Toppers Law College, 27-L Gulberg III Lahore, and faisalabad campus open admissions in the LLB 5-year program after graduation session 2024. Toppers Law College, affiliated with the University of Punjab, starts taking admission applications from graduate degree holders for admission in LLB.
Toppers Law College is offering a special discount in tuition fees for the progeny of legal fraternity and shing students on limited seats in the LL.B. 3 years and 5 years programs. Faculty comprising barristers and LL.M.s, retired judges, and professional advocates Note: Last year of the LL.B. 3-year program. For Details: 0301.4777766-63 or 04235969473 27-L Gulberg-iii Lahore
Last Chance for LAT of this session Join free LAT classes at Toppers Law College.
LAT HEC Law Admission Test LLB 5 Years Programme 2023 Registration is free, with preparatory classes and assistance for online registration.
Eligibility Criteria
FA, FSC, A Level I.com, or equivalent are eligible to apply.
Note: LAT result-awaiting students can also apply
Deadline for LAT Online Registration: December 2023
Toppers Law College Lahore provides wonderful law education, and Now College gives a 20% discount on tuition fees.
Dean: Mr. Justice Zafar Iqbal Chaudhry, Former Judge, Lahore High Court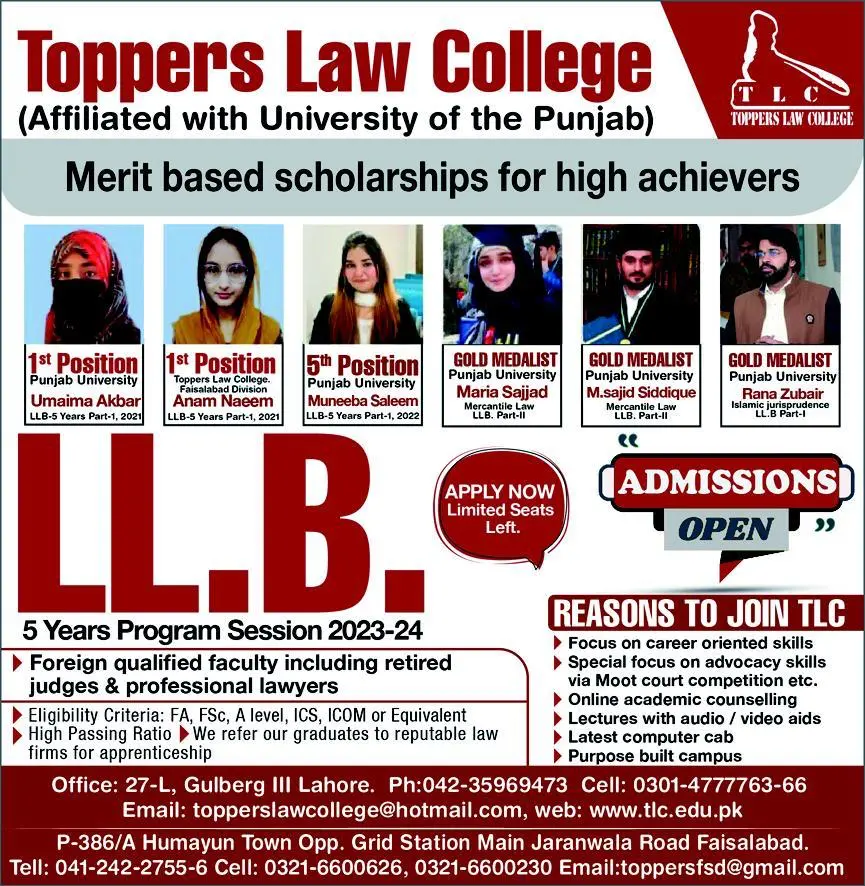 Features:
Purpose-built campus
Merit-based scholarships
Lecturer with audio-video screen
Hostel facilities are available
Faculty comprising barristers, LLM judges, and professional advocates
The University of the Punjab LLB is the five-year program of Toppers Law College.
Phone numbers: 042-35969473 and mobile number: 0301-4777763-66
Email address: topperslawcollege@hotmail.com
Official website: www.tlc.edu.pk